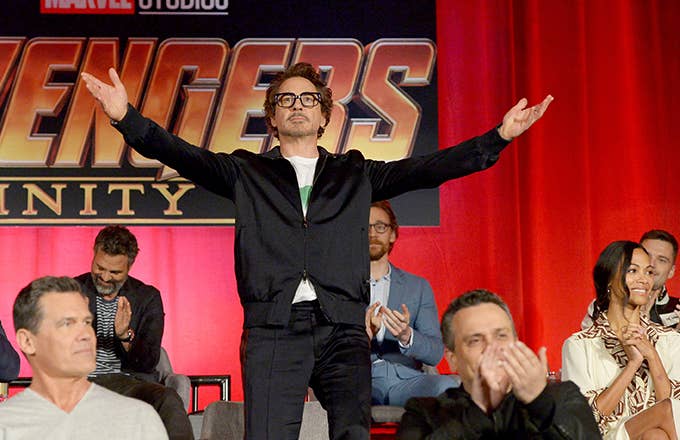 It's been over 10 years since Marvel kicked off their hugely successful and game-changing cinematic universe with 2008's Iron Man. But up until this point, it's never been exactly clear where the films sit chronologically. That all changes with the release of the new Marvel book, Marvel Studios: The First 10 Years, which finally includes a detailed timeline of the films.
As Screen Rant reports, Captain America: The First Avenger takes place from 1943 until 1945, while Iron Man takes the franchise into 2010. Iron Man 2, The Incredible Hulk, and Thor are set in 2011, while Avengers and Iron Man 3 are set in 2012. The stacked year of 2014 features Captain America: The Winter Soldier, Guardians of the Galaxy, and Guardians of the Galaxy Vol. 2.
More recently, Avengers: Age of Ultron and Ant-Man are set in 2015, followed by Captain America: Civil War and Spider-Man: Homecoming in 2016. After 2016-17's Doctor Strange,Black Panther, Thor: Ragnarok, and Avengers: Infinity War takes us into last year. The next MCU entry, Captain Marvel, premieres on March 8 and takes place in 1995.
The continuity between the Marvel films have remained consistent for the most part throughout the years, but errors started to appear, forcing Marvel Studios head Kevin Feige to admit that an official timeline would need to happen at some point. Spider-Man: Homecoming, in particular, highlighted the need for a timeline when the film alluded to taking place eight years after the first Avengers movie, which means it would be set in 2020 even though Infinity War is set in 2017. Obviously the release of the official timeline retcons that eight years later part.
"All of that debate has made us go, 'Okay, at some point, I'm not sure exactly when, we're going to publish a timeline and see what it all is,'" Kevin Feige told CinemaBlend. "It wasn't meant to flummox anybody exactly, and I'm not sure I'd do it again the same way, but it does all connect to where we placed it. Other than very particular instances where there's a newspaper, or verbal reference to years, we never date the films."