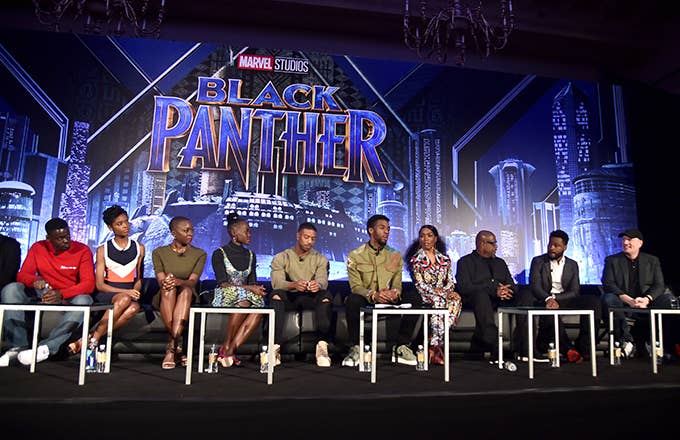 Marvel always manage to get some incredible talent involved with their movies, but the cast for Black Panther is on a whole other level. Chadwick Boseman stars as Marvel's first ever black leading man, but the company he keeps is just as fantastic, too. Accompanied by Michael B. Jordan, Daniel Kaluuya, Lupita Nyong'o, Danai Gurira, Letitia Wright, and Angela Bassett among many others, it's unlikely we'll see a cast this stacked until Avengers: Infinity War comes along later this year.
Another star not listed in the credits of the film is Wakanda, the fictional country in which the film takes place. Speaking with Entertainment Weekly, the film's starring ladies explained what makes Wakanda so special. "It's a nation that respects and reveres women," Angela Bassett explained. "They think of us not just as Queen but Queen Mother. Mother is nurturer and the first teacher. That position is embraced. She's not someone who is off to the side."
As for what led Wakanda to get equality so right, Danai Gurira said, "They were a nation uninterrupted. They got to go through their full evolution." She says that it's such an "advanced nation," that gender roles evolved. "It recognized that you allow all your citizens to reach their full potential." Letitia Wright, who plays Shuri in the film, added, "Wakanda as a nation is so open to forward movement. It will, hopefully, inspire us in reality to go 'Okay, cool, don't limit the women to what they want to do.'"
Respect is at the core of Wakanda's values as a country, and during the interview the stars didn't shy away from how the real world can hopefully learn from what's happening on screen. "It really does make you say, 'Why Not?' To me, it's about equality, and allowing each gender to come to the fullness of their potential without discriminatory hindrances," Gurira explained.