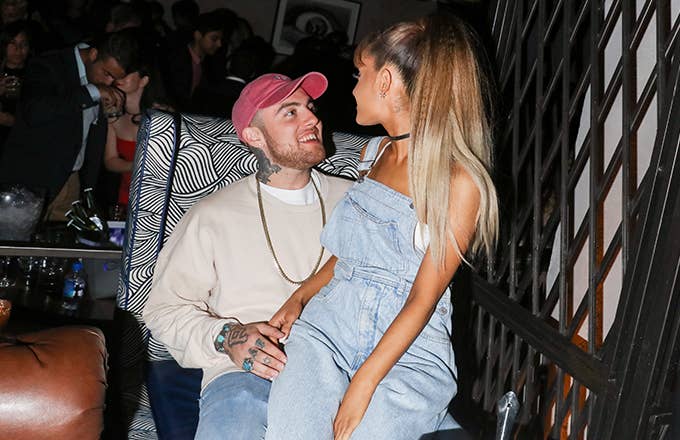 In September, Mac Miller's death shocked a whole community. Plenty of his closest collaborators and friends took the death pretty hard, but it didn't hit anyone quite as bad as it did Ariana Grande, who dated Miller two years before they split in May. Last night, she shared a small but touching tribute to Miller, with whom she spent Thanksgiving last year.
Posting a Facebook memory from Nov. 22, 2017 on her Instagram story, she added a simple message to the picture of them together. "You're v missed," she wrote.
Grande referenced Miller in her most recent song "Thank U, Next," in which she paid tribute to all her exes. "Wish I could say, 'Thank You' to Malcom/'Cause he was an angel," she sings in the No. 1 song. 
"I Adored you from the day I met you when I was nineteen and I always will," she wrote after his passing. "I can't believe you aren't here anymore. I really can't wrap my head around it. We talked about this. So many times. I'm so mad, I'm so sad I don't know what to do. You were my dearest friend. For so long. Above anything else. I'm so sorry I couldn't fix or take your pain away. I really wanted to. The kindest, sweetest soul with demons he never deserved. I hope you're okay now."