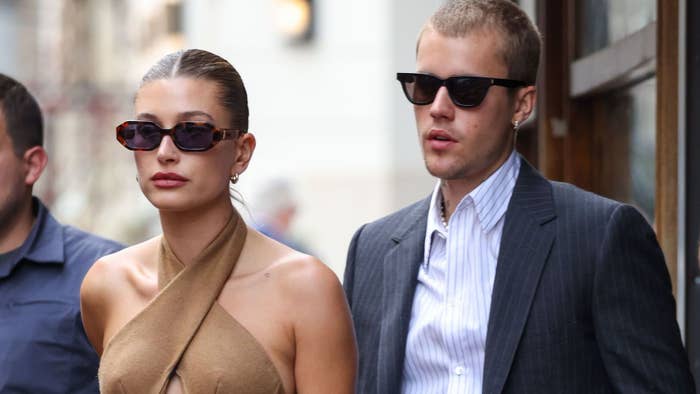 If you saw Justin Bieber's latest Instagram caption and thought "what do you mean," you aren't alone. 
On Monday the Biebs shared a black-and-white photo alongside his spouse Hailey with a caption that had a lot of Beliebers scratching their heads, leading Hailey herself to clear things up. 
The pic, featuring the pair sitting together, shows Justin with his new buzzcut and a backwards cap as Hailey rocks a large hat and some shades. And while it certainly gives off some family vacation vibes, Bieber's caption of "mom and dad" may not have been the best choice of words. 
Plenty of comments of "wait what," "adopt me," and "baby on the way" began to pour in, but Hailey was quick to shut them down before they became too much. 
"I think u should maybe change this caption to *Dog Mom and Dad* before anyone gets it twisted," the model commented on the post alongside a laughing emoji. 
While there appears to be none on the way now, JB previously spoke about the possibility of having kids with Ellen a few months back, saying he wants a "little tribe" of Biebers. 
"I am going to have as many as Hailey is wishing to push out," he said. "I'd love to have myself a little tribe. But, yeah, it's her body and whatever she wants to do. … I think she wants to have a few."
He also told GQ in a recent cover story that he sees kids somewhere in his future. "Not this second, but we will eventually," he said.
As for Monday's caption, though, Justin knows all too well that it's never too late to say sorry—or at least change it.