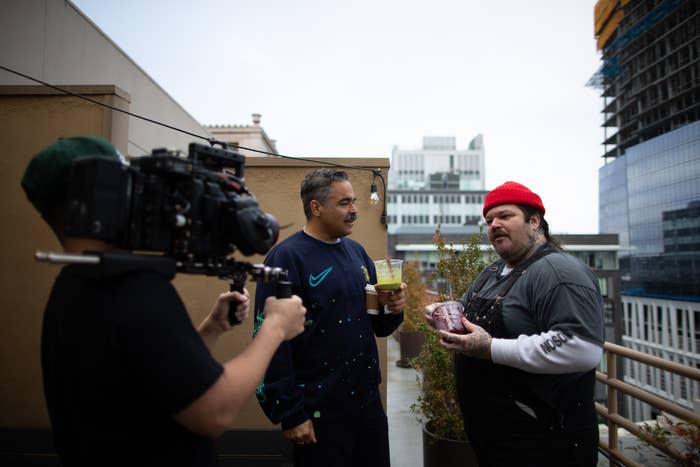 America's weirdest city joins forces with Canada's weirdest chef.
Travel Portland has tapped Matty Matheson for a new campaign encouraging people to visit the Oregon city, which has seen a dip in tourism due to continued unrest and rising crime.
The nonprofit that oversees the city's tourism marketing received mixed reactions last June when it took out a full-page ad in the New York Times promising visitors "you could be yourself here"—just days after about 50 members of a Portland Police Bureau crowd control unit resigned following the indictment of an officer accused of assaulting a photojournalist in 2020.
For their latest campaign, made in partnership with Portland-based consultancy INDUSTRY, they city's tourism bosses have opted for a less provocative, more humorous approach, recruiting Matheson and his Powerful Truth Angels podcast co-host Alex2Tone to riff on camera for a while—and maybe wash away any previous memories of controversy.
The new spot—which premieres on their podcast today—finds the two waking up next to each other in a Portland hotel and deciding to explore what Matty calls "the greatest city in America," with a cheeky wink to the camera. They proceed to make a day of it, hiking in Forest Park, gorging on Thai barbecue at Eem, and going for a soak at the Knot Springs wellness social club. Watch the episode below.
Portland has a lot of misconceptions," says Matheson in the video. "You've gotta go experience the place. You've gotta go smell it. You've gotta look at it. You've gotta go taste it for yourself."
In an interview with Complex Canada last year, Matheson admitted he's been more likely to agree to paid sponsorships as of late—all with the eventual goal of creating his own food empire.
"I'm trying to build on that and get to a place in the next couple of years where I don't have to do anything I don't want to do, truly," he said. "So I may say yes to more sponsored ads because I know I'm going to take that money and funnel it into a business that's going to help me Jamie Oliver my own shit or, you know, be the punk version of whoever the fuck."