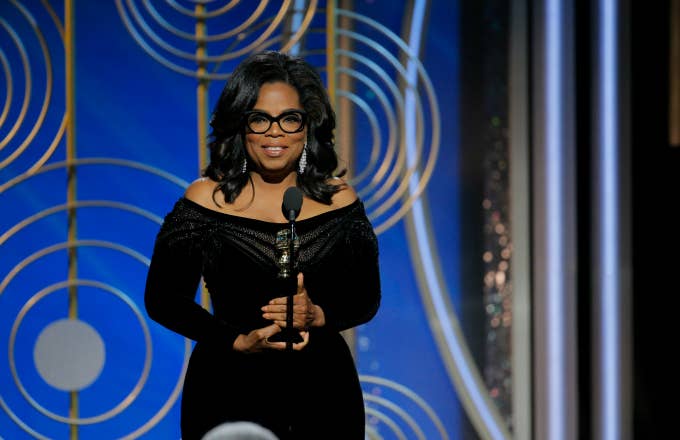 Despite Donald Trump's claims that he would beat Oprah in a presidential race, a new poll conducted at the beginning of this week tell a different story. On Sunday, Oprah's speech for her acceptance of the Cecil B. DeMille award during the Golden Globes energized viewers to speculate that the media mogul could be gearing up for a 2020 presidential campaign. Some meme accounts are already selling merch.
In response to the uproar, Rasmussen Reports conducted a survey Monday and Tuesday to see if Oprah actually had a chance at beating The Donald if she ran for office. To Oprah fans it comes as no surprise that the numbers came out in her favor. The results show Oprah would win 48 percent of U.S. voters, while Trump would have 38 percent, and the remaining 14 percent would be undecided.
The poll predicts Winfrey could easily grab 76 percent of Democrats, 22 percent of Republicans, and 44 percent of unaffiliated voters. Trump would keep a majority of his Republican backing with 66 percent of conservatives, 12 percent Democrats, and 38 percent unaffiliated voters.
Decades before this uproar of who would beat who in a presidential race, the two tycoons were acquaintances. In 1999, Trump even said in an interview that he wanted Oprah to be his vice president. He claimed Winfrey would be an amazing running mate as recent as 2015.
According to the poll, over half of the voters viewed Oprah favorably, regardless of it they voted for her or not. Unsurprisingly, 52 percent of women prefer her to Trump, and she also leads when it comes to voters under 40. As Deadline reports, the survey consisted of telephone calls with 1,000 likely voters and was given a 95 percent level of confidence.
Of course this wouldn't be the first time a woman with stats in her favor ran against Donald Trump, but Oprah is no Hillary, and besides the Boondocks predicted  she would win over 10 years ago. What more proof do we we need?