After a successful Community Week ahead of ComplexCon Chicago earlier this year, Complex is bringing those vibes to Long Beach and the Los Angeles area with Community Week activations going down in the days leading up to ComplexCon Long Beach 2019, happening on November 2-3, 2019. This initiative was already underway via the #HashtagLunchbag event, but instead of feeding those in need, Hav A Sole is making sure that no sole is left behind.
For the No Soles Left Behind pop-up activation, Hav A Sole crafted one of their unique pop-up sneaker shops in Long Beach with the help of the Long Beach Rescue Mission and Foot Locker, which donated 200 pairs of sneakers for the event. During the pop-up, 150 homeless families were given the opportunity to shop for a fresh new pair of sneakers. Assisting the shoppers were not just Complex Community volunteers, but some famous faces: Claws star Karrueche Tran, Compton's own Roddy Ricch, and YouTube personality Qias Omar were all on hand to lend some support.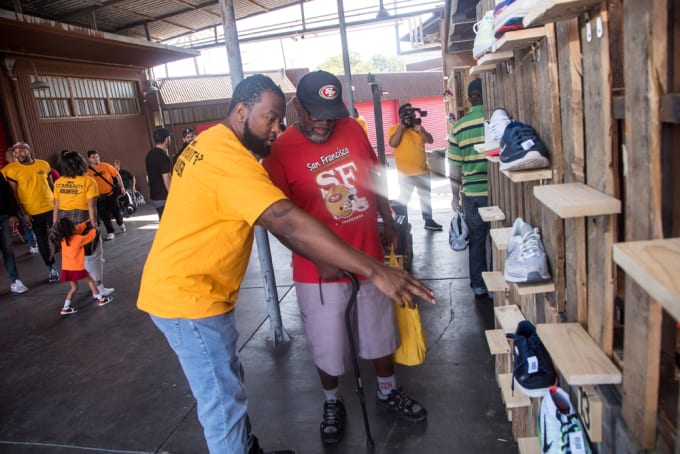 Activations like this aren't new to Hav A Sole; in speaking to founder Rikki Mendias ahead of Community Week, he explained that this was a similar setup to their CovenantCon activation, which itself was inspired by ComplexCon. After doing a sneaker drive during the first few years of ComplexCon, Mendias said, "The population that we serve, especially in Hollywood, they never [saw] anything like this. We're just like, 'Let's bring them a convention-style installation; let's build out this sneaker display. We decided on a design, which was a bunch of used pallets [that we would] just throw the shoes up there." That installation was the idea behind the No Soles Left Behind build-out, and included different shelves with sizing and a number of options.
Mendias' passion for providing kicks for those in need seems to have been born out of two things: growing up in a shelter and his love for sneakers (he calls himself a retired sneakerhead). "A woman that lived in the shelter before us bought me two pairs of Vans, and that's kind of what started at age 10. I loved her sneakers. Fast forwarding, [working] 20-plus years as a production assistant and on commercials and a photographer and having a collection of probably 150 pairs, just losing, losing that passion for my career to being in a sad place, that's really what found me to dig deeper, to search for some purpose, and the decision one night when I couldn't sleep was to give away my sneaker collection [to] people who could use them more than me and then document that with my photography and share stories."
That spark turned into over 16,000 pairs of sneakers being given away in over 20 cities. The impact is immediately known; with the power of social media, Mendias and his organization haven't just amassed donations for sneakers, but have shown that a little help can go a long way.
A quick recap of everything that went down at #ComplexCommunityWeek Day 1.

🙏🏼 Thanks to @RoddyRicch, @karrueche, @QiasOmar and @daveagross. pic.twitter.com/XnyIdc2X8G

— ComplexCon (@ComplexCon) October 29, 2019
Check out these photos from the pop-up event, and be sure to keep it locked to ComplexCon's Community Week page for a full calendar of this week's activities.