It sounds like Kourtney Kardashian is newly single.
According to Entertainment Tonight, the 39-year-old reality TV star has ended her two-year relationship with 25-year-old model Younes Bendjima. The details surrounding their split have not been revealed; however, rumors of their potential break-up began circulating last month, when Bendjima left a petty comment on one of Kourtney's bikini photos.
"Thats what you need to show to get likes?" he wrote.
Though his since-deleted comment suggested there was trouble in paradise, sources claim that the incident wasn't the cause of their breakup.
"Kourtney and Younes recently broke up after the couple decided it wasn't working out. Kourtney was the one who initiated the split," a source told ET. "Near the end of the relationship, the two weren't getting along and the age difference ultimately played a part. Younes is young, and although mature for his age, he and Kourtney are at different stages in their lives."
Following their reported breakup, Younes was spotted in Mexico hugging Jordan Ozuna. Several outlets suggested Younes was now romantically involved with the Instagram model, but Younes was quick to shoot down the rumors via Instagram.
"They really want me to be the bad guy… f*ck your Hollywood bullsh*t (can't have fun with your friends no more)," he wrote over a screenshot of a Daily Mail headline. "Dailymail Where are my 12 other friendssss? Nice catch tho."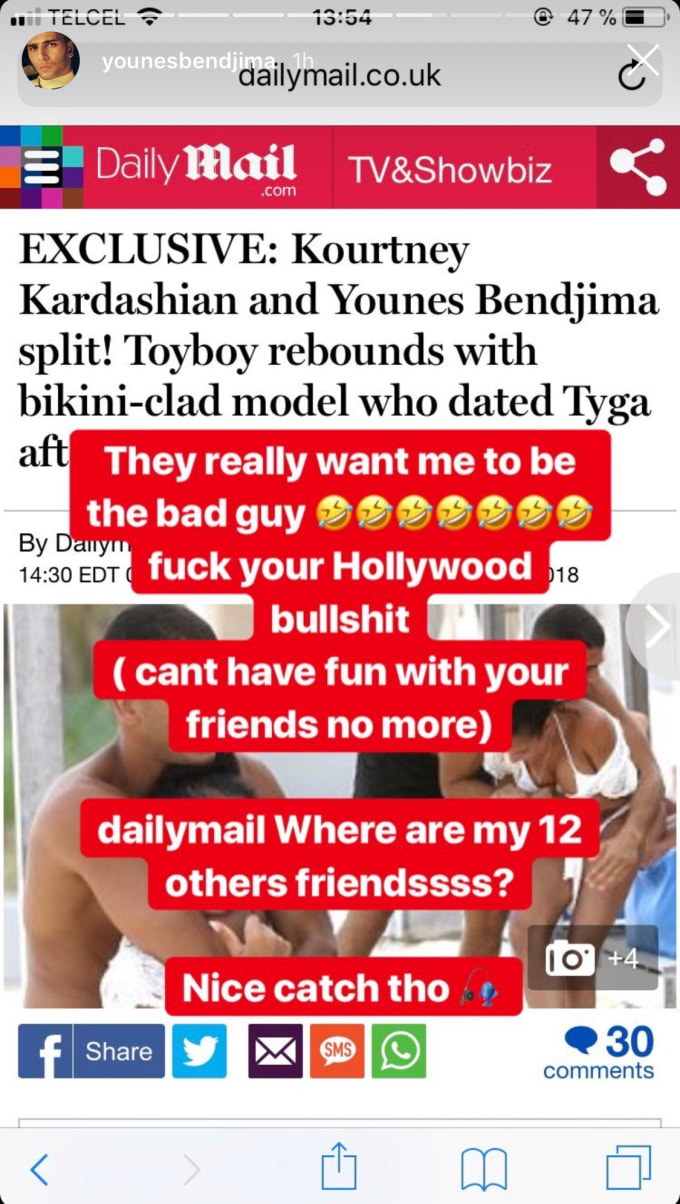 Though the couple has yet to confirm their split, fans have already begun the mourning process. You can check out some of the reactions below. 
Say it ain't so 😭😭😭 Kourtney Kardashian and Younes Bendjima have broken up and we can't deal 💔💔💔 pic.twitter.com/wFc3nxHaDd

— Missguided (@Missguided) August 7, 2018