Johnny Depp has not exactly been in the good graces of the public over the last couple years. Once viewed as a talented, if quirky actor, Depp's reputation as a performer has taken a backseat to his real-life issues, like his abusive relationship with Amber Heard. His ex-wife has gone on the record detailing their abusive relationship, and it's a hard image to shake when thinking about his character.
But that doesn't stop him from doing some good every so often, and Depp helped spread a little happiness to some children who needed it. Depp took his famous Pirates of the Caribbean character, Captain Jack Sparrow, on a road trip to Vancouver, British Columbia, surprising a hospital full of sick children with a visit from a swashbuckling pirate.
Though he had to leave the rum at home—and that's a pretty big deal for Sparrow if you've ever seen the Pirates movies—Depp made sure to bring the same amount of charisma and playfulness you see on screen. Even if just for a day, he made the lives of a bunch of kids better, and that's an admirable goal for anyone.
This is becoming quite a regular occurrence for Depp, who has pulled the Sparrow card out for kids in the past. Washington Post documented a trip to an Australian hospital in the summer of 2015, where he arrived not in the customary pirate ship, but in a fancy helicopter. That's a different sort of pirate than any I've seen.
Hopefully Depp continues to bring joy to fans in this manner. Just look at the smile on this child's face as they get to pose with him: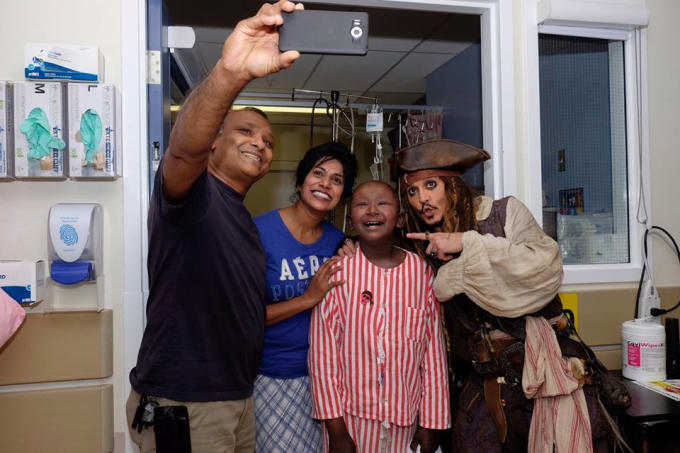 It would be a lot easier to root for Depp if he showed this sort of care in all areas of his life. Good on him for making a small difference in the world—now translate that into positive change elsewhere in your life.