Chloe Bennet, who stars as Daisy Johnson in Marvel's Agents of S.H.I.E.L.D, has been open about having to change her last name from Wang to Bennet in order to be taken more seriously by Hollywood. Just yesterday in an Instagram post, Bennet praised Ed Skrein for pulling out of production of Hellboy due to concerns over whitewashing. In the comments of that post, Bennet was asked to defend her decision to change her own name, and she wasn't afraid to get blunt about her reasons.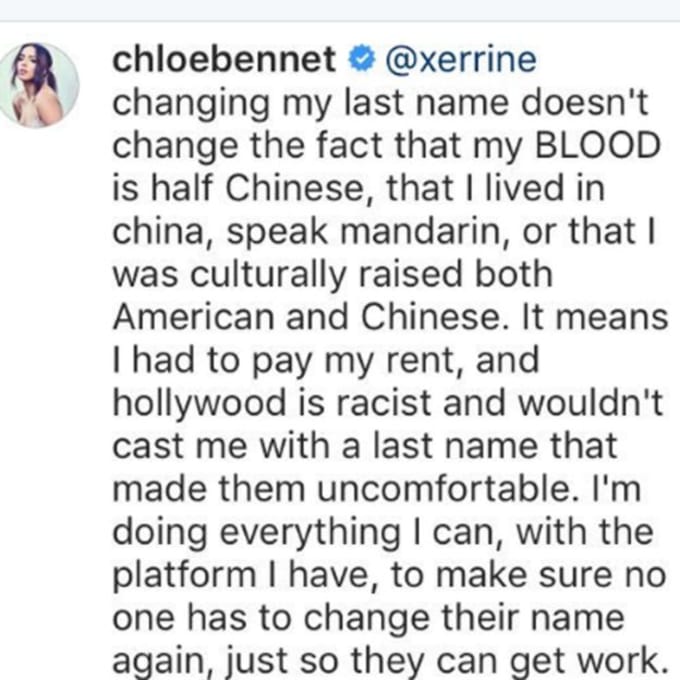 "Changing my last name doesn't change the fact that my BLOOD is half Chinese, that I lived in China, speak Mandarin or that I was culturally raised both American and Chinese," Bennet wrote. "It means I had to pay my rent."
"I'm doing everything I can, with the platform I have, to make sure no one has to change their name again, just so they can get work," she added.
Her original post about Ed Skrein leaving Hellboy had a similar theme.
She was supportive of Skrein's decision, even though she recognized it must have been a hard one to make. "Thank you @edskrein for standing up against Hollywood's continuous insensitivity and flippant behavior towards the Asian American community," the actress wrote. "There is no way this decision came lightly on your part, so thank you for your bravery and genuinely impactful step forward. I hope this inspires other actors/film makers to do the same."
Bennet has been outspoken on the issue of Asian misrepresentation and racism in the past. In an interview with The Daily Beast last year, Bennet spoke about the immediate benefits of her name change.
"Oh, the first audition I went on after I changed my name, I got booked," she said. "So that's a pretty clear little snippet of how Hollywood works."
But the actress doesn't just talk the talk, she also walks the walk. She is one of the founders of RUN (Represent. Us. Now), an organization that works to give a voice to Asian American and Pacific Islanders to help them become better represented in Hollywood.