The never ending issues between Rob Kardashian and Blac Chyna have hit a new low. Something snapped in Kardashian, and he took to his Instagram page to share a series of nude pictures of Blac Chyna, accompanied by claims that she cheated on him while they were dating.
Kardashian went off on Chyna on his Instagram, briefly sharing bottomless photos alleged to be from Chyna. "This is from Chyna yesterday to me," he said in the caption. "I never been so disrespected in my life. I just bought her 250K of jewelry yesterday. This woman is so disrespectful and I don't care."
He continued sharing pictures allegedly sent by Chyna, and claimed he paid $100,000 to allow her to have work on her chest done after giving birth. Despite admitting to this, he made fun of the final results of the alleged surgery, mocking her appearance to his followers.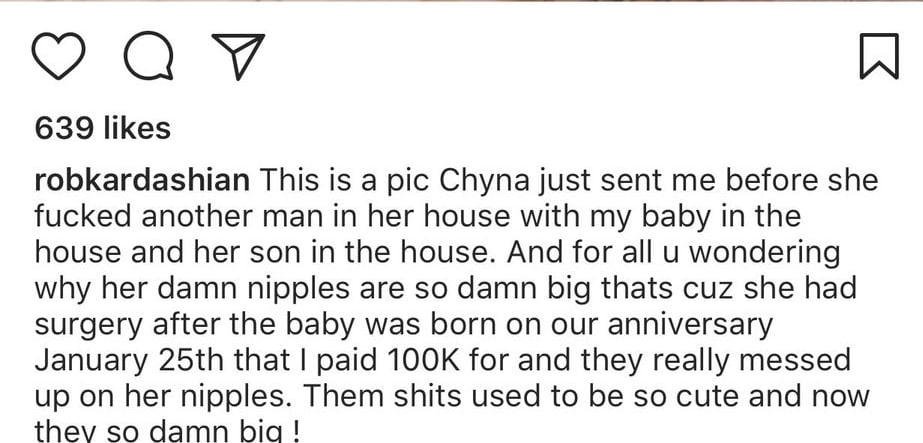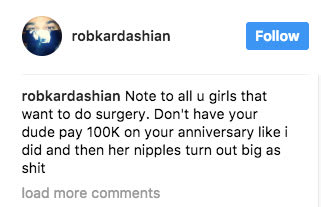 The heart of the beef appears to be Chyna's relationship with another man, and Kardashian did not hold back from putting him on blast too. If you believe Kardashian's end of the story, Chyna provoked him by sending a video of her with this unknown man this morning.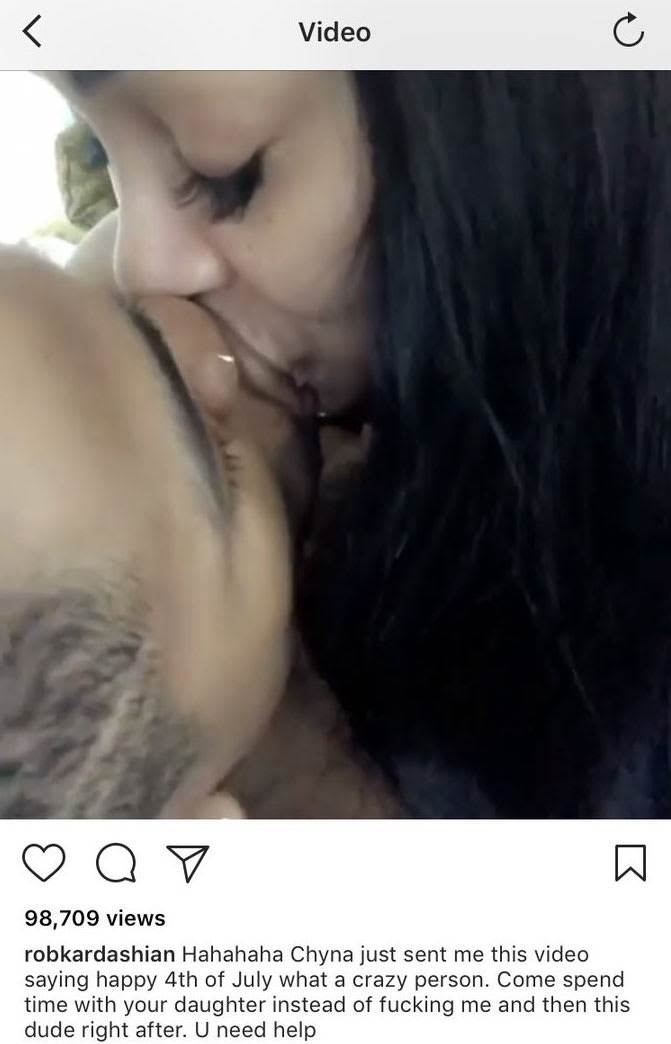 Kardashian then shared text messages he alleges are from the man Chyna cheated on him with, in which the man is trying to set up some sort of branding or business relationship with him. "He texted me asking for help and said he needed money [because] he can't afford to pay Chyna's bill," said Kardashian. "I remained loyal to her even after all the cheating she been doing and the multiple men she been fucking including me."
And just when you thought he was done and all the pictures were deleted, Kardashian fired more shots, sharing a NSFW picture of Chyna's butt and mocking her claims that workouts were they key to her figure.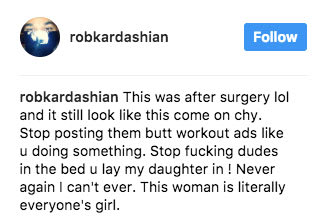 In response to the barrage of pictures, Blac Chyna shared some accusations of her own on Snapchat, claiming Kardashian had abused her and beat her up in the past.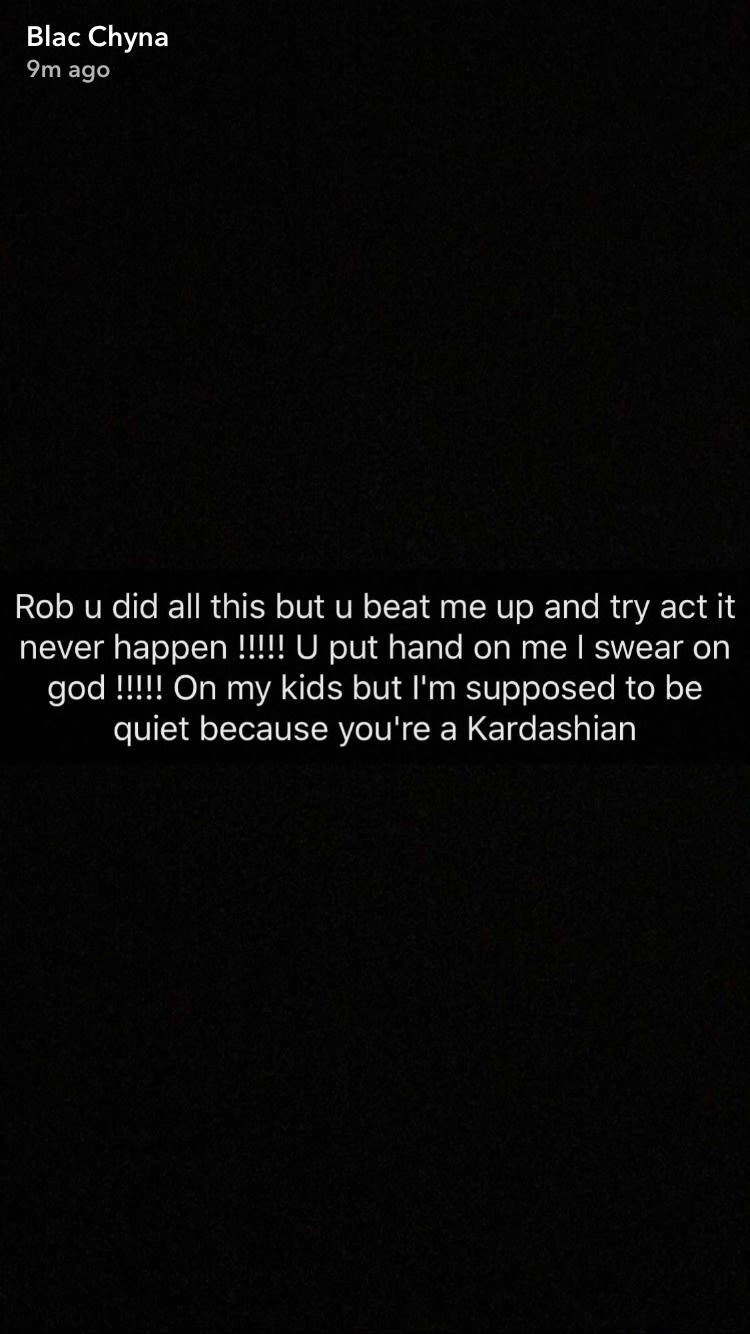 The public drama got so bad that a few shameless artists tried to use it as an opportunity to promote their upcoming work. French Montana, preparing to drop a new album called Jungle Rules, hopped into the comments to get some secondary shine from the beef.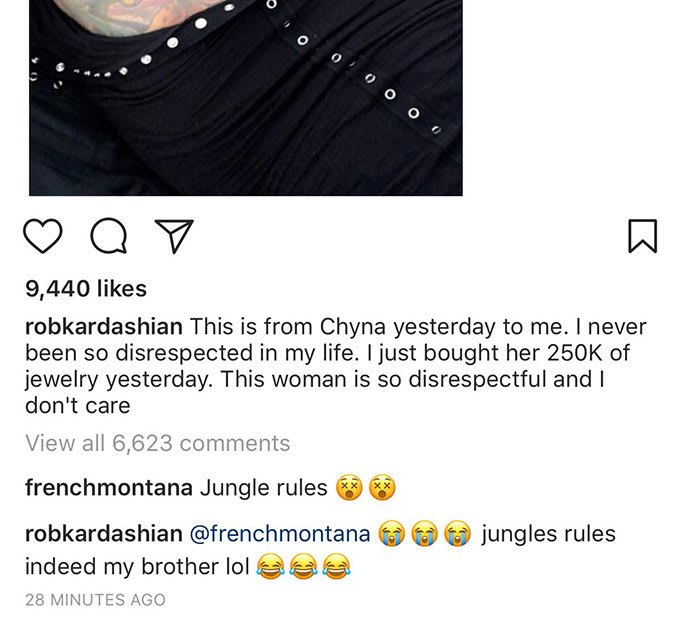 And in the latest episode of, "When Keeping It Real Goes Wrong," T.I. tried to advise Kardashian to keep his business off of social media, only for Kardashian to put the rapper on blast for speaking up.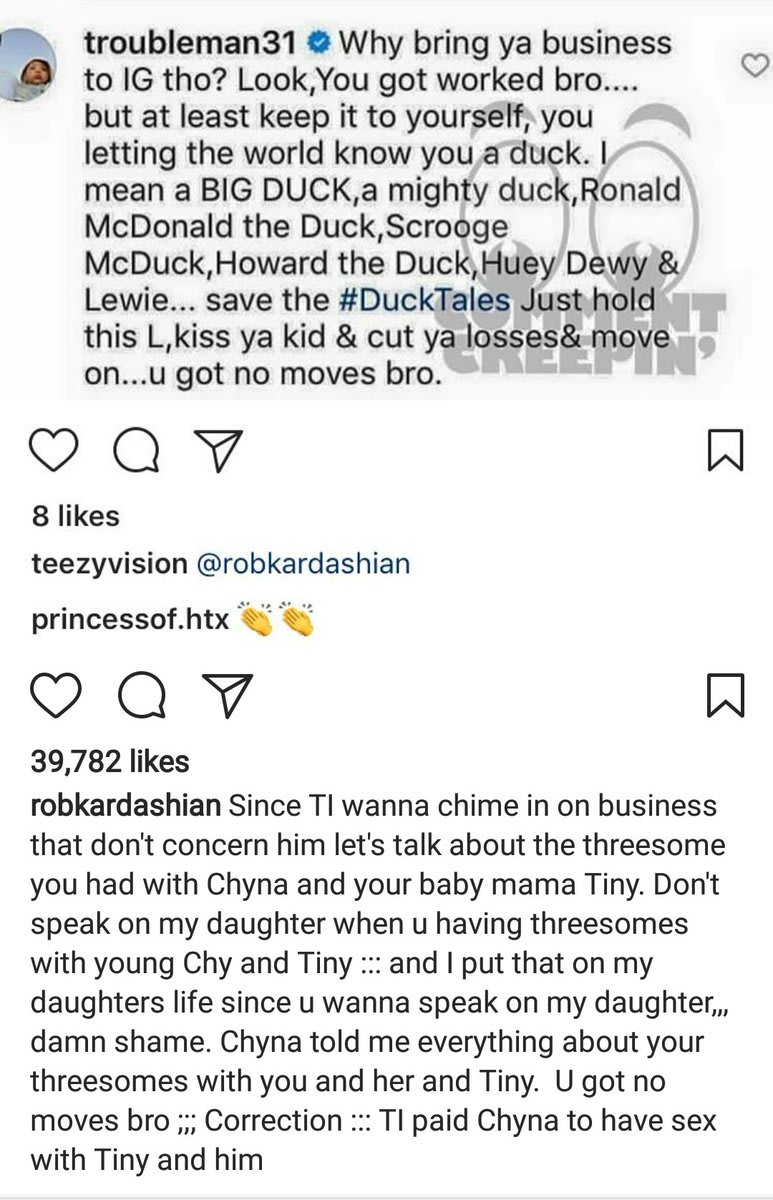 As of 3:40 p.m. Eastern on Wednesday, Kardashian's IG account has been deleted, and he says it's Instagram's doing. Not to be denied his chance to roast Chyna, he switched to Twitter and continued his tirade.
This is yet another chapter in the chaotic relationship between Chyna and Kardashian. Just when it appeared they were going to reconcile during the holiday season, the Kardashian clan excluded Chyna from some of the family's Christmas get-togethers, adding to the friction.
There's also some potential legal ramifications that will come from this latest dust-up. Revenge porn laws now exist in 38 states, and depending on how hard the victim wants to pursue charges, sharing these sensitive photos can result in jail time.
For a pair of people who have tried to show they've moved on through public photos with other people, there still is a lot of bad blood between Chyna and Kardashian.