The Greek experience in movies has been something that many films have lampooned, or even made light of. Movies like Neighbors, Animal House, Van Wilder or PCU have highlighted the party scene, and the facetious (or ridiculous) nature that comes with the promise of brother or sisterhood. Meanwhile, other movies have hilariously framed the institutions as shadowy organizations that thrive on backdoor dealings and conspiracy. And only very recently did last year's Goat starring Nick Jonas scratch the surface of the true nature of fraternities.
The major theme between all of these films? They tell the story of primarily White characters from affluent backgrounds. Their actions are relatively consequence-free, framed in the flimsiest sense of "friendship." The men in these movies ravage the women, and in the end, get the respect they wanted without fail. The one movie that did attempt to tell the story from the other side, Stomp The Yard, relegated the black Greek experience to a distant third behind the dance moves and romantic drama that sold tickets. There is a distinct lack of truth when it comes to dealing with the social issues that surround black greeks—which is a culture that many men and women are inundated with when they attend an HBCU. Writer/Director Gerard McMurray is attempting to shake this trend with his new movie Burning Sands, which premieres March 10th on Netflix. 
The film is a very different coming-of-age story than what we're used to from fraternity films, following the lives of five pledges to a (fictional) black fraternity who are pushed to the limit physically and mentally in order to join. It's an interesting angle, and one that has been largely avoided on the big or small screen because of the inherent issues that it would cause within the black Greek community, which has been hit with multiple cases of misconduct during the pledging process in the past few years. Featuring strong performances from American Crime's Trevor Jackson, Alfre Woodard, and Moonlight's Trevante Rhodes, McMurray is not only revealing the harsh realities of hazing, but also the pressures of masculinity within the black community, and asking some very controversial questions in the process—how far would you go to be accepted? And how much violence can you take before you take a stand up for yourself?
"[We] faced a challenge in telling a story like this," McMurray said. "Having the courage to tell a story, particularly a story about a black fraternity, and accept that people might have a negative opinion of it was [tough]." This isn't a surprising sentiment, because as Burning Sands plainly shows, the Black Greek experience isn't so much shrouded in mystery as its violent reputation has been put out in the public eye as clear as day. The Hazing problem within black fraternities and sororities has been at the epicenter of their existence in colleges, whether it's an HBCU or not. And while there have been plenty of chapters that have been closed or reformed, the code of silence within them is still an extreme problem. In a 2010 case brought on by pledges to an all black sorority from San Jose State—two women were repeatedly beat with paddles and threatened them physically and verbally ("snitches get stitches"). Somehow this issue isn't really taken as seriously in movies like Van Wilder, where the slapstick nature of the story makes these organizations seem like nothing more than a treehouse club for rich people to gain (what else?) even more status within society. 
There is a disturbing and very dark theme prevalent within the recruitment process of some of these groups—you either take the punishment in silence, or be ostracized for being weak. It's important to note that while most of these fraternities and sororities do publically admit that they don't pressure pledges to be involved in the more taxing physical activity—there's still a sense of misplaced machismo that oozes from them.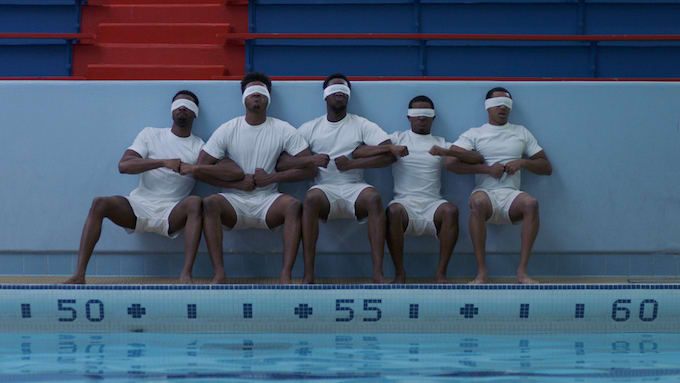 Burning Sands takes the comedy and raunchy sex acts that you've come to expect from Fraternity films, and frames its story around a young pledge named named Zurich (played by Jackson), who is thrust in the middle of a battle for his sanity during his Hell Week. "I tried to put myself in their shoes," Jackson said when explaining how he got into the mind of his character, but even he admits that he wasn't told much about the actual process when attempting to study for the role. Zurich's character is the audience in the movie, who is pulled in different directions by people in authority, his friends, and the men that he hopes to one day call his brothers.
Burning Sands sets up a number of heartbreaking dilemmas for him, as he acts as the moral compass for the other pledges, and is torn between finally telling someone about the violence he's enduring or staying silent. Jackson admits that the research he did for the role was somewhat stunted by the reluctance of people he knew in Greek organizations to actually talk about the process, which says a hell of a lot about how seriously the code of silence is taken there—heightening the horrors that his character faces in the movie.
Zurich's story is unlike any other because it tells a story that is as poignant as it is timely—the tale of Black masculinity, and how it trickles down from generation to generation. This theme has been touched upon in other movies about growing up young and Black like Moonlight and Boyz In Da Hood—but Burning Sands asks how far is too far? And how much should one person take just to be accepted? "I think it's very important to put these images out there," McMurray added. "My parents came from a generation where it wasn't okay to [show weakness], or tell your brother that you love him." It's an interesting theme, because Sands plays on the confusion between love, brotherhood, loyalty, and gross mistreatment. This is an issue that stretches far beyond the keg parties in most white centered fraternity drama; there's an issue of pride in this movie. These characters want to break, but through a sense of taught and misplaced camaraderie, they stick together and endure. In one of the many chilling hazing scenes in the movie, one of the characters takes a paddle, and it almost seems like an allegory to slavery. In order to feel powerful, the rite of passage into becoming a man is to revert back to the punishment your ancestors took. It's frightening, and most of all, it's very, very real.
There's a twisted sense of love at the center of Burning Sands, which will likely connect to many black men in a way that other movies about fraternities never will. The essence of "tough love" has been passed down to us from our parents—but it's an endless cycle of punishment that seemingly has no end. Until someone gets hurt. McMurray isn't trying to answer this question, but show the uninitiated (and the familiar) that it's not okay. And maybe that it's time that we define our sense of brotherhood in a different way.