Just in time for the return of David Brent in Life on the Road (February 10 on Netflix), Ricky Gervais steps into the hot seat for the (vegan) wings of death and some scorching questions from First We Feast's Sean Evans. Accurately dubbing Hot Ones "a cross between Charlie Rose and f*%king Jackass," the comedian gets pummeled by the likes of Zombie Apocalypse and Da Bomb Beyond Insanity.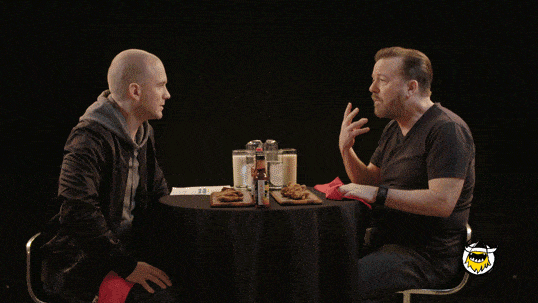 Despite admitting that he doesn't know "why he's doing this," Gervais grows increasingly intrigued by the challenge as he deftly defends atheism, breaks down giant birdeater tarantula facts, and discusses the surprising effects of deep baths on middle-aged testicles.
Will Gervais become "entertainment for some idiot on the Internet"? Will he "vomit and sh*t" himself? You gotta watch to find out!
Subscribe to the First We Feast channel and never miss an episode of Hot Ones.