Disney announced the title for Star Wars Episode VIII on Monday, finally giving fans a concrete-(ish) reason to fly out the window jumping to conclusions. Despite speculation based on copyrights pointing toward Forces of Destiny as the title, the true name was revealed to be The Last Jedi via a red—not yellow—title card. Three words—a definite article, adjective, and noun—and one conspicuous color change may not seem like much to work with, but that's not going to stop us from running wild. So let's jump out that window, starting with singular versus plural nouns.  
Just how many Jedi are we talking? In case you've forgotten, the plural of Jedi is Jedi. So for all we know, we could be talking about one lone Jedi or a group larger than the sad (!) number of people who attended Donald Trump's inauguration. Reasonably, we can narrow it down to two or maybe three Jedi. There is, of course, Luke Skywalker, who's been hiding out on a lush green island since Ben Solo (or Organa) became Kylo Ren and murdered the shit out of Luke's new Jedi academy, which we saw in flashback from in The Force Awakens. Then there's Rey, who discovered and experimented with her powers on the way to defeating a twice-wounded Kylo Ren. She's still raw, but we can at least consider her a Jedi in the most amateur sense of the term. It's hard to say how much Luke will value titles in such a trying and lonely time, but we can expect Rey to become his Padawan. And finally, there's Kylo Ren. 
According to Wookieepedia, the Star Wars Wiki maintained by the nerdiest of the nerds, a Jedi is a "Force-sensitive individual, most often a member of the Jedi Order, who studied, served, and used the mythical energies of the Force; usually the light side of the Force" (emphasis my own). Kylo is now an apprentice of Supreme Leader Snoke, but he hasn't been officially tied to the Sith yet. His only confirmed allegiances are to the First Order, which Snoke leads, and the Knights of Ren, of which Kylo is the leader. And as Snoke revealed at the end of The Force Awakens, Kylo hasn't yet completed his training. We may still be able to call him a Jedi for now.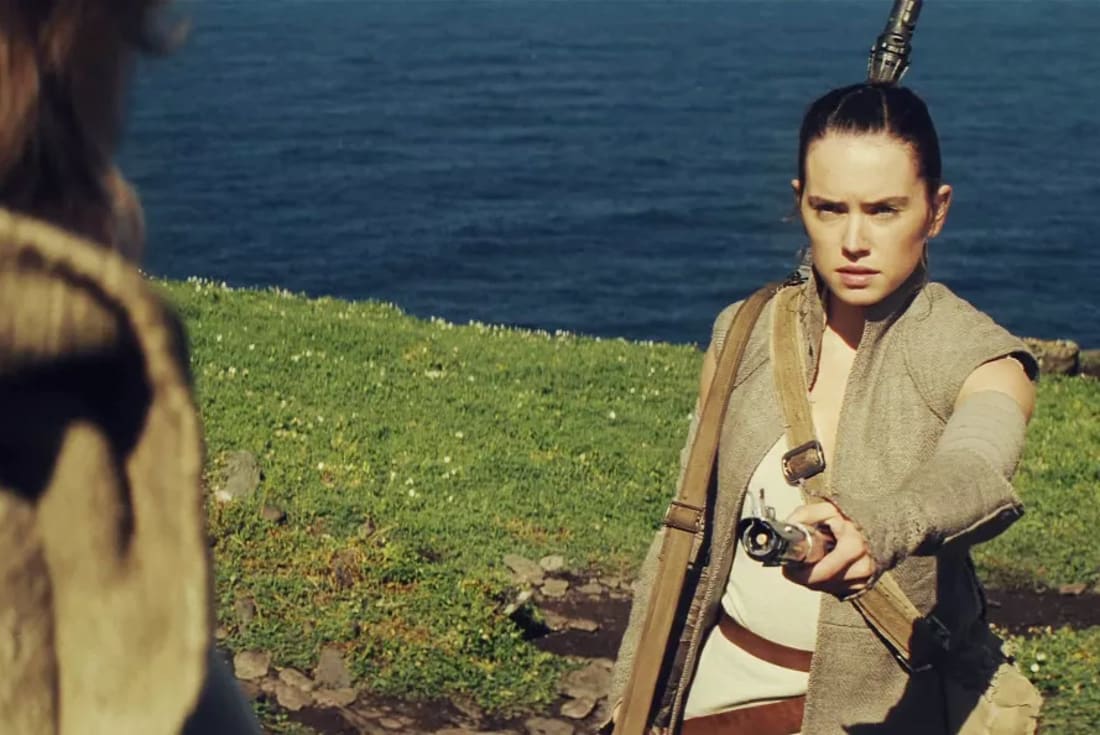 Kylo might also be the catalyst behind the decision to make The Last Jedi's title card red instead of yellow. Red is blood and fire. It invokes violence, anger, passion, danger, war, and power. The deliberate choice to use it after every other title card in the franchise has used yellow implies something sinister, and John Boyega has already said Rian Johnson's turn in the director's chair will be much darker than J.J. Abrams'. What could be more dark than Kylo Ren killing a bunch of Padawan like his grandfather before him?
I've long maintained that Episode VIII will be heavy on flashbacks, and now my confidence is even higher. Numerous questions remain about the 30 years between Episodes VI and VII, and Disney can't expect us to wait for all of the answers until the last film in the trilogy. We need to know more about what transpired with Kylo and Luke, revelations that will be dramatically more satisfying, illuminating, and emotional if they're done via flashback instead of dialogue. We've seen just a flash of the Jedi massacre—more in trailers than in a whole damn movie—and it's insane to think any competent filmmaker would pass up the chance for such a dynamic set piece. There will be blood, and we're going to see it. 
But before that, we're gonna get some trailers. If history is any indication, we shouldn't be waiting too long. The first Force Awakens teaser arrived just three weeks after its title was revealed, and Rogue One followed the same pattern. But we shouldn't even have to wait that long this time around. There's a certain cultural event in two weeks that promises the largest television audience in the year: the Super Bowl. Lucasfilm president Kathleen Kennedy said we'll see something "heading into spring," but why would she pass up such a large audience? It could only be more of a lock if this year's Super Bowl was on ABC—which is also owned by Disney—instead of Fox. 
As soon as that spot arrives, speculation will become even more rampant, and all sights will be set on the December release date. But instead of getting antsy, let's just enjoy the sense of mystery we're currently allowed. Anything is possible right now, and half the fun is imagining what's next. Before we know it, Luke Skywalker will have spoken in a Star Wars flick for the first time in nearly 35 years.