Are you watching porn right now instead of doing whatever the hell you're supposed to be doing at your respective place of employment? Probably. Pornhub dropped their extensive breakdown of 2016 porn consumption trends Thursday, revealing two very important things:
People, particularly Americans, still fucking love porn. Understandable.
Mia Khalifa still hasn't dethroned Kim Kardashian as the United States' most-searched star.
U.S. viewers provided Pornhub with enough pleasure-minded traffic in 2016 to best the United Kingdom, Canada, India, Japan, and literally everyone else. Well done, Americans. This is arguably our only accomplishment as a nation in 2016: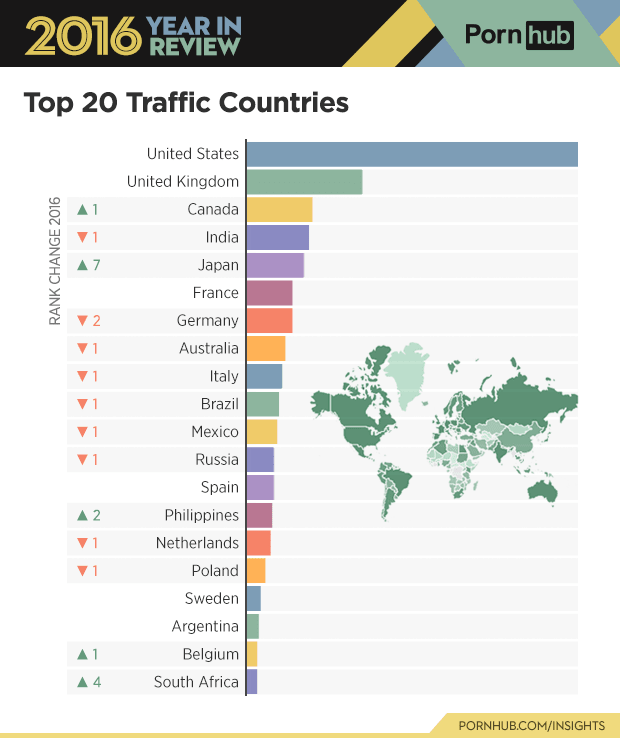 Dr. Laurie Betito, sex therapist and Sex Bible for People Over 50 author, notes that 2016's most popular search terms—including top gaining searches such as Harley Quinn and Star Wars—prove that viewers are becoming increasingly less interested in peeping porn that resembles actual reality. "It appears that the trend is moving more toward fantasy than reality," Dr. Laurie said Thursday. "'Generic' porn is being replaced with fantasy specific or scenario specific scenes. Is this as a result of boredom or curiosity? One thing is certain; the typical 'in-out, in-out' no longer satisfies the masses, who are clearly looking for something different."
Southern states, hilariously, routinely spend more time per Pornhub visit than the rest of the country. Mississippi boasts an average visit length of just over 11 minutes, narrowly topping Alabama. Take that, porn-hating Republicans: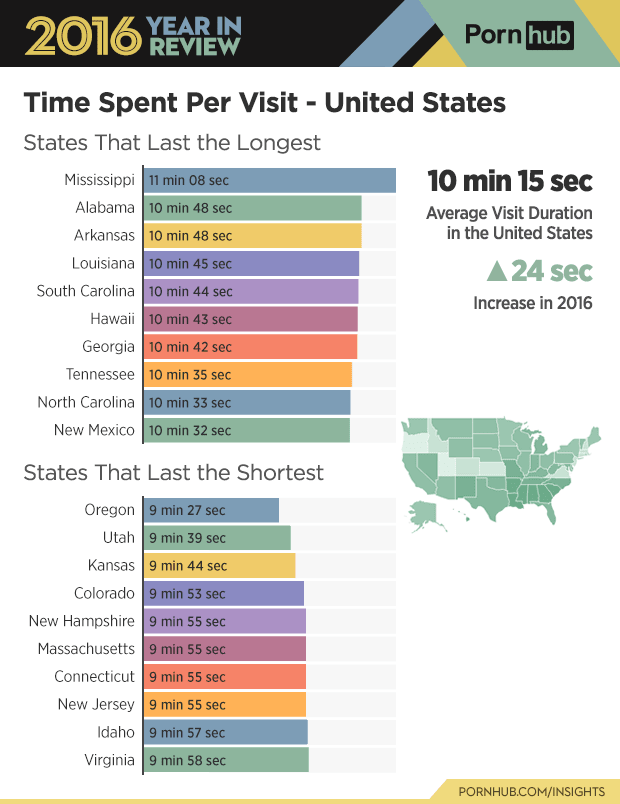 With a global total of 23 billion visits last year alone, Pornhub can safely bet on an equally stacked 2017.
Happy porning!