Back in March, plastered all over Austin, Tex., were "Missing Person" posters of Alia Shawkat. Of course, the widely recognized Shawkat, who's best known for playing Maeby Fünke on Arrested Development, isn't missing; in fact, she was very much in and around town during SXSW promoting her new TV show, Search Party, which premiered during the festival and airs on TBS on November 21. Eight months later, Search Party billboards could be found around Brooklyn (where the show takes place) with a Nancy Drew-esque illustration of the cast and the tagline, "Find the riddle within the trash." It's a tagline that probably rings true for New Yorkers, people who live in a city that reveals different riddles (and a lot of trash) on every block.
Search Party literally opens up on a brunch scene. But it almost immediately sets itself apart from other New York shows like Girls or Broad City. "I like to say it's hipsters meets Columbo​," Shawkat told our anchor Tamara Dhia during her video interview. While it's a show about the trials and tribulations of being a 20-something in New York, Search Party is also a mystery, and it takes the kinds of dark turns that the aforementioned shows don't. 
Shawkat's character, Dory, isn't the one missing though, as those "Missing Person" posters will have you believe. She's just a normal 20-something looking for her calling in life when—over brunch, of course—she finds out that a girl she went to school with, named Chantal, has gone missing. She and Chantal were never close, but for some reason, this case starts to entirely consume her life. There's something to be said here about Dory's millennial ennui that makes her find purpose in someone else's problem. What looks like a selfless gesture on the surface—of one friend caring about another's well-being—has hints of self-centeredness beneath the surface. Dory doesn't really have a career going for her and feels lost in such an ambitious city, so she takes on a project that is far beyond her reach in order to feel better about her life. As the season progresses, Dory's tunnel-visioned mission puts a strain on her relationship with friends and acquaintances, and comi-tragic instances each episode make us question whether Dory is in the right—about her friend Chantal being alive—or if she's crazy. 
Search Party feels like something we've seen so many times before but at the same time it feels totally fresh and different. Its inspiration is so familiar that it's actually kind of funny. Writer/creator/executive producer Charles Rogers says the idea for the show stemmed from the writers sending screenshots of other people's crazy Instagram and Facebook posts to each other. "You're like, 'I can't believe they're doing this publicly right now. I can't believe they're letting people see this darkness in them,'" he said. "And I think it's really interesting that people take trauma and make it their own, and make it a part of their social media identity. That's a big part of Search Party—why you want to help other people, and what makes you genuinely empathetic and concerned about others and how that's not always such a black and white impulse." How eerily Rogers' words ring true as the show is set to premiere, immediately following the election results on November 8. We live in a uniquely devastating political climate and age of information, and even in just the past week, social media identities have shifted tremendously to adapt to, and process trauma.
Of course, Search Party didn't intend for such commentary; it couldn't have known. It did, however, intend to fill a certain interest people have in TV right now. "I think the show kind of marries two genres that people are really interested in: a serialized story and also a hyper-realistic representation of young people right now," Lily Burns says. Michael Showalter piped up next to her to sell it even harder: "Suspense! Comedy! Sex! Money! Catharsis! Celebrities! Fiction!" It sounds funny, but Showalter isn't totally joking; the show really is a mixed bag of everything. And it takes place in New York, capitalizing on the feelings elicited by the anxiety, ambition, and anonymity of the city. 
"New York can be so cold and uncaring," Burns says. "I think people can feel so lost there. There's something about someone disappearing in New York: that could happen and nobody would ever do a thing or skip a beat. New York can feel so anonymous and I think that Dory is really overwhelmed by that."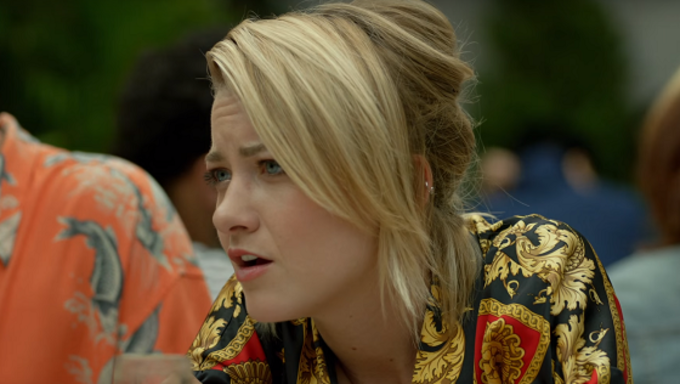 Even though there's a fantastical element to the show's mystery plot, in a way it is believable because New York really is that weird. "And there's a darkness to New York," Rogers adds. "In New York you can believe that there are clues and that nothing is a coincidence because everyone is everywhere and everything is connected in New York. If it was like L.A. or Austin or New Orleans or something, it would be a different darkness, a different dark magic. Like, the New York dark magic is cerebral and you can get lost in it." 
Search Party takes you through those dark New York City alleyways, with Alia Shawkat leading the way. "Dory ends up at weird, seedy kinds of places that aren't just like 'Let's go to the brunch spot!'," Shawkat says. "It's in the gentrification world but also ends up taking weird turns because of this mystery. She keeps falling down this rabbit hole and it takes her to some weirder parts of Brooklyn that I definitely wouldn't go to." Dory ends up digging through a lot of trash to get to the bottom of her riddle.