It's a late August afternoon and the teenage stars of the Tribeca Film Festival standout Kicks are milling around the downtown Los Angeles sneaker spot RIF, perusing walls lined with colorful, plastic-wrapped Jordans, Kobes, LeBrons, and KDs. The conversation quickly turns to one star athlete whose signature shoes are notably missing from the wall: Steph Curry.
"Only old white dudes fuck with the Stephs," says Christopher Jordan "C.J." Wallace, the 19-year-old son of the late Notorious B.I.G and singer Faith Evans.
"Those are not cute," snaps Christopher Meyer, who's wearing black Vivienne Westwood sneakers.
"He's not a hip guy," Jahking Guillory chimes in. "Before the game, bro don't look fly. He looks like, 'Aw, I just show up to work.'"
"He's got that Tim Duncan young swag: 'I came here to shoot threes and that's that," says Meyer. "Tim Duncan—you know he shop at Old Navy."
Guillory, Meyer, and Wallace are riffing with the careless ease of young stars-to-be who know that their big break—the release of Kicks on Sept. 8—is just weeks away. Set in the Bay Area, Kicks centers on Brandon (Guillory), a poor teen whose bummy appearance makes him a target of ridicule. He finally gets his hands on a pair of the classic "Bred" Air Jordan Is (just re-released last week), which boost his self-confidence and social status—until a group of older teens jump him and steal them right off his feet. Bloodied, emasculated, and humiliated, Brandon recruits his boys Albert (Wallace) and Rico (Meyer) to set out down an increasingly dark and violent path to get them back. What follows is a powerful exploration of the cultural importance of sneakers, how aggression and masculine pride often go hand in hand, and the endless cycle of violence in the inner city.
Co-written and directed by 31-year-old first-time filmmaker Justin Tipping, Kicks is a bright spot in 2016's slate of movies, a film with heavy hip-hop influences and an eye-opening example of the brilliance that can come from new perspectives, eschewing the traditional Hollywood model, and a fresh, diverse cast. 
The plot of Kicks was inspired by Tipping's own real-life beatdown at age 16. Raised in El Cerrito, on the border of Richmond, California, he was walking in West Oakland wearing brand new, customized, all-white NikeID Air Prestos. A group of guys approached him over the shoes, and though they didn't end up stealing them, they did give him a black eye and a bloody lip. The violence was bad, but what followed was even more hurtful. 
"The hardest part was just sucking it up [at school]," Tipping tells Complex. "Even kids I didn't know were like, 'Yo, you got fucked up, man!' Someone taught them it's OK to accept violence in that way."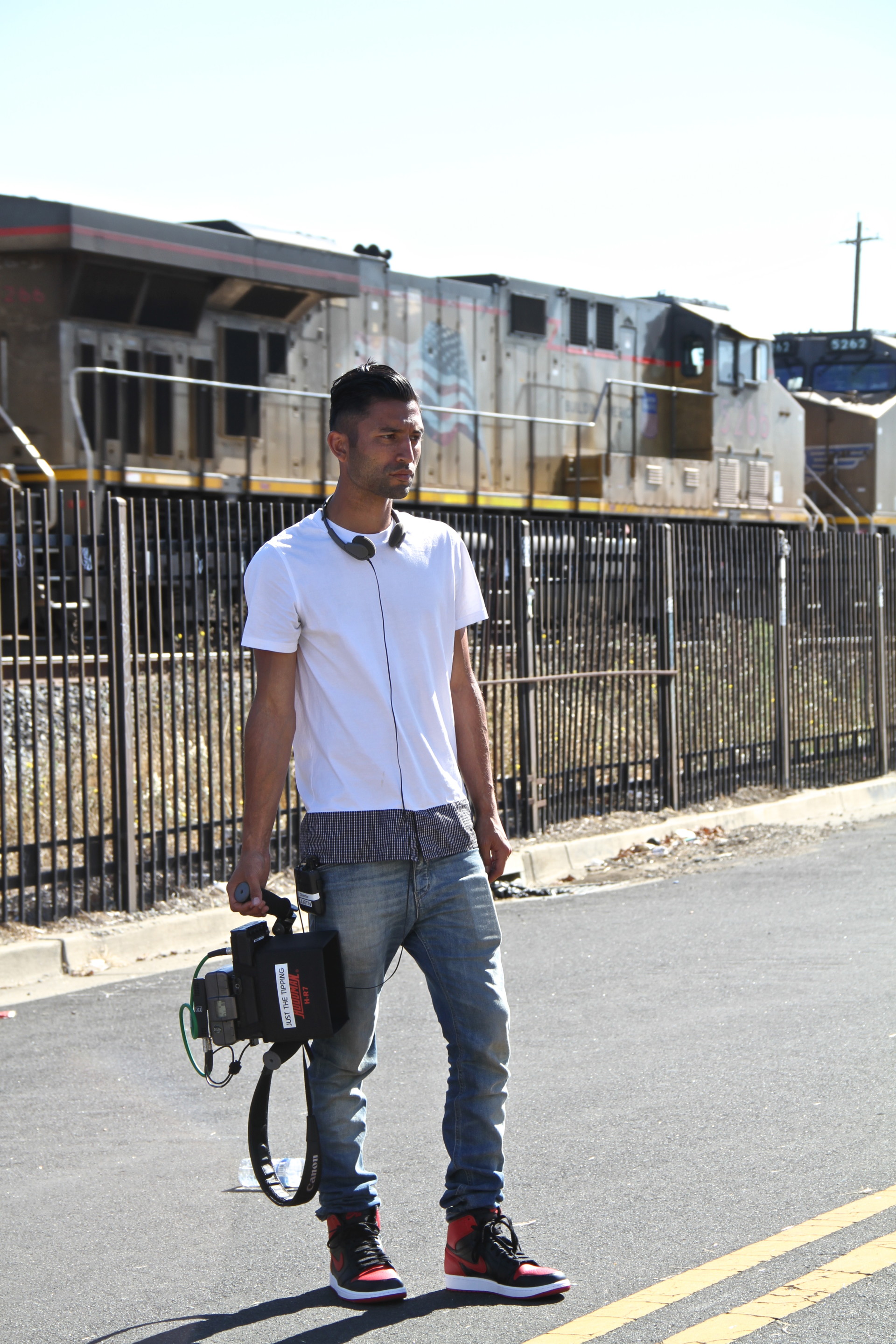 But growing up in the Bay also had its benefits; it's one of the most diverse areas in the world, filled with vibrant subcultures, and the director, who is of Filipino descent, experienced them firsthand. While studying film history and cultural theory at the American Film Institute in Los Angeles, the young director saw how grossly underrepresented and misrepresented minority groups are on the big screen. Tipping is determined to tell those stories the right way. His AFI thesis, the acclaimed 2011 short Nani, focused on a young Latino graffiti writer who uses a spraycan to bond with an elderly Asian woman with dementia while doing community service at a nursing home.
Tipping knew it wouldn't be easy to make Kicks, an R-rated coming-of-age story about young black men with no big-name stars to help sell it. "There were definitely some people out there who were like, 'If you took out every curse word and you offered this to Jaden Smith and Miles Teller, you could probably get this made immediately…' I was like, 'Nah. It's not that kind of movie.'"
Ultimately, Tipping was able to stay true to his vision. Over the course of a year, producer David Kaplan scraped together enough money from a variety of sources to cover costs without sacrificing creative control. "The credits are ridiculous," says Tipping. "There's, like, 20 different independent financiers."
The somewhat grassroots funding gave Tipping free reign, and as he insisted, the characters of Kicks are nuanced and complicated, going right when you expect them to break left. Brandon, as well as the film's antagonist, Flaco (Kofi Siriboe), and Brandon's uncle Marlon (Mahershala Ali), are all caught up in a stifling code of street honor. "It's gonna open a lot of eyes," Meyer says. "We were at the Tribeca Film Festival and we did a Q&A. This older white lady got the mic and she was like, 'Hey, does this type of thing actually happen?' Man, this is real—this is how it really goes down."
Kicks isn't only going to open America's eyes to inner city violence—the film is also a showcase for Guillory, Meyer, and Wallace. It's the first feature for 15-year-old Guillory, who grew up in Moreno Valley, California, and moved to Long Beach at 11. Prior to Kicks, he did mostly minor television and commercial work. He's perhaps better known for his athletic prowess: Though many wouldn't guess it looking at his long, flowing hair, he was a Junior Olympics track and field champion and standout running back for the Diamond Valley Steelers, Snoop Dogg's multiple championship-winning youth football team. Meyer, 19, who was born in Brooklyn, and raised in West Palm Beach, Fla., had runs on General Hospital, NCIS: New Orleans, and Wayward Pines, but Kicks is his film debut, too. Nineteen-year-old Wallace, who moved from New York to L.A. as a child, portrayed his late father in Notorious (2009) and co-starred with Will Ferrell in the 2010 indie Everything Must Go. But he considers Kicks his biggest acting opportunity yet—and a means to distinguish himself from his legendary father. "I always got tired of the 'Lil Biggie' tag," says Wallace.
For the three actors, Kicks' diverse cast and fully fleshed-out characters offered a welcome change from their experiences as black actors in Hollywood. Meyer and Guillory have grown tired of casting calls for "all ethnicities" that inevitably go to white actors. "It's hard for me, being my color and having curly hair," Guillory says. "I went to a commercial audition the other day and bruh, I looked to my right and my left and everybody's white. No disrespect, but don't call me for anything if you already know what your idea is."
"It's happened so many times," adds Meyer. "I still go [audition] as hard as I'm supposed to go, but it's always in the back of my mind and I can't ignore that." 
"'Kicks' is gonna open a lot of eyes. this is real—this is how it really goes down."
—christopher meyer
With films like Kicks, Fruitvale Station, and the upcoming Coogler-directed Black Panther movie, as well as Netflix's The Get Down, Fox's Empire, and Marvel's Luke Cage series, there's hope that things are changing in Hollywood.
"It feels like we're definitely a part of this wave that's gonna knock down this door, and show that young black men and women can lead these franchises and films," says Meyer. "It's gonna make a tsunami, bro. And we all gonna ride it."
Of course, questions of ownership, authority, and frankly, job opportunities are of the utmost importance as the entertainment industry diversifies. Tipping understands why some might take issue with him and Kicks co-writer Joshua Beirne-Golden, who's white, making a film about the experiences of young black men in the Bay, particularly one that does not always paint the area and its inhabitants in a positive light. "We live in a time when cultural appropriation and the fear of someone co-opting and exploiting a lifestyle is a legitimate question," he says. "If no one was asking, it'd be weird. The dialogue should happen—especially in the climate we live in now."
As far as the film's leads are concerned, that Tipping's race was never an issue.
"There's always that one dude in the group who's either white or Spanish, but he's 'black' because he knows," says Meyer. "For me, [what matters is] if you're gonna tell the story the way it needs to be told. [Justin] gets it, he gets the culture. He grew up there!"
"Justin is black," Guillory says.
Tipping, who calls himself "Filipino mixed" (after centuries of Spanish and American colonization, many Filipinos have European blood), gained understanding for other groups in part because of his ethnic ambiguity, which was both a blessing and a curse. "I could slide into any group and they would be OK," says Tipping of his childhood.  "At the same time, I've experienced racism for groups of people that I'm not even [a member of]. I've experienced racial slurs thrown at me. I was with my brother in Florida and some guy on the street was like, 'Go back to Cuba!' and was squaring up. I was like, 'I'm not Cuban, but I will square up on behalf of all Cubans, because this is crazy!' In a weird way, being ethnically ambiguous and growing up surrounded by such diversity is an education in empathy. That's why it really matters to me to tell stories about worlds and people that aren't often talked about."
Back at RIF, Meyer inspects a pair of black Nike Air Yeezys, one of his favorite sneakers. Used, they cost $1,800.  
"Can't do it," says Meyer. "My dad would kill me."
"That's a car note," Guillory replies.
The actors start discussing the most they've spent on a pair of shoes. Wallace, a self-proclaimed "lazy dude when it comes to getting dressed" who says he often wears slip-on checkerboard Vans, wins easily (or loses, depending on your point of view): He once dropped $1,200 on a pair of Ferragamo loafers, to go with a $3,000 suit he wore to the Tribeca Film Festival. "I wanted to stunt on the red carpet," he says.
But all stunting aside, the three young actors seem to have soaked up the message that runs through Kicks—that life is more important than fragile egos or fleeting material goods. 
"It happens every day—people get killed," says Guillory. "My friend got stabbed 17 times over his backpack. He died over that. People go to war over materialistic things. Man, just stop."
"Losing my dad young showed me you can't take anything for granted—it could be taken from you at any moment," says Wallace. "So, just appreciate your true friends, who's really with you, who's riding with you. Material items aren't anything at the end of the day."