This Sunday brings television's biggest night of the year, the Primetime Emmy Awards. Yet, despite the fact that we're guaranteed the mix of pompous grandeur and car crash TV that defines all award shows, this year's Emmys seem decidedly hype-deficient. First, it's being hosted by Jimmy Kimmel, a totally fine presence who is somehow an off-brand version of both Jimmy Fallon and David Letterman. 
Second, the significant expansion of the "Emmy Season"—complete with way more spending, For Your Consideration campaigning, fluffy PR, and critical advocacy—exhausts the intrigue out of the process by the end of the summer. You know, just like all that same stuff deflates Oscar Season every year.  
Third, and probably most importantly, many of the night's biggest categories look to have predictable and familiar winners. Rule changes in 2015 enabled more television academy members to vote in more categories—even without verification of watching nominated episodes—ultimately making it even easier for the rich (HBO, basically) to get richer. There's little reason to believe much will change in 2016, where only a few notable upstarts have chance to topple former winners. Although this reality makes predicting the Emmy winners in the night's biggest categories a little easier, there are still a few categories with competitions sure to divide even the most diplomatic of TV diehards. Let's break down the key races, highlight the real contenders and see if there's actual competition within the category. 
Drama Series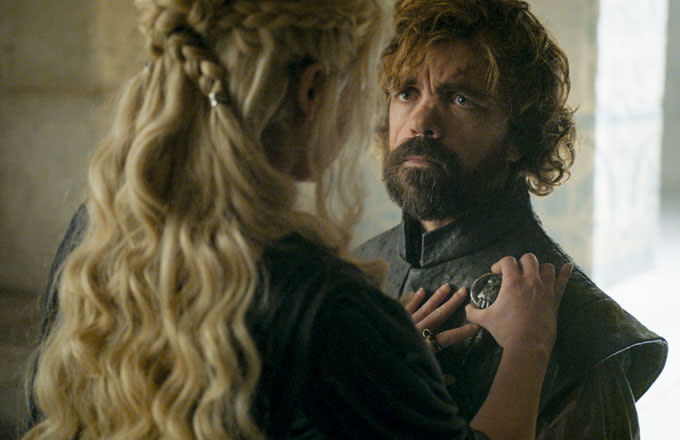 Last year's winner: Game of Thrones
This year's contenders: Thrones, Better Call Saul, Mr. Robot
Level of competition: Likely low, unless things get weird
The winner: Thrones
Game of Thrones finally broke through in this category last year for what was perceived to be its weakest season. Now it's back with a Summer 16 run that had more hype than ever, and in a field missing a Mad Men or Breaking Bad to hold it back. It's likely to win in this category in 2016 and every year it's eligible until the series finale airs. If you're looking for (unlikely) alternative scenarios, you should probably look toward Mr. Robot, the category's buzzy new entrant that could ride that buzz to a surprise win, or Better Call Saul, a show that potentially split votes with Mad Men in 2015 and could travel a Breaking Bad-esque path with more attention beyond its first season. But those are pipedreams. Thrones wins.
Lead Actress, Drama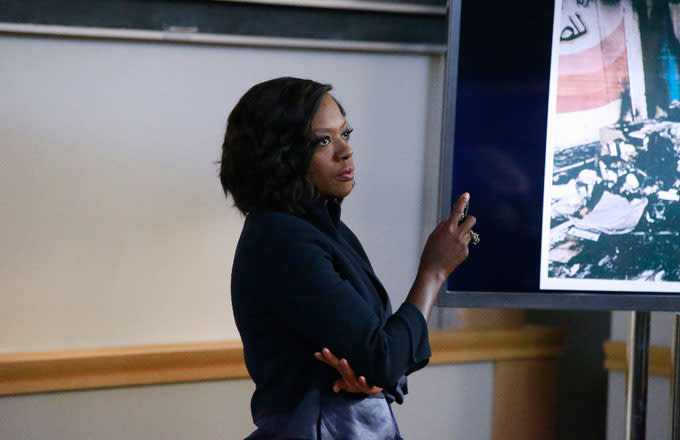 Last year's winner: Viola Davis (How to Get Away with Murder)
This year's contenders: Davis, Claire Danes (Homeland), Keri Russell (The Americans), Robin Wright (House of Cards)
Level of competition: Sneaky high, maybe
The winner: Davis
There's a number of decently likely scenarios among this field. Viola Davis did nothing on her own to lose her spot, but the show (and subsequent discussion around) did her no favors. Claire Danes and Robin Wright are similarly marooned on shows that don't meet their respective talents, but both have submitted tremendous episodes that could get them over the hump (and in Danes' case, for the third time). And maybe the sudden appearance of The Americans in major categories means it's about to shock the world. When it doubt, though, go with the incumbent.
Lead Actor, Drama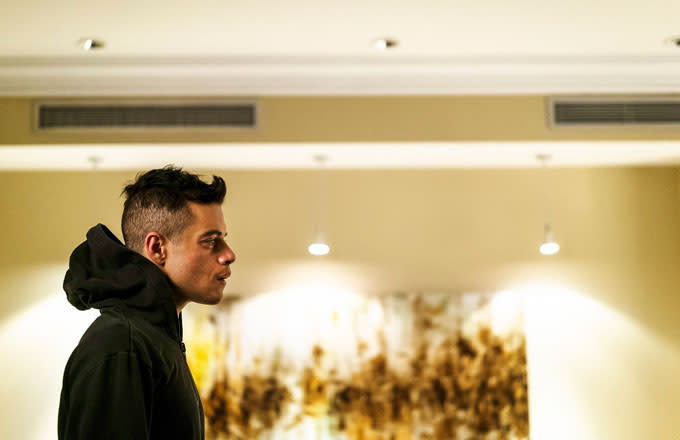 Last year's winner: Jon Hamm (Mad Men)
This year's contenders: Kyle Chandler (Bloodline), Rami Malek (Mr. Robot), Bob Odenkirk (Better Call Saul), Matthew Rhys (The Americans)
Level of competition: Low
The winner: Malek
There's no incumbent here to get in Rami Malek's way and he is the best chance Mr. Robot has to win big. Odenkirk had the best performance of the group, Chandler is a former winner, and my Americans theory has a greater-than-zero chance of accuracy, but Malek is a great choice too. Only way to take down the system is from the inside, or something.
Supporting Actor/Actress, Drama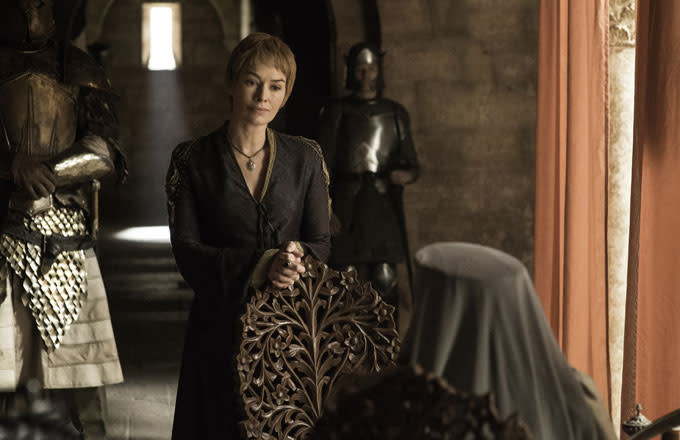 Last year's winners: Uzo Aduba (Orange is the New Black) and Peter Dinklage (Game of Thrones)
This year's contenders: Anyone from Game of Thrones—Emilia Clarke, Lena Headey, and Maisie Williams on the actress side and Dinklage and Kit Harington on the actor side.
Level of competition: High, but friendly
The winners: Headey and Harington
I've seen a lot of love for Downton Abbey's Dame Maggie Smith, but the Emmys don't reward final seasons as much as their conservative reputation might suggest and she hasn't won since 2012. You figure one of these Thrones women takes the category, and I'm simply picking the best of the trio to finally win after three nominations. Still, most picked Headey last year and with more voters in the mix, you can imagine a Khaleesi victory pretty easily. As for the dudes, Peter Dinklage is a two-time winner and a strong candidate to repeat. However, Kit Harington's sudden appearance in this category combined with nearly all the promotion for Season 6 of Thrones involving his Jon Snow dramatically increases the probability that he wins.
Comedy Series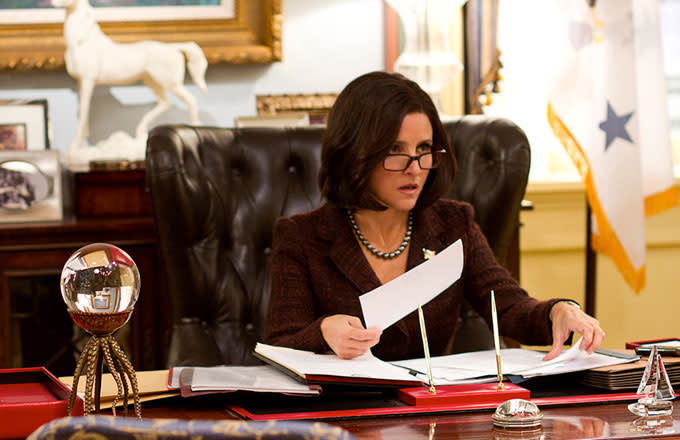 Last year's winner: Veep 
This year's contenders: Veep, Transparent 
Level of competition: Extremely low
The winner: Veep
Veep stopped Modern Family's five-but-it-felt-like-50 year winning streak last year. For that, it's second win in many years is completely fine. 
Lead Actress, Comedy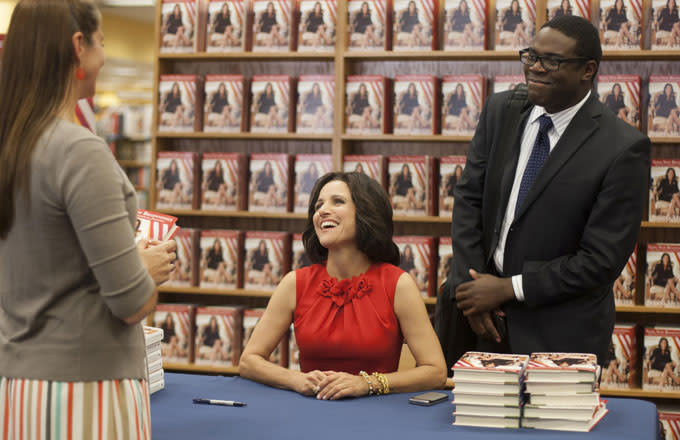 Last year's winner: Julia Louis-Dreyfus (Veep)
This year's contenders: Louis-Dreyfus
Level of predictability: Less than zero
The winner: JLD
She's won every year since 2012. Everyone else in this category is wonderful, especially Tracee Ellis Ross and Ellie Kemper, but they're gonna have to be happy with being nominated.
Lead Actor, Comedy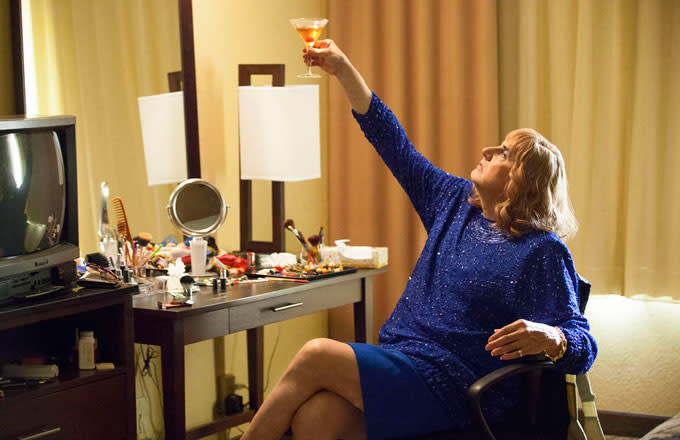 Last year's winner: Jeffrey Tambor (Transparent)
This year's contenders: Tambor, Anthony Anderson (black-ish), Aziz Ansari (Master of None)
Level of competition: Tiny
The winner: Tambor
Yet another major comedy category that shouldn't be especially competitive. The groundswell of support for Transparent may be smaller this year, but Tambor's performance was just as good. Though I wouldn't be entirely shocked by an Anthony Anderson win given that black-ish scored more top-line nominations this year and Aziz Ansari is the shiny new toy in the category, this is Tambor's race to lose, clearly.
Supporting Actor/Actress, Comedy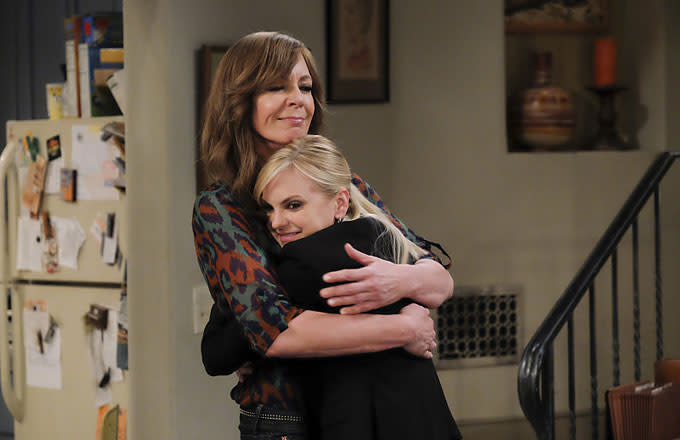 Last year's winners: Allison Janney (Mom) and Tony Hale (Veep)
This year's contenders: N/A
Level of competition: None
Two repeats. Let's move on.
Variety TV Series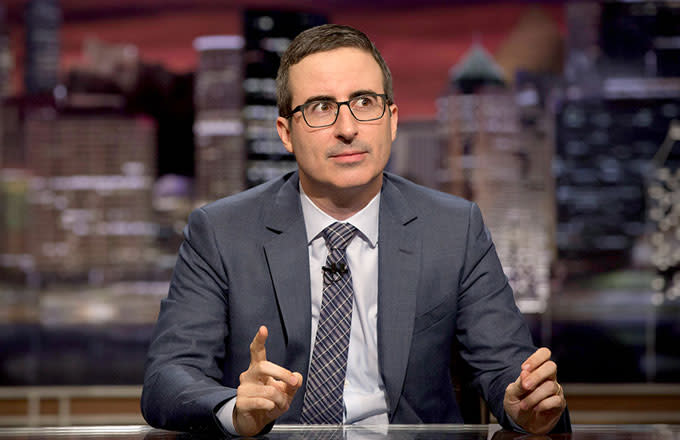 Last year's winner: The Daily Show with Jon Stewart
This year's contenders: Last Week Tonight with John Oliver, The Late Late Show with James Corden, The Tonight Show with Jimmy Fallon
Level of competition: Probably less than I think, but a significant level of intrigue
The winner: Last Week Tonight
This is my favorite horse race of the night. Last year was the first year that variety series were split into "talk" and "sketch" categories, but if you look at the longer history of the category, nobody but The Daily Show and The Colbert Report have won since 2004. 12 years! Modern Family wishes it could have dominated like that. 
Now, both of those shows are gone—you can try to tell me The Daily Show still exists, but you can't prove it—and Colbert's embattled Late Show didn't even make the cut. What's left are three shows that represent the dueling visions of late night TV, with John Oliver serving as your extremely woke political commentary candidate and James Corden and Jimmy Fallon representing the viral thirst party. 
History tells us that this is likely Last Week Tonight's trophy to lose based on the Stewart connection, the subject matter, and the HBO of it all. However, if there's one thing the last 18 months have proven it's that we should never, ever underestimate how much people love James Corden. I know the Emmys aren't actually sacrosanct or anything, but humanity should take a good long look in the mirror if we give a guy this award for bad singing and distracted driving.
Limited Series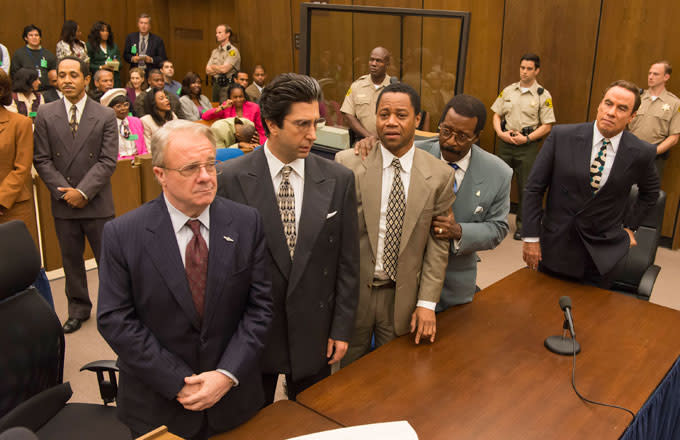 Last year's winner: Olive Kitteridge 
This year's contenders: American Crime, Fargo,  The People v. O.J. Simpson, and Roots
Level of competition: THREAT LEVEL RED
The winner: O.J.
Ohhhhhhhhhhhh boy. TV's recent obsession with the miniseries finally comes to a head at the Emmys. It should have happened at the 2014 show, but True Detective Season 1 entered the drama race, avoiding Fargo and American Horror Story altogether. These categories are jam-packed with tremendous nominees to the point that even a somewhat predictable result—utter domination by The People v. O.J. Simpson—seems exciting. 
You could make a good argument that O.J., Fargo, and American Crime were the three strongest projects in the entire field, and now they're in the same race, along with Roots, a great miniseries in its own right and a remake of an Emmy fav, and The Night Manager, which, well had Tom Hiddleston's ass. It's weird to imagine Fargo as the would-be spoiler in this race and most of the ones below, but that's a testament to the sheer force that is The People v. O.J.
Lead Actress, Limited Series or Movie
Last year's winner: Frances McDormand (Olive Kitteridge)
This year's contenders: Kirsten Dunst (Fargo), Felicity Huffman (American Crime), Sarah Paulson (The People v. O.J. Simpson), Kerry Washington (Confirmation)
Level of competition: Unfair levels
The winner: Paulson
These acting races would be competitive enough with just limited contenders, but the Emmys actually combine limited series and TV movie, making the bloodbath even bloodier. In any other year, Huffman and Washington would be locks to win in this category. But in 2016, they're unfortunate afterthoughts in the larger O.J.-Fargo showdown. Even Dunst, who turned in the most compelling performance on a show full of people really trying to win awards, is sure to be a bit of an afterthought when compared to Paulson. Voters love her already, and her Marcia Clark buoyed O.J. during its best episodes. 
Lead Actor, Limited Series or Movie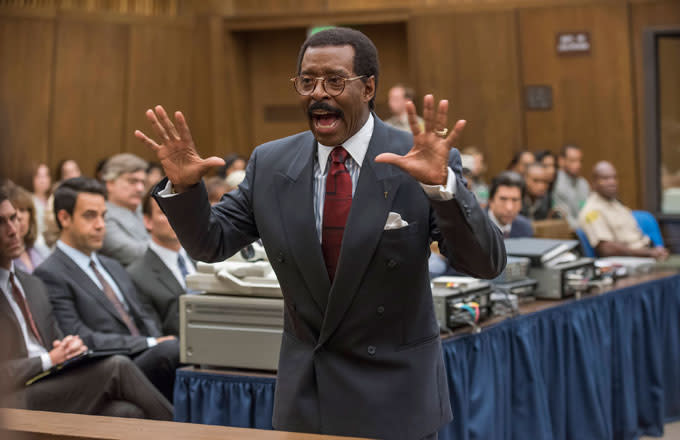 Last year's winner: Richard Jenkins (Olive Kitteridge)
This year's contenders: Bryan Cranston (All The Way), Benedict Cumberbatch (Sherlock), Cuba Gooding Jr. and Courtney B. Vance (The People v. O.J. Simpson)
Level of competition: Very high
The winner: Vance
In a just world, this probably isn't a competition at all. Courtney B. Vance's Johnny Cochran personifies the triumph of The People v. O.J. Simpson: bringing an oft-imitated individual back from cliché and toward a truly complex, even sympathetic, human being. But this isn't a just world. Benedict Cumberbatch won in this category in 2014, the last time he was nominated, and unless Jeff Daniels is in the race, all Bryan Cranston has to do is show up at the Emmys and he wins. 
Supporting Actress, Limited Series or Movie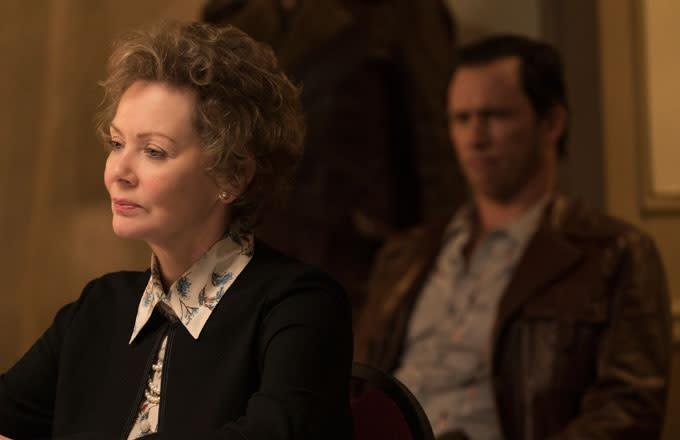 Last year's winner: Regina King (American Crime)
This year's contenders: King, Kathy Bates and Sarah Paulson (American Horror Story), Melissa Leo (All The Way), Jean Smart (Fargo)
Level of competition: These Ls are gonna hurt
The winner: Smart
The only limited series/TV movie category without an O.J. representative makes for a compelling race. Regina King won last year and is back with another strong case. Kathy Bates won here a few years ago. Sarah Paulson is so good she could win two trophies in the same night. But Fargo has to win one of these, right? Jean Smart is a multi-time Emmy winner and delivered a performance that differs enough from what she's done previously. She's the pick.
Supporting Actor, Limited or Movie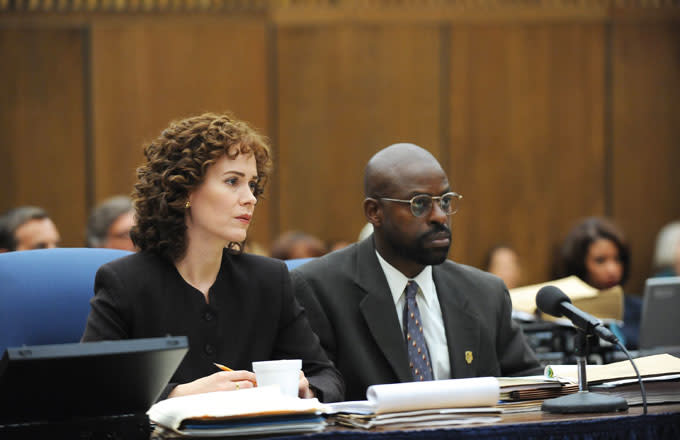 Last year's winner: Bill Murray (Olive Kitteridge)
This year's contenders: Sterling K. Brown and John Travolta (The People v. O.J. Simpson), Hugh Laurie (The Night Manager), Jesse Plemons (Fargo)
Level of competition: High, and beware the star power
The winner: Brown
Much like his co-stars Paulson and Vance, Sterling K. Brown should have this category on lock. I'm still terrified that the perceived status of John Travolta (or even David Schwimmer) could unfairly snatch a victory away from Brown, however. Or, maybe Hugh Laurie finally gets some love after all those years of never winning for House. Big names from big projects always have a leg up at the Emmys, for better or worse, and there's always one supporting category that gets really, really weird. I mean, Bill Murray won here last year. I can't pick against Brown, and he's still a certain pick, but don't be surprised when Travolta is on stage and you're just mad.
There's not a lot to be angry about with these absolutely certain results. Maybe these Emmys feel predictable, but sometimes predictability can be a good thing. Cheers to The People v. O.J.!