When Shad took the reins of CBC's popular radio show, q, the move seemed to be a terrific fit for the organization. The brand was looking get younger, and was of course, beginning to distance itself from its previous host and his nightmarish past. Upon entering the CBC studio in April of last year, Shad was able to drive the ship and garner new listeners. His relaxed interview style was often criticized, but it didn't hurt the landing and maintaining of an impressive guest list. q had gifted its audience with engaging long-form interviews, and remained a great showcase of local and international talent. This new direction was aided by the fact that Shad himself, continues to build upon his prominent, Juno-awarding winning music career.
Today, CBC has announced that the 34 year-old rapper will leave his position as host, and will do so following tomorrow's Tuesday broadcast. Replacing Shad, will be Tom Power, who has guided his own show on CBC Radio, and has spent time guesting on q as well.
As the news surfaced online, Shad lamented about his time on the program using his official Facebook page. You can read the post below.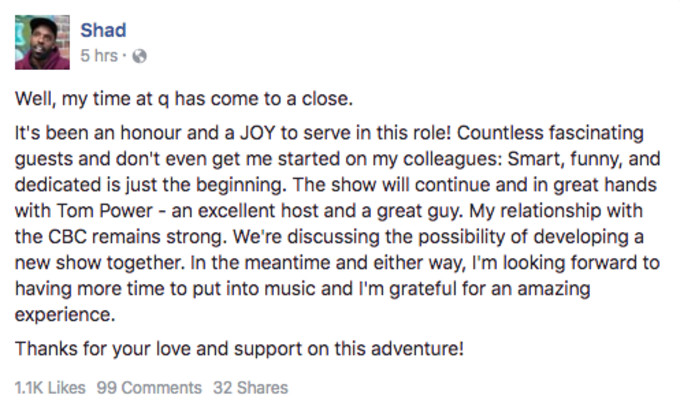 You can tune into the new q when it launches this October. In the meantime, let's hope that this departure means that Shad can return to the booth and work on a follow up to this year's, Adult Contempt.