As if Mondays weren't already a shining example of just how awful human existence can be, Comedy Central made matters worse with yesterday's announcement that this week's batch of The Nightly Show With Larry Wilmore shows would be the last. That's right. In case you missed our collective mourning, Larry Wilmore's one-of-a-kind take on the nation's quickly devolving political process and the social issues surrounding it is coming to a swift close this Thursday. Wilmore directly addressed this profound bummer on Monday night's show, thanking the network for the opportunity and delivering some top-shelf commentary in the process.
"When we started the show we wanted to have conversations on tough subjects," Wilmore told the audience. "And we've had a lot of fun doing just that. Our show was at its best when news was at its worst. I'm just so proud we were able to talk about real issues and, hopefully, say something powerful while making people laugh on some very dark days." Then, Wilmore hit us with some distinctly Nightly Show subversion.
"My only regret is that we won't be around to cover this truly insane election season," Wilmore said. "On the plus side, I must say this show going off the air has to mean one thing: racism is solved! We did it! In fact, I think we have a photo from Ferguson that was taken earlier today." The photo in question? This: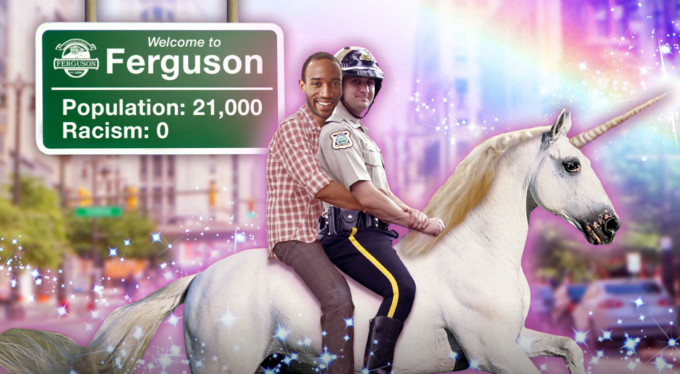 "You're welcome, America," Wilmore added. Damn. Only three more shows to go? Maybe Netflix or Amazon can step in and keep The Nightly Show on the air at least through this preposterous election season.