What up Facebook commenters? We have something truly dire that needs your expertise. Rob Kardashian has apparently erased all signs of Blac Chyna from his occasionally poppin' Instagram account, as noted by E! News early Monday morning. SMH. Devastating! Rob briefly had a lone solo 'gram remaining, though he has since deleted it and opted instead for a completely blank Instacanvas: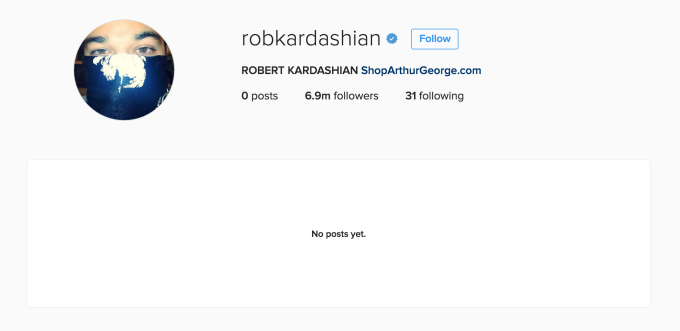 Rob also seems to have removed any mention of his fiancée from his Twitter, though the same can't (currently) be said for Chyna and her respective 'gram:
So what's the deal? E! News spoke with Rob's sister, Kim, as recently as Friday without any signs of troubled waters. "I was FaceTiming with Chyna the other day and explaining to North that there was a baby in her belly and then sharing the sonogram pictures with North and explaining to her that this is her little cousin and it's so exciting we have a new cousin coming," Kim said. According to the recent "Famous" controversy squasher, the whole Kardashian fam is "so excited" and ready to offer their support to this year's most talked-about couple.
The couple's road to (temporary?) love and tranquility has been well-documented, with the unofficially dubbed ChyRo phenomenon taking off at the top of 2016. In the months since, ChyRo has experienced everything from 20-hour rescue drives to purple Lamborghinis to a headlines-shattering pregnancy.
This also happened, proving once again that the mirage of modern reality is not to be trusted:
Hopefully, we won't have to wait until the premiere of ChyRo's recently announced E! reality series for the definitive answer on what the hell is going on.