With all the box office hoopla surrounding Friday's release of surefire Matt Damon blockbuster Jason Bourne, you'd be forgiven for having totally missed the unveiling of The Great Wall's first trailer. The film, which according to Forbes is the most expensive movie ever produced in mainland China, shows Damon strutting heroically in era-appropriate armor with the ominous tagline "what were they trying to keep out?" As the trailer immediately makes clear, this version of the Great Wall may have been built to keep out dragon-esque monsters. Fair enough. But why the hell is famous white guy Matt Damon the face of this thing?
Before we dive into what many have called merely the latest example of Hollywood whitewashing, let's give this seemingly bizarre casting choice some Damon-related context. Last September, the hype surrounding the return of Damon and Ben Affleck's movie-making docuseries Project Greenlight to HBO was stalled by a cringeworthy exchange with film producer Effie Brown:
During a discussion on casting, Damon, a white guy, interrupted Brown, a black woman, to give his thoughts on diversity. Damon was promptly accused of whitemansplaining and dragged all over Twitter, ultimately resulting in an apology. "I am sorry that [my comments] offended some people, but, at the very least, I am happy that they started a conversation about diversity in Hollywood," Damon said in a statement obtained by Variety shortly after the episode aired. "That is an ongoing conversation that we all should be having."
That "ongoing conversation" has received plenty of new talking points in subsequent months. From Emma Stone playing an Asian woman in Cameron Crowe's box office bomb Aloha to Scarlett Johansson's petition-inspiring role in Ghost in the Shell, the industry's apparent whitewashing problem doesn't seem to have made very much progress despite decades of potential moments of epiphany. With The Great Wall, the discussion has another worthy talking point: why is Matt Damon the guy saving ancient China from big-ass dragons?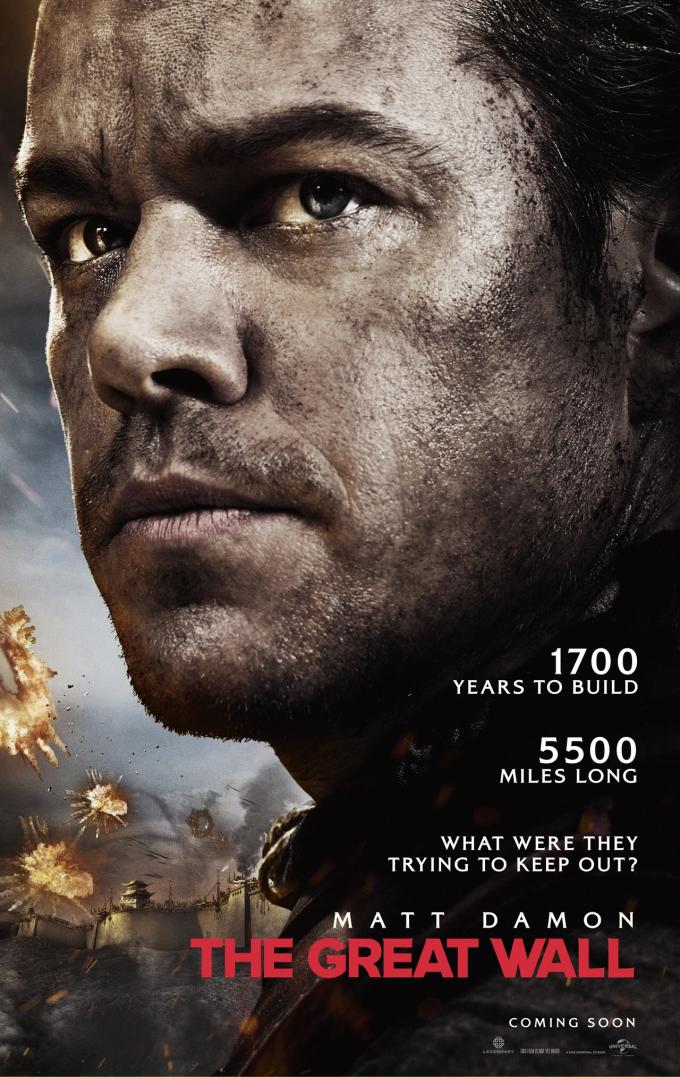 Speaking with the Daily Beast's Jen Yamato Friday, Heroine Complex author Sarah Kuhn said she's had enough of the "positively archaic" notion of whitewashed spectacles. "I'll fork over half my bank account if they ever make a superhero movie starring Constance Wu," Kuhn said. "So when I see Matt Damon's face staring at me from a poster that says The Great Wall... honestly, I'm just fed up. I don't think the excuses people try to use to justify that 'norm' hold up any more." And plenty of people agree with Kuhn (including Wu herself), as evidenced by the trailer's response across social media:
Thankfully, the rest of the Great Wall cast isn't so goddamn white. Andy Lau, Jing Tian, and Chen Xuedong also star in the Zhang Yimou-directed film. But the writers? Apparently more white guys, including The Last Samurai director Edward Zwick. "What I really want is to bring Chinese color and cultural background to the worldwide audience through a film language that they are familiar with," Zhang told Entertainment Weekly Thursday. "We are using Hollywood filmmaking to introduce Chinese culture."
Given the reaction to the trailer, will audiences be up for white guy Matt Damon as a Great Wall savior? We'll have to wait until next year to find out. How do you like them apples?