While the act of pleasuring oneself to excerpts from Game of Thrones may strike joy in the hearts of many, HBO would apparently beg to differ. The network is reportedly taking action against the free porn providers at Pornhub for "breach of copyright," according to BBC News.
According to the network, scenes from the blockbuster A Song of Ice and Fire adaptation had been uploaded to the site. Other videos, including those of the Thrones porn parody variety, also appeared on the site. "HBO is aware of the issue and is in the process of getting material taken down from Pornhub," a spokesperson from the network told BBC.
Shortly after the premiere of Game of Thrones' sixth season in April, Pornhub unveiled a batch of statistics showing just how massive the overlap between Thrones fandom and porn enthusiasm really is. Though searches for Thrones content on the site were just "slightly above average" during the rest of April, their frequency spiked a whopping 370 percent the night of the premiere: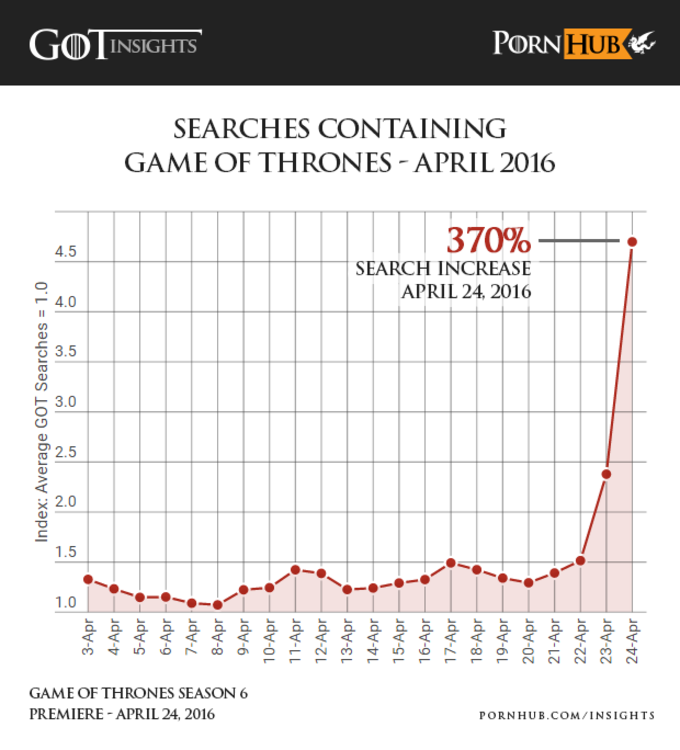 Pornhub also experienced a noticeable traffic drop of 4 percent during the actual episode, a sizable decrease considering the site's average of 60 million daily viewers. This pattern has continued with each new Thrones episode, with "Book of the Stranger" (which aired May 15) inspiring a 110 percent search increase: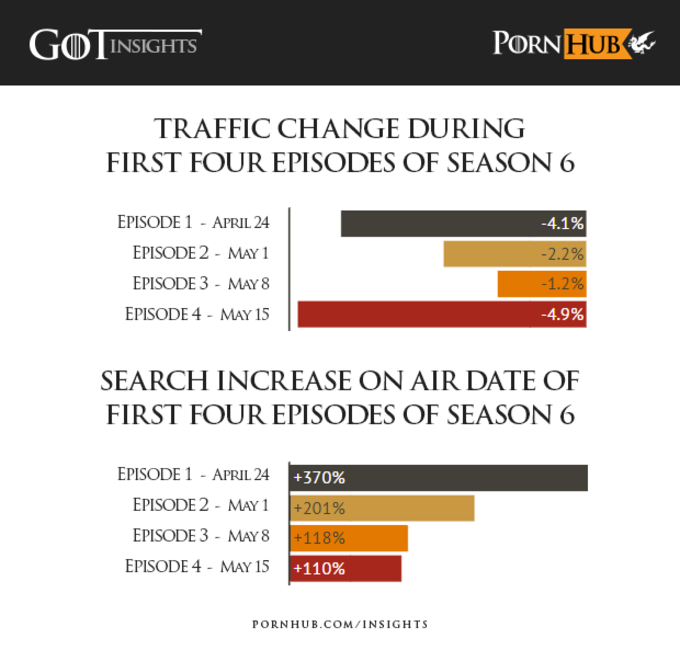 In a statement to Complex regarding the HBO controversy, Pornhub VP Corey Price said the company was "fully compliant" with the law and that all copyright requests are swiftly handled:
"Pornhub is fully compliant with the law. We respect all copyright requests and once received immediately remove any infringing content, as well as offer content fingerprinting to block infringing content from being uploaded by content owners."
HBO did not immediately respond to Complex's request for comment.