For anyone not really feeling the overwhelming Transformers vibes of the rebooted Teenage Mutant Ninja Turtles franchise, there's always this latest TMNT spinoff. With their latest porn parody, the busy minds at WoodRocket — the same company that brought you Pokémon- and Spongebob-themed adult films — are aiming to find the true secret of the ooze by giving the pizza-loving crew a decidedly NSFW makeover.
"Believe it or not, this is our first attempt at making mutant reptile porn," director Lee Roy Myers (Game of Bones, Strokémon) told Complex. "We tried. We had fun. We learned a lot." In fact, Myers is convinced this just might be WoodRocket's magnum opus.
"We may have just made our porn parody masterpiece," Myers said. "Ten Inch Mutant Ninja Turtles might be our Mona Lisa with a green penis."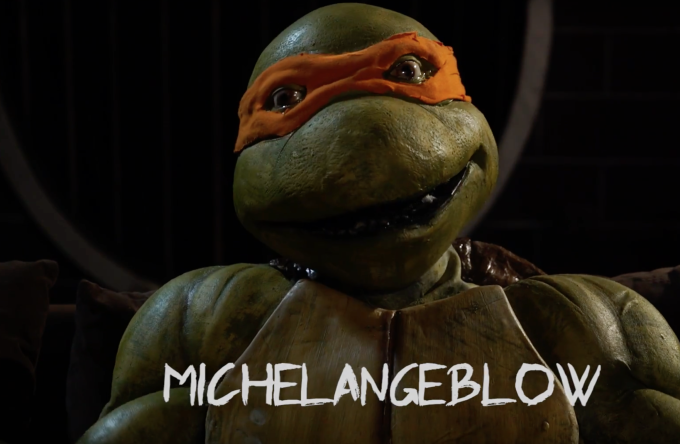 Ten Inch Mutant Ninja Turtles also gifts everyone's favorite band of crime-fighting reptiles with hilariously pornographic obviously better names. Michelangelo, Donatello, Raphael, Leonardo? Say goodbye to those boring distinctions and embrace these: Michaelangeblow, Dongatello, Raphallus, and Leonhardo. Will the gang's new names be enough to help them stop the ruthless Footjob Clan, led by the notorious Spreader? Probably so. This is porn, after all.
As with any porn parody, there will be plenty of detractors balking at the notion of porn-ifying a classic slice of pop culture history. For Myers, he's confident enough in his art to not give the haters much thought. "We made a porn parody that we think is funny and sexy and kind of weird," he told Complex. "We know that some people will love it, some people will hate it, and some people will masturbate to it. At WoodRocket, we take the saying, 'Different strokes for different folks' very seriously." Inspiring words, Lee.
Back in the PG-13 world, the now noticeably nudity-free reboot action is set to continue with Teenage Mutant Ninja Turtles: Out of the Shadows next month. The sadly inevitable follow-up to the certified rotten Teenage Mutant Ninja Turtles reboot, Out of the Shadows is expected to feature absolutely zero anatomy-related puns.