Complex, tormented female superheroes are starting to pave ways in their male-dominated universes. Suicide Squad doesn't hit theaters until August, but Harley Quinn (a psychotic Margot Robbie portrayal) is already getting her own movie. Robbie reportedly brought the project to Warner Bros./DC Cinematic Universe to star in and produce the flick, with speculation that other female DC characters will also have roles. Women seem to have their hands all over the shared universes. 
Captain Marvel—written by two women—comes out in 2019. Diane Nelson, a woman, is president of DC Entertainment. Next June, the DC Cinematic Universe will release its first female-fronted superhero film, Wonder Woman, with Gal Gadot starring as Diana Prince/Wonder Woman alongside three other women: Robin Wright, Loven Kongsli, and Connie Nielsen. It's not only co-produced by a woman (Rebecca Steel Roven) but also directed by one (Patty Jenkins), the first female director to helm a studio tentpole action film. "I really wanted a female director," Deborah Snyder, co-producer of Wonder Woman, told Time. "I felt like for Wonder Woman, how could you not hire a woman? We're bringing this iconic feminist character to the screen for the first time. It should be from a woman because we need more women behind the camera." A 2015 report revealed that female directors only made up 9-percent of working directors, but it makes sense to hire women to tackle female projects, thus, mitigating two serious issues in Hollywood: 1) a woman's take on a superhero film gives a more nuanced insight than the male-driven counterpart and 2) women are typically better at details and extracting emotions than men, so imagine what they could do with the MCU and DC universes. They have the capability of reaching viewers beyond the typical superhero fanbase. 
But female superheroes are still the exception, not the rule. It's taken about 20 years to get Wonder Woman out of development hell. Since the project came to the studio in 1996, Tony Stark has appeared in seven superhero films, and five more Batman movies have been made. Since its announcement in 2014, the all-female Ghostbusters movie has caused a huge kerfuffle. The first trailer, which was released in March, is the most disliked movie trailer in YouTube history—802,322 dislikes out of more than 32 million views—thanks to an outraged, sexist fanbase. Black Widow and Scarlet Witch (played by Scarlett Johansson and Elizabeth Olsen, respectively) still don't have their own films, and as Stephen Colbert pointed out this week, "The Marvel Cinematic Universe is kind of a sausage fest." In an interview with Uproxx, Iron Man 3 writer-director Shane Black leaked that Aldrich Killian, the villain in Iron Man 3, was supposed to be a woman but executives were worried a female toy wouldn't sell. Black also mentioned, "Stéphanie Szostak's character was bigger at one point and we reduced it. Rebecca Hall's character was bigger at one point and we reduced it." Last year, Avengers: Age of Ultron received flak when a Black Widow action figure wasn't manufactured (a similar thing happened with The Force Awakens' Rey merch). Though, to make up for the Black Widow snafu, Disney and Marvel released her action figure ahead of Civil War this year.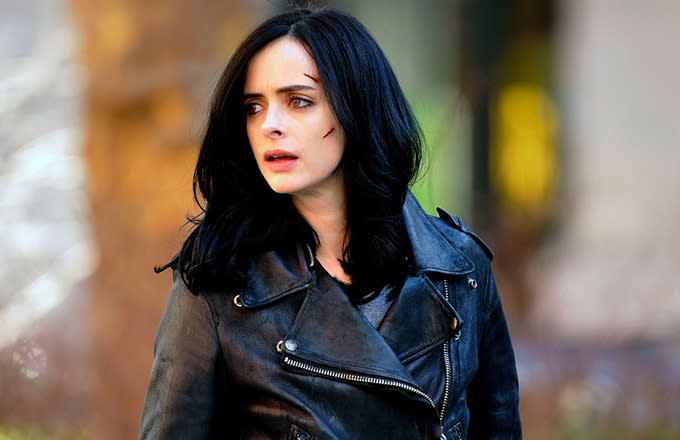 It's about time we see a slate of fleshed-out female superhero flicks. Right now, television is doing a better job of it than movies because characters have time to be properly developed over episodes, and scenes don't rely too heavily on CGI. Supergirl was just picked up for a second season, moving over to The CW, a network that's been churning out some of the best female-fronted shows (Crazy Ex-Girlfriend, Jane the Virgin, iZombie), but the biggest success comes from Netflix's Jessica Jones, which is Marvel Cinematic Universe's first foray into female superhero territory. Krysten Ritter plays the conflicted titular character, a superhero who is more of a detective. Jones doesn't wear a cape or a spandex suit designed solely for the male gaze. No, she walks around NYC wearing jeans, a t-shirt, and a leather jacket, all the while trying to subvert her rapist, Kilgrave (David Tennant).
Jones may seem like an abrasive antihero, but she's actually a hero. She may be incapable of love, guarded, and sarcastic, but she's a survivor of literal mind control and assault. "I chose to survive," Ritter told Rolling Stone. She also admits to being an asshole, and discusses the pitfalls of pain. The superhero aspect comes second to the tremendous realism and character development this show demonstrates. 
Personally, I don't watch a lot of superhero movies, but I was drawn to Jones for the same reason I'm drawn to a lot of darker material: well-rounded and honest characters. It helps that the protagonist is a woman who's not always likeable but is often relatable. Many of us see the complicated femininity of someone like Jones in ourselves, so to see those qualities addressed and validated by a literal hero is satisfying. Male superheroes are also flawed beings, and we're more openly ready to accept them for those flaws. Bruce Wayne has a troubling backstory of witnessing his parents' murder. Superman has parental issues. Yet people flock to see these men battle evil. The thing is, women aren't supposed to be strong-willed and be able to beat people up (or kill them). Jessica's a hot mess yet she doesn't play the victim card. The archaic role of a man is to be virulent and valiant and fight to the finish, which is what Jessica does, but in a more in-depth way.
Men are frightened of a complicated female (perhaps because men know deep down they are the weaker species?). When women are seen as flawed, they are sometimes viewed as a "crazy bitch," which leads to why Harley Quinn's so compelling. She's the female equivalent to The Joker, a character so beloved for his wackiness that Heath Ledger won a posthumous Oscar for his role. People say The Joker is fun to watch, that his erratic behavior is entertainment. However, the pigtailed "she's just crazy" Quinn will probably be maligned with Suicide Squad's arrival. The character first appeared in a 1992 episode of Batman: The Animated Series, then in Batman comic books, and on the short-lived TV show Birds of Prey. In the graphic novels, The Joker is the patient and she is the psychiatrist. Fans of the series might call this villain-leaning "Daddy's Lil Monster" t-shirt-wearing misfit a batshit crazy bitch, despite idolization of insane male characters like The Joker, but it's about time we see a woman unhinged. Crazy women can be fun—and likeable, too—and Harley Quinn's own spin-off is a space to prove that. One big difference is that Margot Robbie had to find her own screenwriter and take the project to the studio herself to get it in development. Sure women still go more out of their way than men, but what Robbie did is a step in the right direction for what could possibly become a trend. Studios then might start realizing that there are more creative opportunities for women.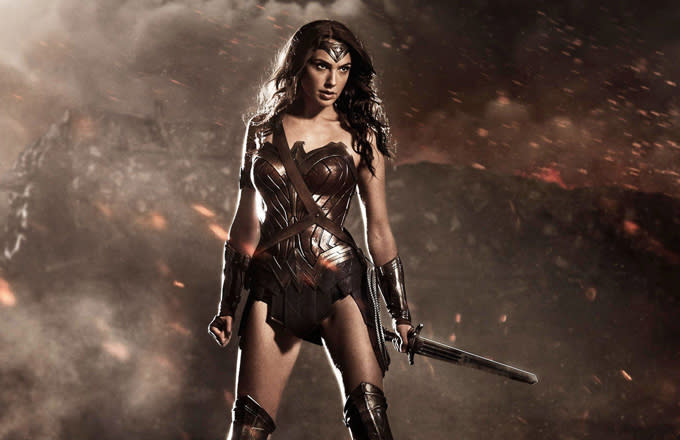 According to this 2015 MPAA report, women comprise 51 percent of the moviegoing audience—a percentage point above men. Forty-two percent of women saw Avengers: Age of Ultron, 45 percent saw Jurassic World, and 54 percent saw Inside Out. Of course women are more likely to see movies with a female protagonist (The Hunger Games, Inside Out), but men like those movies, as well. If both men and women pay money for female-led films, then they should also shell out to see female superheroes in action. It's like the saying, if you build it, then they (women) will come to the theaters more often. Imagine the jump in percentage when big budget films are directly being catered to women. 
If the 2017-due Wonder Woman proves to be a box office smash, it'll open the doors for more female-centric comic book adaptations, and perhaps rival studio Marvel will take notice and follow suit. Glancing at the upcoming slate of comic book films coming out within the next few years, Wonder Woman and Captain Marvel are the only female superhero films in production. Still, there are quite a few open slots, and room for improvement. At Marvel, a Black Panther movie is in the works with an almost all-black cast. Would it be too much to ask for a black, female superhero? And her own movie? Maybe Storm, or Bumblebee or Crimson Avenger could lead a film. We can shift the conversation and be more aware of the gender inequality lurking in superhero franchises, but as long as those male-dominated movies keep making boatloads of money, not much will change. The female force is growing strong in the Marvel and DC Cinematic Universes, but will it really catch on? Here's hoping.