This year's Tribeca Film Festival was not without aspiring undertakings, but none shined quite as bright as the festival's most ambitious outlier, a psychodrama documentary titled LoveTrue. Directed by filmmaker Alma Har'el, executive produced by Shia LaBeouf, and scored by Flying Lotus, LoveTrue functions as an existential deep dive into the innermost part of our souls, seeking to answer—and perhaps redefine—what constitutes love. For those familiar with Har'el's past endeavors, LoveTrue succeeds in again reflecting her ability to challenge the standard mechanisms of filmmaking. And for those who aren't, it's a cathartic exploration of loss, loneliness, and intimacy through three subjects: a Hawaiian surfer who's struggling with his newly established fatherhood; a relationship-focused stripper living in rural Alaska; and a religious family in New York City struggling to recover from a marital separation. It's no ordinary documentary—that much is certain. LaBeouf perhaps captures it best by describing it to me as "quite metamodern." But the project's slow bloom to fruition and how these three parties came together on it is something extraordinary unto itself.
Alma Har'el is a petite, Tel Aviv-born director with fire-licked curls and an impossibly magnetic demeanor. She's best known for her previous work on her first documentary, Bombay Beach, as well as her video short, "Sigur Rós: Fjögur píanó," on which she first collaborated with LaBeouf. She first had the idea for the film during a difficult separation from her then-husband, a man she still maintains was the love—or at least, a great love—of her life, she tells me by email. The event flipped her understanding of romantic companionship on its head and set her on a new journey to fulfillment. For her, it was the precipice of a steep climb to redefining her own understanding of relationships, intimacy, and what it truly means to love. Her springboard may sound like a tired trope too frequently made the focal point of scores of films and documentaries, but Har'el's approach to this question is what sets her apart both as a filmmaker and as an artist.
"It was a very haunting feeling that brought up this strange inner dialogue," she says of the event that sparked her desire to make the film. "I was negotiating my life and my story with a younger version of myself that was more romantic and an older version of myself that was lonely and scared." That duality of self, of reconciling old with young, would later be used as a storytelling mechanism in her film. And in order to externalize those feelings to make them more palpable, she says, she turned to psychotherapy—more specifically to psychodrama. 
Psychodrama is a method developed by Dr. Jacob L. Moreno sometime in the mid-20th century and used in psychotherapy to explore issues or memories through role-playing or dramatic reenactment. Har'el's relationship with the medium began when she was 24 years old and struggling with suicidal ideation and drug abuse. She was exposed to a practice referred to as Gestalt psychology, which involved role playing and improvisation based on dreams. "It actually wasn't what helped me change my life but it got me to discover the power of your imagination as an intuitive creative force," she says. Turning again to psychodrama in 2012, she began to explore its use in reenactment and how it might be able to further the narrative of a film, "a kind of a trip with strangers to work out those things and find a way to feel love as a state of being and a state of grace after the romantic fantasy is broken." And that became the premise for her documentary's meditative exploration of the human condition. 
The documentary had its narrative in place, but preliminary outreach to secure its financial future proved burdensome. Har'el knew she wanted to make something special, and she had an idea of what it would look like, but she didn't have a conventional pitch. Her ideas were abstract, and no investors initially wanted to take risks on throwing money at a project that wasn't concrete in its objective. Enter LaBeouf. When no one would finance the project, she says, "he just sent me a check in the mail for the whole budget." She adds, "If it wasn't for Shia we wouldn't have a film. He just pulled a Robin Hood from Hollywood on me when no one wanted to finance it." 
LaBeouf and Har'el had grown close following their work together on the video short for Sigur Rós, a relationship that initially began after he'd seen Bombay Beach and wrote her what he calls "a fan letter." When they met, the two were individually working through periods of emotional vulnerability, something that's visually translated in the video's final product. "We kind of started exploring all this heavy stuff back then. This feeling of being stuck with pain and failing in love instead of falling in love," Har'el says. That birthed a mutual artistic appreciation for each other's work, and Har'el recalls the experience as "one of the most affirming experiences" of her directing career. "It felt like exorcism or something," she says. "I've never done that before. It was so complete that I never made another music video after. Kind of made me want to step up and do something longer like this film." LaBeouf echoes the same. "In a strange way that shoot served as a workshop for LoveTrue."​
"Alma is intervening in the genre," he tells me by email. "She's not pitching you a false fly on the wall documentation—it's elephant in the room documentation. She's using this platform to explore limits of reality, of self, of the medium." And it's true. Bombay Beach was a good litmus test for the trajectory of Har'el's abilities to shake the very foundation of documentary filmmaking, but LoveTrue manages to venture into the realm of metamodernism—it challenges itself, but it challenges us, too. As viewers, we're expected to reexamine our own understanding of what constitutes "real" and "documentary" footage. None of its memory scenes are contrived, as one might assume. Rather, psychodrama allowed Har'el to tap into the subconscious of her subjects to better explore how their own understanding of relationships and intimacy were molded.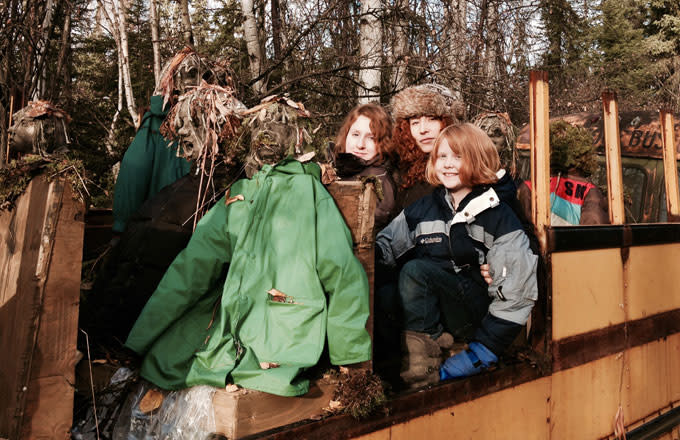 Those scenes, the cathartic reexamination of moments of her subjects' pasts, are presented through stylized, dreamlike filters that allow us to differentiate between past—or parts of the documentary that utilized psychodrama—and present. These moments are ethereal and work in tandem with the film's score to lift us out of the traditional film viewing experience. The score, produced by Steven Ellison, better known by his stage name Flying Lotus, is as integral to the film's narrative as any of its footage. And Har'el knew all along there was no better fitted musician to carry that through. "I was obsessed," she recalls of reaching out to him for the project. "Tried to reach him for a year and started to think this motherfucker doesn't exist. I kind of gave up and then Eddie Alcazar did a short with him called 'Fuckkkyouuu' and when I came to the premiere we met. He watched Bombay Beach on the plane and I think we were working on this like a day later or something. I just felt no one else could do it and get the mood I was looking for."
When asked what his creative process was like, Ellison is good-humored about his requests to be left to his own creative process. "I think it actually stressed Alma out a bit, the way I approached this thing because I was like, 'Look, don't bother me. Don't call me. Don't ask for anything. Just let me do what I do and I'll give it to you and then you tell me if you hate it or not, and then if you need me to fix things or move anything. But let me just go from my gut instinct first,'" he tells me over the phone. "I felt like I had a very strong sense of what she was after just from like seeing the way things were edited and just trying—because I think a lot of times there's something beautiful about someone interpreting your material on their own before you can completely explain what it's all meant to be. So I really didn't want any direction."
Ellison worked with Miguel Atwood-Ferguson, a multi-instrumentalist who shares his studio space and regularly collaborates with him on projects. Atwood-Ferguson has worked with the likes of Rihanna, John Legend, and Thundercat, and lent his string genius with the viola and violin to Ellison's score. It's what most delivers on the film's dreamy, trance-like quality, and Ellison says that much of what we hear was impromptu. "We just riffed around some ideas and he improvised a bunch of cool stuff, and then I took that and messed with that, and added to that—just kind of a back and forth kind of thing."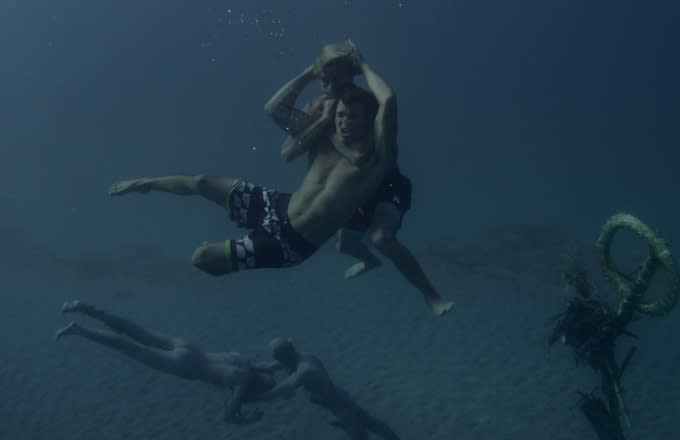 Everyone who worked on the project seems to share the same pride in its final cut, and LoveTrue is not without a bevy of supporters outside its intimate group of creators. At its post-screening after party in New York's Lower East Side, Michael Cera was perched at a piano bench playing David Bowie while Spike Jonze and Alia Shawkat sung along nearby. 12 Years a Slave star Chiwetel Ejiofor stood chatting with party guests in the space's outdoor patio area, and Rachael Leigh Cook was spotted meandering through the courtyard. Amid the hustle of famous faces shuffling in and out of the co-op artist space where the party was held, Ellison could be seen towering above guests, understandably refusing to acknowledge the DJ's (perhaps unwitting) selections of Flying Lotus tracks off Cosmogramma. Perhaps proudest of all, though? Its executive producer, who maintained a low-profile among the party's swaggy guests in some faded denim jeans, a backwards baseball cap, and a royal blue windbreaker zipped over a buttoned shirt. He spent his evening shaking hands, thanking guests, and singing the praises of Har'el's unique creative vision.
"This film was made with no ambitions for itself past exploration, engagement, and affect," LaBeouf tells me. "Alma is very, very good at what she does. She put her heart and soul into this and found others along the way willing to do the same. The result is really amazing. I'm pleased as punch to be a part of it."