Why wouldn't he get his own series? For a minute there, the Internet was really feeling Dean Strang and Jerry Buting, the Wisconsin defense attorneys who formerly represented convicted murderer Steven Avery and gained national fame when the Netflix docuseries about Avery's case, Making a Murderer, took off. 
There was the Bustle headline, "Is Dean Strang Single?," an Elle piece titled, "Deconstructing Your Sexual Attraction to Dean Strang in 13 Steps," and Strang's interview with Slate about "Being a Heartthrob" to a generation of millennials who stop him on the street, among many, many other stories about the middle aged lawyers who'd become ironic sex symbols. 
Someone even made this: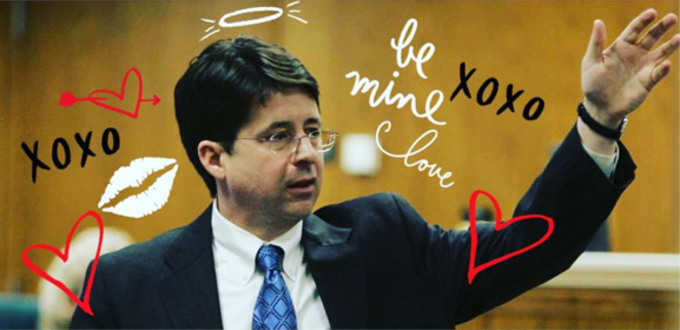 We are also, as all these O.J. Simpson shows, The Jinx and Making a Murderer are proving, in a new golden age of the docuseries. So it all adds up to Strang getting his own TV series titled Dean Strang: Road To Justice, the A.V. Club reported. The official synopsis of the show goes like this: 
According to a press release, the show will consist of eight one-hour episodes that each feature Strang investigating "landmark legal cases that demonstrate major flaws in the criminal justice system." It will also be filmed using "a similar vérité style to Anthony Bourdain's Parts Unknown" that will allow viewers to go "through a series of remarkable and moving stories filtered through Dean's uniquely compelling and expert point of view."
Production company Covert Media announced the project, but there's no details yet on when or where the series will air. Strang and Buting are also touring the country for their live show, which begins in April.