Knight of Cups is auteur filmmaker Terrence Malick's latest project, a work of big-screen art that weaves a tale of a Hollywood man struggling to find meaning in his life and relationships (with several stunningly beautiful women played by Cate Blanchett, Natalie Portman, Frida Pinto, and more). Keeping with Malick's penchant for being formless and bucking traditional methods, Knight of Cups is a film that eschews standard narrative, features little dialogue, and avoids solid conclusions.
Malick's impressionistic instincts, paired with cinematographer Emmanuelle Lubezki's patient, wandering camera, make Knight of Cups feel more like a painting than a movie. It's beautiful, in a very serious way. So it is pretty weird to see a bunch of famous comedic actors pop up in a party scene midway through the film. All of the sudden, as Christian Bale broods his way through a fancy day-party in the Hollywood Hills, you spot Thomas Lennon (Reno 911!, The State); then there's Joe Lo Truglio (Brooklyn Nine-Nine), and a minute later Nick Kroll is buddying up with Bale.
It's a delightful interlude, a dreamy moment that makes Knight of Cups feel that much more dreamy. To find out how these two very different worlds collided, we got on the phone with Lennon, Lo Truglio, and Kroll to hear their stories.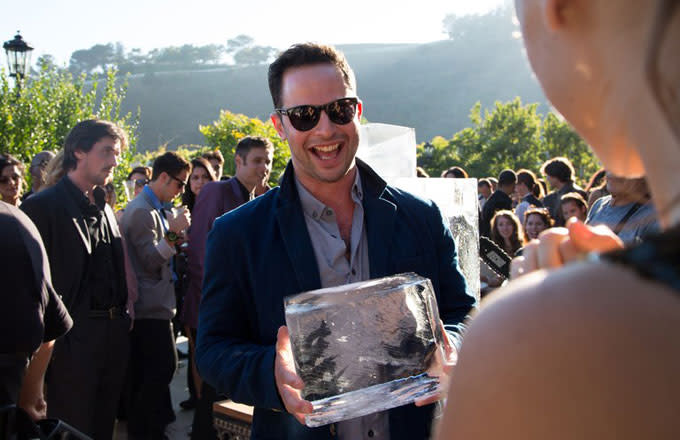 Nick Kroll: I got a call on a Tuesday seeing if I wanted to be in a Terrence Malick movie on a Thursday. I was like, "Yeah, of course."
Thomas Lennon: I got a call, and they said, "Terrence Malick would like you to be in his film." And I went "Oh that's so neat, I'm finally going to be breaking over into dramatic arthouse films." I'll be honest, I had never seen a Terrence Malick movie.
Joe Lo Truglio: Seeing [us in Knight of Cups] is like Marlon Brando being on Cheers. I think what happened was that Malick needed people who were able to improv. I mean, there's also a chance he might have seen Reno 911?
Lennon: He said, "Christian Bale's character is a screenwriter." And that's when I realized, "Oh shit, this is why I'm here." Because, like, Terrence Malick wanted these smarmy cheeseball screenwriting types that you would hang out with at a Hollywood Hills Party, and he perfectly picked me.
Lo Truglio: We tried to get information about the script. But there was really nothing.
Lennon: Malick handed us each like, a line from a poem. The one that he handed to me said, "There's no such thing as a fireproof wall," which I'm not sure if that's true or not, but I guess. It was certainly something to think about. And I still had no idea what was happening. So I said, "Is this something I say in the film? Is this my subtext?" And he said, "I don't know."
Kroll: He said I was a torpedo and I was there to disrupt.
Lennon: I asked, "What's Bale's character's name?" And he got this really concerned look on his face, and he said, "Ugh, okay, well his name is Rick, but you would never use it." [Laughs.] And I couldn't figure out why. I said, "I know his name, right?" And he said, "Yes, yes of course you would know his name, and it's Rick. Just promise me, don't ever say it."
Kroll: For the rest of my day, I was like, "I think he just wants me to sort of disrupt Christian, to just fuck with him." There was a scene where we were out on a balcony with hundreds of extras and Malick just wanted everyone to laugh, very maniacally. So we were all kind of laughing, and I got right up in Christian's face and was laughing really weirdly and maniacally. Then there was this dude carving an ice sculpture, so I took a carrot's worth of ice and stuck it down Christian's back. To his credit, he was just like, "This is what is happening today." I asked him, "Do you know what's going on exactly?" He was like, "Not really."
Lennon: One thing that was really impressive about that day was seeing what Christian Bale eats for lunch: four slices of a beet.
Lo Truglio: An anecdote I'll give you is that he had me and Tom Lennon and Christian Bale and Jason Clarke shooting squirt guns. I had gotten wet of course, and I asked the AD if wardrobe was nearby. It dawned on me that there was a misunderstanding and they thought I was uncomfortable and wanted to get out of the wet clothes. And I said, "No, no, no, not at all, I'm fine. But I just had dry clothes in the last take, for continuity." And then Emmanuel Lubezki overhears this and leans over his shoulder and goes, "Continuity? Continuity?" And he just starts cracking up.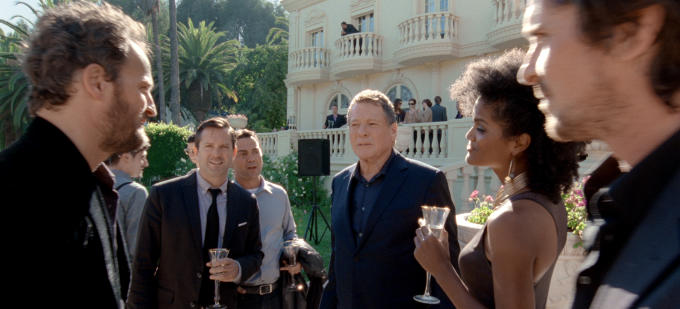 Kroll: Malick's philosophy with us, he was like, "You are eddys in the water. I want movement."
Lo Truglio: "Always eddy—eddy the camera, twist and turn, and go around the chair." It was like a ballet.
Lennon: My favorite thing was that working on this movie of his was the opposite of most movie-making, where you kind of wait around, the lights are tweaked for a long time, adjustments are made and they put down a special thing so you can't hear everybody's feet on the ground. This was just like, "Damn the torpedos!" Never stop shooting ever. And I don't mean just kind of.
Lo Truglio: That was the thing—constantly rolling. I'm not lying, I went, left the shot, went to the bathroom and peed; came back, and we were still in the shot, still rolling, and I just came back in.
Lennon: I just sort of looked at Joe Lo Truglio, and said, "We're just living La Dolce Vita. We're actually in a scene from La Dolce Vita."
Kroll: It was an awesome experience. I would do it 100 more times if they asked me.
Lennon: It was absolute madness. Just one of the most fun days I've ever had in my life. 
Kroll: Malick really is finding interesting moments in different places and things. It's what makes his movies so—I don't know how to describe it, it feels like breathing. It feels like how life is.
Lennon: This is the type of movie to see on a super-giant movie screen because it looks really polished. And everyone in it other than me, is really beautiful. It's like, me and Nick Kroll and some of the most beautiful people in the world.
Lo Truglio: I couldn't believe I made the cut.