ComplexCon returns to Long Beach Nov. 6 - 7 with hosts J. Balvin and Kristen Noel Crawley, performances by A$AP Rocky and Turnstile, and more shopping and drops.
Secure your spot while tickets last!
Around 30 Kesha fans gathered outside Sony's headquarters in New York City on Friday to demand that the company release the pop star from her contract, which would distance the singer from her alleged abuser Dr. Luke.
Kesha claims that the music producer emotionally, physically, and sexually abused her for nearly a decade.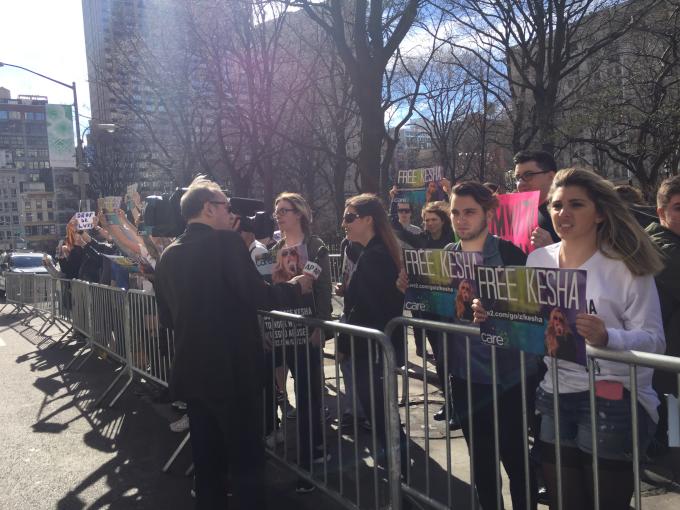 On Feb.19, the New York State Supreme Court denied the singer's injunction to be released from her contract. Since the court's decision, fans have supported the singer by sharing the hashtag #FreeKesha on social media, and creating petitions to demand her release. One fan even started a crowdfunding campaign to pay Kesha's legal fees.
#FreeKesha pic.twitter.com/dGtgG3iJeg

— Ana Maria Defillo (@adefillo) March 11, 2016
On Friday, a crowd of supporters chanting, "People over profits" and "Drop Dr. Luke," gathered to share their own stories of sexual assault. (After a report surfaced on Wednesday that Sony might drop Dr. Luke from his contract, Twitter users celebrated with #SonyIsDroppingDrLukeParty, but the producer's lawyer later refuted the claim.)
One fan named Derek described himself as an outsider, and told fellow protesters that Kesha's music helped him overcome bullying. "Kesha made me feel it was okay to be who I am," he said.
KESHA MADE ME FEEL IT WAS OKAY TO BE WHO I AM.
Kyle Wendt, 25, had a similar story. As someone who grew up Mormon but knew he was gay, Wendt didn't think he was allowed to be himself. However, Wendt credits Kesha for changing his outlook.
"She spoke to me so much that it convinced me to come out to my family, leave the church, and move to New York City to live the life that I wanted, and not be afraid to be who I am," he told NTRSCTN. "That's her message to everybody. To be yourself, unapologetically."
Kesha fan met her a few weeks ago and she signed his #FreeKesha shirt. pic.twitter.com/sk1i5ylUJy

— Ana Maria Defillo (@adefillo) March 11, 2016
Nicole Carthy, 27, one of the rally's organizers, told NTRSCTN why they launched Friday's protest.
"In the verdict statement, the judge clearly states that they are prioritizing the profits of Sony and the profits of Dr.Luke over the well-being of Kesha," she said. "Those are circumstances no artist should have to deal with and no artist should have to be forced to create under."
"In a larger sense, this is a symbol and a movement for survivors around the world that their lives matter."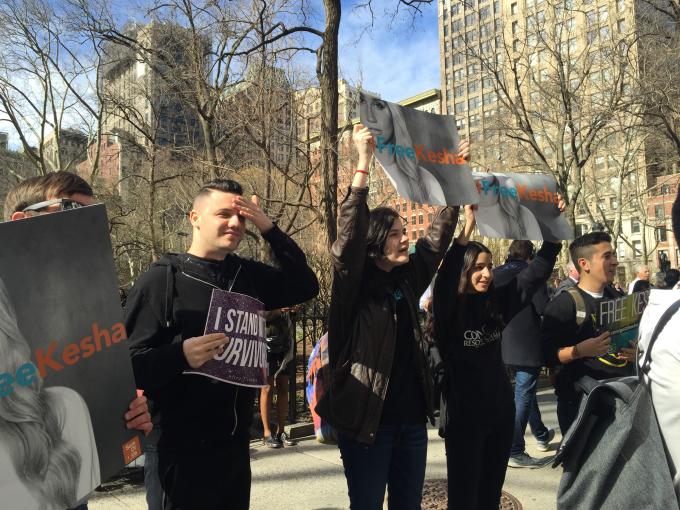 Some celebrities have also publicly supported Kesha, with fellow pop star Taylor Swift even donating $250,000 towards her legal fees.
Friday's rally is evidence that Kesha continues to have staunch supporters. Protesters there said they planned to deliver petitions with more than 411,000 signatures demanding that Sony release Kesha from her contract, and drop Dr. Luke.
"She's changed so many lives," Wendt said. "It's our turn to give back."