Ben Affleck, he of the abysmal (but thankfully fake) back tattoo, stopped by Jimmy Fallon's Tonight Show on Thursday with a very important message for the nation: cuddle more puppies. In fact, Affleck and Fallon made sure the fire dogs cuddled during a heated round of the modern trivia classic "Pup Quiz" were dressed like superheroes in honor of the just-released Batman v Superman: Dawn of Justice.
The premise, as Pup Quiz enthusiasts can attest, is quite simple. Two contestants, Affleck and Fallon in this particular instance, face off in a high-stakes trivia game wherein each round's victor is gifted with a heroically dressed cuddle buddy. Affleck, perhaps feeling extra good due to that trust he recently received from Metro Boomin, clearly knows and respects the power of dogs: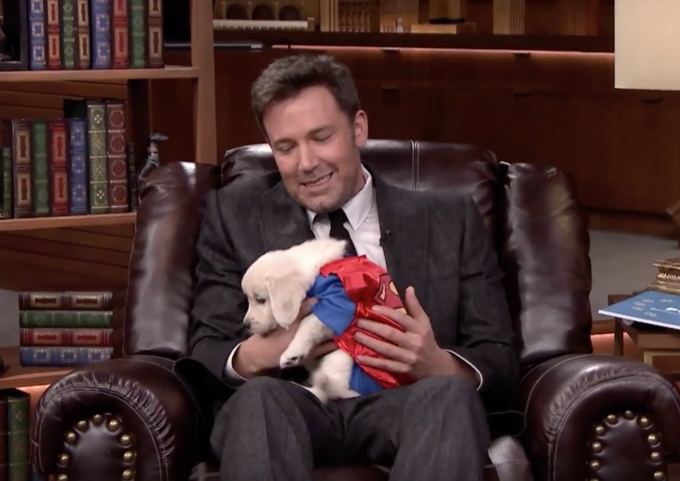 Affleck also chopped it up with Fallon, sans adorable dogs, about critics' thoughts on the aforementioned legal tussle Batman v Superman. "Don't scare people into thinking this is a critical film," Affleck insisted. "This is an audience movie. People actually like this movie."
At time of publication, the Pup Quiz dogs had not published their review of Batman v Superman: Dawn of Justice.