The console wars have taken a slightly odd—and perhaps perverted—turn of events this week as it was revealed that PlayStation 4 owners have been found visiting internet streaming site Pornhub more than Xbox One and Nintendo WiiU owners.
You can usually find Playstation and Xbox fanboys (and sometimes Nintendo) battling it out in the comments section and forums over which console is superior. It's quite tedious, but even we think this is an accolade that none of the fanboys want. According to Pornhub's annual statistics, it revealed that Playstation 4 owners make up a whopping 46.9% of the console users who visited their website in 2015. Xbox One users don't get off that easily though (no pun intended) as they came in second (no, seriously) making up 37.9%. People visiting the website via Wii U are at 8.9%, while PS Vita and 3DS users make up 5.0% and 1.3% respectively.
The facts speak for themselves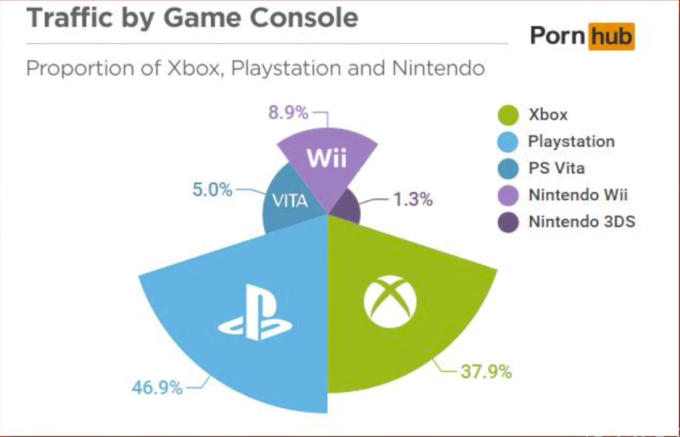 According to Pornhub:
"The biggest changes with regards to gaming console traffic shares occurred between PlayStation and Xbox. Though you can play Fallout 4 on both, traffic shares on PS are up to an impressive 46.9%, from just 40% last year and are down to 37.9% from 45.7% on Xbox. This trend is not unique to Pornhub however, as the International Business Times reported that this year's PS4 sales nearly doubled those of the Xbox One."
So, what does this data really tell us? It's not hard: anyone going to their mate's house to play a game of FIFA 16 on the PS4 should probably bring a hand sanitiser with them.