As your annoying AF cousin has probably informed you since receiving one of these abominations over the holidays, some of those increasingly popular non-hovering hoverboards have a slight tendency to explode. Of course, this apparent fault in construction isn't really stopping anyone from purchasing these hoverboards (that, it's worth repeating, do not hover) for their entire fam. Just ask former Michael Jackson prank call recipient Russell Crowe, who launched into a quick and concise criticism of Virgin Airlines after he wasn't able to fly with his hoverboards (that do not actually hover):


Dude has a point. Hovering or not, you would think a fair warning would be in order. At any rate, Russell was quick to rebuke the "but you're rich" argument before Virgin eventually issued a response of their own: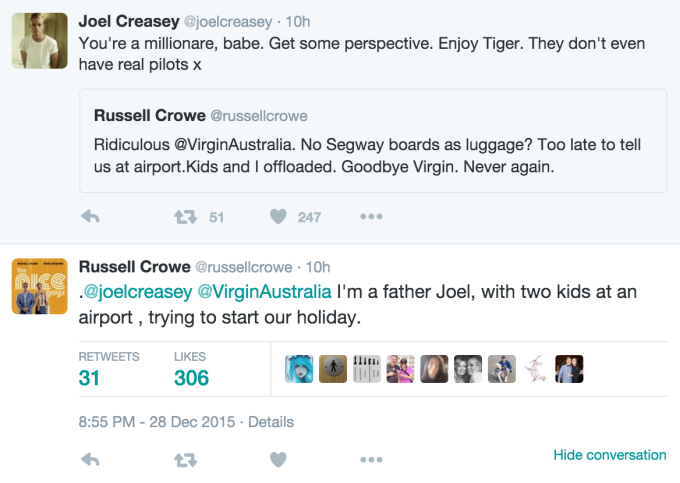 "This information is outlined in the Dangerous Goods section in the booking confirmation and check in reminder emails you will have received," @VirginAustralia reminded Russell shortly after the retweets started stacking up. "We have also communicated this on Facebook and Twitter, as well as through the media. We understand your frustration, however please appreciate that safety is our number one priority."
Thanks for fighting this one out there on the front lines, Russell. Much appreciated.