Since the Wachowskis unleashed the life-altering ideology of The Matrix way back in the prehistoric year of 1999 (colloquially known as the year of Sixpence None the Richer), society has questioned the very fabric of virtually everything. Am I alive? Am I inside a computer? Where can I cop Keanu Reeves' wardrobe? These are all real things that real people continue to ask themselves.
For additional Matrix-based mind expansion, Neo and Morpheus are taking their BFF status to the next level with a makeshift reunion on the set of the forthcoming John Wick 2. Keanu Reeves and Laurence Fishburne were photographed standing together, presumably discussing how often they wear those fire Matrix outfits, meaning this sequel is inching closer and closer to must-see territory: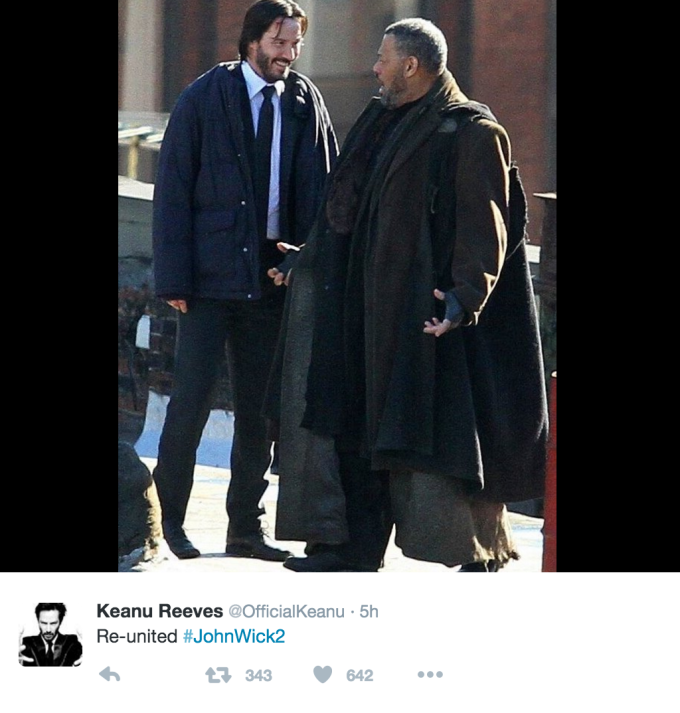 Fishburne's reps promptly confirmed to Variety that he is in fact Matrixing it up on the set of John Wick 2, which already boasts a stacked list of stars including Ruby Rose, Common, and Bridget Moynahan. Further details regarding Fishburne's role have not been released. Maybe they'll just all hang out and explain the meaning of life?