In what has been another strong year for the Marvel franchise, one of the biggest hits of 2015 was the Netflix series exclusive, Daredevil. It was well received by critics for staying faithful to the dark gritty roots of 'The Devil of Hell's Kitchen' whilst still being part of the Marvel Cinematic Universe. Season two is set for next year and one eagerly anticipated character who has been announced is The Punisher, aka Frank Castle and now we can get our first glimpse of him.
Looks like s*** is about to down...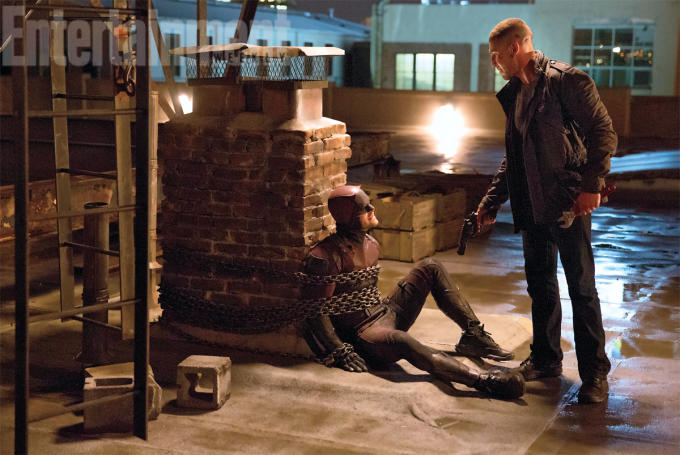 Played by The Walking Dead's Jon Bernthal you can't really class The Punisher as 'superhero material'—in the comic books he's seen as more of a gun-totting vigilante who is constantly at odds with the rest of the superhero community for his 'extreme' methods. Judging by the looks of this picture showrunners Doug Petrie and Marco Ramirez are sticking to those same characteristics and having chained-up ol' horn head  it's clear that these two will be working against each other for the majority of season two. In fact this shot is like a callback to Garth Ennis' run on the The Punisher comics.
In an interview with Entertainment Weekly, Petrie explains that:
"Viewers watching the show will be rooting for this guy with a gun but we're also going to force people — the way we force Matt — to second-guess themselves… Taking lethal justice into your own hands in America in 2015 is tricky s**t. We have not shied away from the rich complicated reality of 'Now'. If you've got a gun and you're not the police you're going to incite strong feelings. We're stirring the pot and we're aware of the headlines where we live and we're trying to get people to think." 
Season two of Daredevil will be hitting Netflix for April 2016.
[Via IGN]