Here's a tip for middle-school teachers: if your class assignment requires students to Google "how to recruit for ISIS," it's probably a bad idea. The terrorist organization most recently known for devastating attacks in Paris (and for threatening similar attacks in the U.S. and Italy) was also the subject of an assignment at Salem Junior High School in Utah. On Wednesday a first-year teacher at the school gave about 60 middle schoolers an assignment to draw a propaganda poster for ISIS (or a similar terrorist organization), FOX13 reports.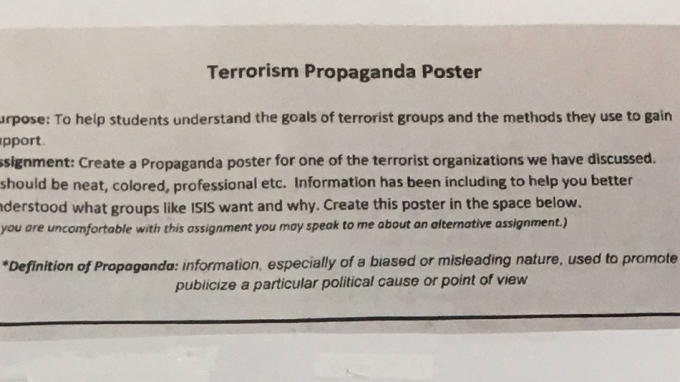 Apparently none of the students asked for an alternative assignment, but parents weren't as into it. "My initial response was, 'there's no way you're going to do this assignment,'" said Annie Langston, whose 14-year-old daughter, Mikalia, was in the class. When parents complained the school apologized and canceled the assignment, but a few sample posters had already been turned in. 
According to Mashable, a spokesperson for the school district said the assignment was meant to teach students the methods terrorist organizations use to gain support. Unfortunately, thanks to some questionable Googling, all 60 ninth graders (or at least the ones who completed the assignment) are now probably on the FBI's watch list.