The United States' obesity rates among adults continue to increase according to a newly released report from the Centers for Disease Control and Prevention. The report supports other obesity figures in the U.S., such as half of the states having an obesity rate of over 30 percent with Mississippi having the highest adult obesity percentage nationwide. 
The report showed the upward trend in obesity percentages from 2013-2014 in comparison to a decade ago. The adult obesity rate has jumped to 38 percent from 32 percent. A further breakdown of those percentages shows women have a higher obesity rate than men, leading 38 percent to 34 percent.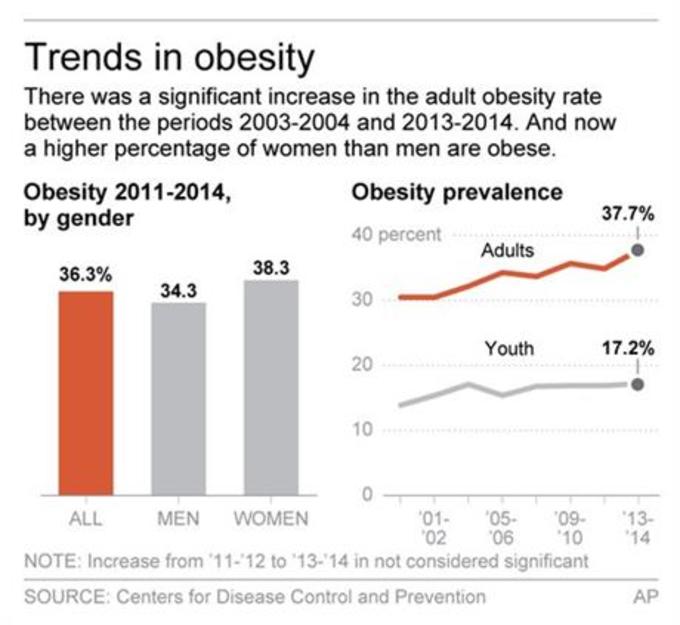 One obesity expert, Barry Popkin of the University of North Carolina said the study shouldn't be seen as the end-all be-all because participants might not reflect the nation's weight. However, the study, which weighs the approximate 5,000 participants for accuracy, has become the reliable source when it comes to analyzing U.S. obesity rates because it actually weighs participants instead of just asking them about their weight. In response to the report obesity experts say they don't know why the rates are increasing.
Child obesity, ages 2 to 19, was also examined in the report and the rate hasn't fluctuated in the past decade from 17 percent. Obesity rates in children 2 to 5 did decrease, according to a CDC report last year, stating a 2011-2012 survey showed the rate at 8 percent instead of 14 percent a decade prior. 
[via AP]