Suspenders slide off of shoulders. A lacy bra is flung to the floor. Two women kiss and grope while a man hungrily joins in. The tension eventually becomes a flurry of limbs, looking to poke and prod any bit of exposed flesh, and becomes a mess of sloppy kisses, and, for lack of a better word, fucking in every which way possible. When the climactic moment occurs, the breathing gets deeper, the moans louder, and then…
"Dika...Dika...Dika...Dika!" 
The cries come from the fully costumed Dikachu, whom Gash (in his red hat) pounds while Fisty strokes Dikachu's yellow body. Watching the characters from Strokemon XXX (inspired by Pokémon) bump uglies is surreal, more than a little strange, and not terribly sexy—sexily horrific might be a better descriptor. 
And surprisingly, for something selling sex, the sex isn't even the most interesting part. 
The porn industry isn't immune to the ebb and flow of trends, and historically, porn parodies have been one of the industry's dominant trends. The parody made its first appearance in porn in a 1973 German parody of Snow White, Snow White and the Seven Perverts. They've fluctuated in popularity since the '90s (titles like Tits a Wonderful Life and Everybody Does Raymond were popular), but 2007's Not the Bradys XXX really kickstarted the modern porn parody. As writer and Fleshbot CEO Lux Alptraum notes, after Bradys XXX other studios heard the call for parodies. "You always had porn parodies that were like Fuckenstein. But most of them just had the name and it was just a porn movie. Not the Bradys XXX was really trying to mimic The Brady Bunch. That kicked off this whole trend where every fucking porn company was doing, 'This ain't this' or 'This movie, the parody.'" Of course, the market became oversaturated with, as Alptraum describes it, "unnecessary bad ones" simply for making money. It is a business after all. But out of the wreckage of the oversaturation of the parody market rose a porn site that touted the parody—the same thing that broke other studios down—as their crown jewel. 
To be fair though, calling WoodRocket simply a "porn site" would be reductive.
In an Internet culture where porn appears to be at #peak saturation on any and all platforms, WoodRocket has lofty goals of differentiating itself. Founded by Lee Roy Myers in 2012, WoodRocket's "The Future of Porn!" tagline may not actually be that far off. But at first glance, thumbnails such as "busty cheerleaders," "big asses getting banged," and "half-lesbians" make the site seem like standard Xtube or PornHub fare. You can click on a video, and the busty cheerleader of your dreams instantaneously appears in all her naked glory, for whatever amount of time you need her for. It's a porn model that we're all used to. But unlike Xtube or PornHub, where anyone can upload videos (whether they own them or not), WoodRocket owns and creates all its content—which, aside from straight pornography, includes everything from web series to podcasts—and gives it away for free. 
Before launching WoodRocket, Myers showed flashes of the innovation and skill that was to come. Working for several other porn companies, he created clever, funny, nerdy parodies—not simply Fuckensteins, but things that showed a deep appreciation for the source material. Myers' forward-thinking wasn't a fluke, as the viral, strange parodies from WoodRocket that have probably made it onto your timeline—Strokemon, SpongeKnob SquareNuts, Game of Bones—have proven.
"We get that porn can be terrible. We get that porn
can get weird. We get that porn can get disgusting."
—Lee roy myers,
woodrocket founder
Myers, a 38-year-old Canadian and former TV executive who worked in PPV and On-Demand programming and acquisitions, didn't just suddenly find his way into the porn industry. He made his first parody in college—around the time Naked News was becoming popular in 1999. A longtime fan of B-movies and exploitation flicks, Myers loved what Naked News was doing. "I thought, 'Oh, it's taking something mainstream and it's doing its own take on it with sex,'" he says. "You get the best of both worlds. It's a hybrid. But it's also a spoof." So, he gathered a group of willing college friends to film The Young and the Topless, a soap opera parody where all the tried and true soap opera tropes were played out—just with topless actresses. 
That college brainchild eventually launched a full-blown career for Myers, but first came a career in television. Through his work in TV for both an adult channel and a cable company doing adult programming, Myers befriended many working in the porn industry through the acquisitions he was making for his job, and in 2007, while he was going stir-crazy in an office environment, Not the Bradys XXX dropped and became a massive success. Then and there, Myers decided to get back into the parody porn game.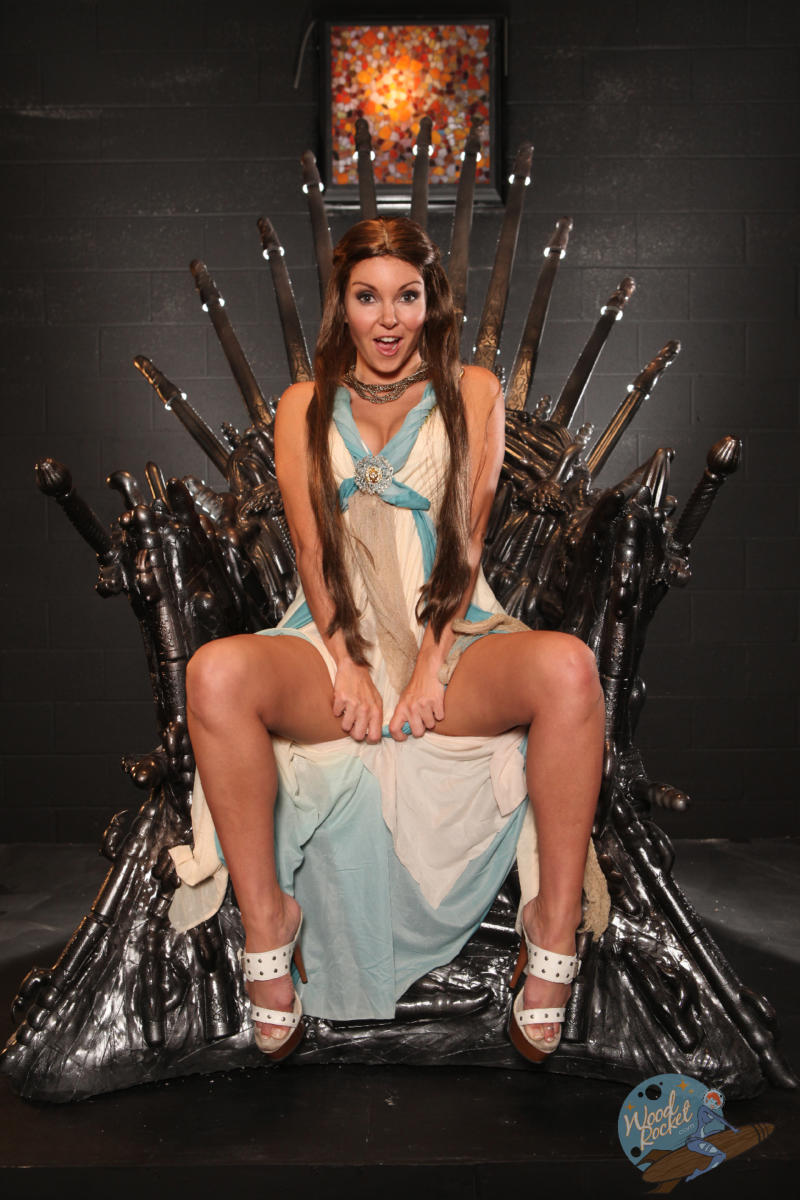 Parodies were doing well, even though DVD sales were beginning to diminish. It was clear that the future of porn was free content. Myers spoke to Scott Taylor, an industry friend who was the owner of the studio New Sensations, and they discussed porn with more "mainstream sensibilities." Since Myers had a TV background and had worked in comedy, Taylor asked him to write something, a porn in an office setting perhaps. Myers suggested a parody of The Office, and The Office: A XXX Parody, which Myers also directed, was born in 2009.
The huge success of The Office: A XXX Parody from DVD sales to broadcast sales made Myers someone to watch in the industry, and he went on to direct more parodies for New Sensations—spoofing shows like Seinfeld, Cheers and Scrubs. As his work and reputation for creating sexy versions of mainstream popular culture staples grew, Myers gained media attention from outside the industry. "As I started doing more and more, the goal became more about getting media attention that porn never would have gotten before," he says. "It became about having a trailer, getting a lot of views on YouTube."
Myers' forward thinking was in direct response to an industry that was shifting, changing, and even dying in some sense due to new media. As with any trend, in any industry, the porn parody market got oversaturated, so as Myers watched his cheaper competitors die off, he stuck with what he did best at New Sensations. 2010's The Big Lebowski: A XXX Parody hit a cultural nerve. It was all over the place thanks to the X-rated trailer and the SFW trailer—even Filmmaker Magazine wrote about it favorably. The buzz surrounding the movie showed him there was still a huge market for porn parodies, which eventually led to him creating WoodRocket. 
"What you're going to see is going to be weird, creepy, and childhood-ruining."
—seth beard,
woodrocket producer
With free porn on the upswing and becoming the norm, Myers began to think much more in terms of viral content. He spoke with a good friend, who wanted to start a company, about a possible platform. They spoke about how people were consuming porn at the time: increasingly for free, and increasingly from Tube sites where users could upload both amateur content and pirated content that they stole from pay sites. At this point, the amount of free porn at consumers' fingertips seemed like something that the industry wouldn't bounce back from. They had to adapt. So, the pair decided to use the Tube model to their own advantage. 
Alptraum applauds Myers on his adaptive thinking, the way he used the Tube model to shape WoodRocket's platform, which is more in line with the nature of the Internet than most of the porn industry. "What WoodRocket has done is say, 'We are going to use the mainstream model. You can have all of this content for free, but because it's free we hope you will buy something from our store. We hope that you will go pay our advertisers.'" says Alptraum. "That's a much more mainstream way of monetizing. It's harder in the adult industry because there are fewer advertisers who are willing to pay money."
Just like he had done so many years ago in college, Myers came back to his love of weirdo B-movies and pop culture with a hardcore edge to shape the content of WoodRocket. With parodies and other content, Myers wanted WoodRocket to change consumers' perceptions of what porn could be. "Let's do a porn site that has mainstream appeal," Myers recalls thinking. "Let's do parodies and let's do series, and yeah, we will have porn on there, but we get the joke. We get that porn can be terrible. We get that porn can get weird. We get that porn can get disgusting. Let's make porn for people who have seen a lot of porn, as well as for people who have never seen porn before. Let's not make it for the traditional porn buyers, let's make it for all these people who are watching free porn every few days or and let's mix it with the stuff we like."
The stuff that Myers and his team like are parodies, weird ones—the stranger the better. Seth Beard, a WoodRocket producer and Myers' friend of 30-plus years, says there was no game plan for the company; they simply wanted to create something for themselves that they would get a kick out of and that would shock people, though not necessarily through the sex. "HBO, with Game of Thrones, is still using sexuality as a means of shock value, whereas the actual sex in anything we do, that's not the shock value of what we do. That's the standard part. The shock value is everything outside of the sex," Beard says. "Going back to Strokemon, once you get to the actual sex of it, the shock factor [of seeing Pokémon characters have sex] has worn off. What you're going to see is going to be weird, creepy, and childhood-ruining, but once you get to the sex, you are like, 'I don't need to see the sex at this point.' Within the industry, we are almost making sex secondary. Which is weird to do in pornography."
Sex isn't entirely secondary on WoodRocket's site, which also houses more mainstream tastes, like threesomes and girl-on-girl, but the parodies are what the audience is checking for most with millions of views. WoodRocket has parodies of everything, from newsworthy gems like Donald Trump and Rob Ford, to summer blockbuster parodies like The Humper Games and Gnardians of the Galaxy, to TV show parodies like Game of Bones and Dr. Whore, to stranger, cartoon-inspired ones like SpongeKnob SquareNuts and the aforementioned Strokemon. Price to film depends on the type of parody, but they can go anywhere from $7,000 to $100,000. 
The Newsmakers are usually WoodRocket's quickest turnaround, focused on a current event, a la Rob Ford's crack breakdown or Donald Trump's, well, general existence. They're usually written, cast, shot, edited, uploaded, and sent out in about a week. Those are the ones that Myers' describes as "making a lot of noise" culturally. 
Then there are the blockbusters, WoodRocket's bigger parodies, similar to what Myers did when he worked with bigger porn studios. These tackle pop culture institutions like Guardians of the Galaxy, Dr. Who, and Game of Thrones. They tend to have bigger budgets, elaborate costumes, better sets, and take about three months to complete. The blockbusters are the ones that Myers says aren't about "disgusting people" as much. 
Which leads to the heart of WoodRocket, its lower-budget, "sketch comedy"-type parodies. These are the ones that Myers and co. have the clearest affinity for. They usually take about a month between writing, casting, and shooting, but the ideation process for them is much longer—a slow plan out, filled with discussion and letting ideas marinate on what the plot will be, how the characters should look (Myers' ideal aesthetic: "a super low-budget local television version of fucking stuff"). These parodies are WoodRocket's "Saturday Night Live at its weirdest...with penetration."
Coming up with parody ideas at WoodRocket is a team collaboration. "Once in a while, we have a big meeting where we list everything that could possibly be a good parody," says Myers. "We look at everything we've come up with since we've last spoken and we look for things that are a) things we like or things we find interesting, b) things that we think people who aren't like us will like, and c) things that are buzzing on the Internet." They typically stay away from parodies of newer TV shows and usually have two or three parodies in development at any time. The final deciding factor in whether or not to parody something is the budget.
The cost per parody frequently fluctuates (they've spent upwards of $100,000 on something once). Some costs remain fairly static—i.e. the costs for certain types of sex and the crew—but others dramatically change depending on what the parody is. Myers notes his company is probably much less strict about keeping a consistent cost per parody than the rest of the studios, but shelling out extra cash to make sure the parody reflects and respects the original source material is something that Myers is more than willing to do. "I know it's going to sound weird because it's porn, but we don't want to put out shit," he says. "We want to put out something that we're proud of. Sometimes you have to pay for that."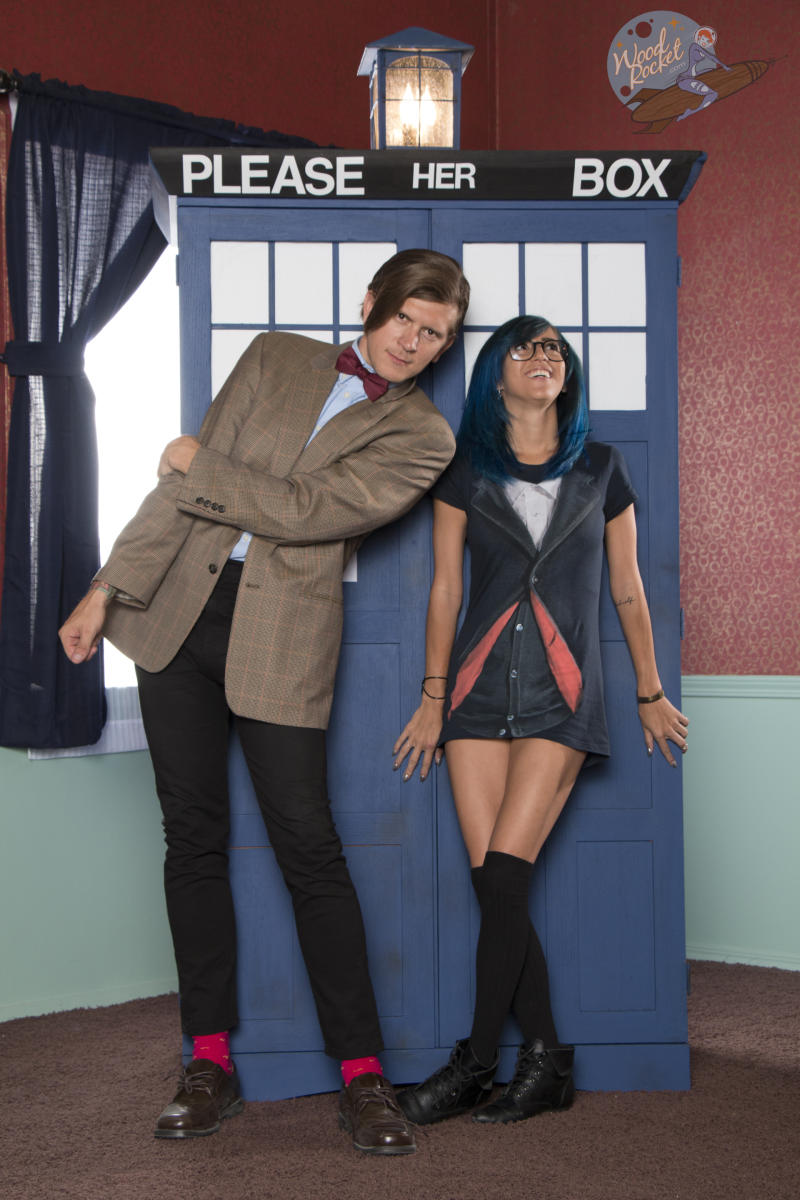 This attention to detail extends beyond sets and costumes to the writing of the parodies. While much of their inspiration comes from group discussion, the writing of the parodies is just as intense of a process. Locke Kemp, co-writer of Gnardians of the Galaxy, came from the comic book industry. He and Myers appreciated each other's work, and he began writing articles for the website, everything from the more nerd-insider posts like "The Top Three Most Insane Comic Books I've Been Asked to Write" to more sex-related stuff like "What Kind of Porn Do Superheroes Watch?" This eventually turned into Kemp writing parodies—a surprisingly rigorous process. After coming up with ideas, Myers approves the parody, which then will result in a first draft that could be anywhere from three to 30 pages depending on the number of scenes, the production size, etc. Myers serves as Kemp's main editor on the scripts, a process Kemp describes as always changing, but comes down to them making each other laugh—a litmus test that is used for nearly everything that WoodRocket does. But other factors played in as well.
"We had multiple set-ups on [Gnardians of the Galaxy], and we got such a good fan reaction from it, even when we were talking about doing it, that the production got bigger and bigger," says Kemp. "Originally the Groot character I had was a tree version of that guy, so I thought that it would be easy to build and we could put boobs on it so it could be PG for the YouTube trailer. Then they were like, 'That is great,' so we kept going. I was thinking if there was any way we could do a bigger version." A bigger version ended up as a life-sized, giant version of a dildo-like tree.
In the scripts, brackets typically indicate where sex scenes will go (unless a specific detail, like, say, the placement of a cock ring, is needed) and Kemp says the scripts are really faithful to the end product, which is in part thanks to Myers' sharp editing eye. "[Lee Roy] has a really good sense of how he is going to cut it," says Kemp. "He can be like, 'We can't waste our time doing this,' or, "That's a really great joke, it's going to fly in the YouTube trailer.'" 
Having a narrative in porn seems like a '70s Deep Throat TBT, but narrative is what WoodRocket's parodies thrive upon. And this, again, is where sex comes in second place for these parodies, because it's porn that's meant to entertain you, not just get you off. "It's like a hardcore Adult Swim in some ways," says Alptraum. "The porn they create tends to be ridiculous parody stuff that they know will get a lot of people to say, 'What the fuck?' Some people will be super turned on by it, others will be like, 'I just have to see it.'"
That curiosity is what leads some of the performers to WoodRocket. It's what got Rizzo Ford to play Dikachu in Strokemon. A part-time performer, she struck up a Twitter friendship with Myers and begged to be in a parody of his. "I was like, 'Put me in a parody! Put me in a parody!' He was just like, 'All right, I'll put you in one.' Then he hit me up and said, 'We are going to do a Pokémon parody. Do you want to do this?' I was like, 'Yes! This is ridiculous. Of course I want to do it.'" 
Ford knew she was going to be some sort of Pokémon, she just didn't know she would be the Pokémon, until she received the Strokemon script about a week before filming. Unlike previous work she's done, she liked the ability to do weirder stuff in character—instead of talking dirty during sex, she repeated her name, Dikachu, over and over again. It is also the only scene she's been in where she was in full, yellow body paint, which felt tight on her skin. Weirder perhaps than having sex in full body paint, was wearing the foam latex mask that fully transformed her into Dikachu. She says it had no nose holes, smelled funny, and was incredibly weird to wear during sex. Despite the discomfort that came with the costume, Ford says she had a great experience working with WoodRocket and would love to do another parody with them. Her dream is to do Batman (even though it's been done) and have sex with the Joker.
"We don't want to freak people out two months in a row. We don't want to be responsible for heart
attacks or strokes."
—Lee Roy Myers
With such high concepts and immediate clickbait material, WoodRocket's rollout has to be incredibly deliberate when doling out their Newsmakers, Blockbusters, and Sketch Comedy parodies. "We don't want to freak people out two months in a row," says Myers. "Typically people are still talking about Strokemon three months later. We don't want to cannibalize our own product. We also don't want to be responsible for heart attacks or strokes." However, Myers' caution hasn't exactly prevented mad responses—both positive and negative—when WoodRocket releases a parody. 
WoodRocket's viral success is largely attributable to Myers' embrace of Internet culture. WoodRocket does cater to what the Internet wants, but that's almost just a bonus, because first and foremost, Myers and his crew are making what they and their friends want to see. In a sense, the parodies sell themselves. 
When rolling a trailer for a parody out, WoodRocket always creates a SFW trailer that inevitably makes its way onto mainstream sites like Maxim, Jezebel, and yes, Complex. The company has a loyal fan base, but its audience tends to fluctuate because different people are (and always have been) compelled to see different pop culture figures have sex. Alptraum says that WoodRocket is straddling the line between the mainstream and hardcore content, but that focus on humor is what sets it apart. "What they are really trying to make is hardcore content that's funny, that can go viral, something that can get attention," she says. 
And curiosity can do numbers. Myers says when Strokemon was released, it crashed the site twice. He still has no idea how many people actually watched it because the traffic broke their counter. It seems that people are watching to be titillated or disgusted, or just so they can say they watched the Pokémon porn parody. Whatever reason is fine by Myers, especially because he knows that a good percentage of the viewers will return. 
Even creators of the original source material have reacted positively to Myers' parodies. When he did the Scrubs parody for New Sensations, Zach Braff brought cast pictures of the parody onto Jimmy Kimmel and compared them to the Scrubs cast. Anna Paquin gave the True Blood parody to her cast mates at the end of a season. And more recently, George R.R. Martin commented on the Game of Bones parody. "But in the porn version that they're doing they've omitted the incest because that would just be too shocking," he said at the Santa Fe Independent Film Festival. "So my books are actually dirtier than the porn version!" Myers has yet to receive any scathing reactions from people whose work he's parodied.
Of course, in creating hardcore content, Myers has plenty of detractors. When SpongeKnob SquareNuts was released in 2013, Christian Rights bloggers spread the word that Myers was the antichrist and that WoodRocket was the purest level of evil. WoodRocket got a massive amount of traffic (Myers declined to provide actual traffic statistics for this story) from those posts, though, which made the vitriol easy to swallow for Myers. "A little hate-fuck once in a while never hurt anybody," he says. 
When it comes to WoodRocket's target audience, it is just as undefinable as the site itself. Myers says that, while it does have its loyal audience, it's usually a big mix of demographic, especially when it comes to how the parodies are covered, and where they are covered on mainstream sites. He mention that they have just as many women visiting the site, which is weird for porn sites.(WoodRocket declined to provide traffic numbers.) For the most part (with the exception of some girl-on-girl scenes), WoodRocket's content primarily caters to a heterosexual audience. Its parodies seem ripe and ready for some queering (look at the entire existence of slash fiction), but WoodRocket hasn't really dipped its toes in that just yet. However, Myers says that is something they will "absolutely" expand upon in the future, as the site's audience grows.
"we call it the future of porn, but it is the future
of entertainment."
—Lee roy myers
So then, what's the future for a site that markets itself as the future of porn? WoodRocket started off on the right foot by using free porn models to create and own its content. That model is certainly making them money (WoodRocket told us their revenue numbers were private) through investors, licensing deals, merchandise and a cam site to upcoming live shows, specials that will be hosted on iTunes instead of WoodRocket and tons of sponsors—product placement, banners, ads. "Without the constraints of being a 'porn company', we can pretty much do anything," Myers says. "It's working. We have a lot of revenue streams and because of that the traffic we get from giving content away is traffic supports us in other ways." 
The way the company distances itself from the industry—Myers describes WoodRocket as an "island"—hasn't hurt it, and has quite possibly allowed it to approach creating hardcore content in a completely different way. "They are still our competitors and for us, it means more to us, to separate ourselves and be free of any traditional restraints," Myers says. "Hanging out with cats will inspire more than hanging out with other pornographers." While you can find all the weirdo porn your heart desires on WoodRocket, there are also web series like "James Deen Loves Food," where the porn megastar talks about his favorite foods and makes bizarre combinations in a vaguely Tim & Eric-esque cooking show. "I have my blog and on it I was reviewing restaurants. I would do these silly reviews where I would eat, get wacky and do crazy fun reviews," Deen says. "People seemed to enjoy them. WoodRocket was starting out and Lee Roy and I were talking about what to do and we decided to make a video series out of it. People wouldn't let us do reviews because it was going on a porn site. It was tough to do consistent reviews, so we just qualified it to reviews, making food, and having fun. As long as there's food involved we're good." There's also "Topless Girls Reading Books" and "Porn Stars' Day Off," podcasts about sex and interviewing celebrities, and you can even read WoodRocket just for the articles. 
The future of the site seems bright, as Myers says it will continue to create more parodies—always more parodies. Myers emphasizes how far WoodRocket is looking to go outside their comfort zone though. "Our goal is to be different, especially as copycats start popping up. We want to stay ahead of the curve. We are working on some movies, we are working on live shows, and we are working on a TV show right now. We are growing just fast enough that we know that we built a solid foundation for the future."
In bridging both worlds, Myers has inadvertently created a space where people can discuss sex in a much different manner. "We are hoping that we are bridging the gap between porn and mainstream and allowing mainstream culture to be sexier," he says. "Maybe that's how I see our role in this whole big Internet-based, anything-goes universe. We are an anything-goes kind of company. Because of what we do, because we already have penetration, it allows us to get away with a lot more. It allows us to be a little more taboo and to make the joke you shouldn't be making. It allows us to break rules. We are trying to break genres, break rules, and make sex less embarrassing and more fun." 
Perhaps, what's the most likely to define the future of WoodRocket isn't just the parodies it's releasing (Fap to the Future is its next endeavor) or its break-the-rules attitude, but the conversations about sex that surround them. In a twist that couldn't even be parodied, this humorous, everything-goes model might just be the place to bolster conversations that Alptraum mentions are just beginning to happen in the mainstream on shows like Inside Amy Schumer and Broad City. "One of the mistakes that people make is this idea that talking about sex has to mean that everyone is masturbating in public," Alptraum says. "You can about sex and acknowledge sex without it titillating. I'm not saying we should start talking about sexual content so that we can all have a mass orgy. I'm saying we should talk about this so that we can all get to a place where, as a result, we can acknowledge this happened." And she makes sure to mention that the use of humor is a great starting point for these types of conversations—ones that could greatly impact the ways we talk about sex in the mainstream. 
As for Myers, he sees WoodRocket not just as a place that can offer multiple kinds of content, but as one that blurs the lines between diversionary industries. "We offer sites that offer comedy and entertainment, pop culture and sex," he says. "We just see it as the future, we call it the future of porn, but it is the future of entertainment."