"We've been on the run, driving in the sun, looking out for number one. California, here we come. Right back where we started from." At one point in pop culture, those lyrics were ubiquitous. Even now, just reading them, you probably have a memory of a time and a place. You probably have a memory of The O.C. (and if you don't, really? You were that into Phantom Planet?). That was definitely the case for the 900-plus people attending the sold-out showing of The Unauthorized O.C. Musical at the Montalban Theatre in Los Angeles on Aug. 30. It was a one night only affair that, as musical co-creator Jordan Ross explained, spawned from The O.C. being "the voice of a generation" that just so happened to also come with the "soundtrack of a generation." With all of the fans in attendance, myself included, it was hard to dispute Ross' claim. A person even came all the way from Norway for this.
Seeing the words "unauthorized" in the vicinity of pop culture institutions these days typically leads to flashing red signals of mediocrity, and we can thank Lifetime for all of that. But after only hearing rave reviews for the same creative team's Cruel Intentions​-based musical, I decided to put my faith in it. To be perfectly honest, I was going to go to something called "The O.C. musical" regardless. I eagerly waited in line, somehow managing to keep my cool when the original Julie Cooper herself, Melinda Clarke, passed by me. (In my mind, I kept my cool. In reality I'm sure I looked about ready to have an embarrassing Seth Cohen-esque moment). Inside, the lobby was packed: Everyone wanted to make sure they saw every possible O.O.C.C (original O.C. cast member) as they entered the building, when I myself just wanted to find my seat and grab my drink. Julie Cooper really was enough for me.
When I say the place was packed, it wasn't just with whatever stereotype you think must make up the fanbase of The O.C. You had your hardcore fans who were going to be pleased with what ever happened, because all they needed were nostalgia-laden references. You had your hardcore fans who could never be completely pleased, because it wasn't the "real" O.C. cast or the story was too non-linear for them. You had people who hadn't watched the show since it originally aired and decided to brush-up pre-musical. And like any good live event, you had drunk people—well, a drunk person, who ended up missing the last half of the musical because they were probably attached to a toilet. That same person made it their personal mission prior to the performance to inform everyone that The O.C. wasn't actually filmed in The O.C. and that no one from The O.C. actually calls it "The" O.C. "Go watch Laguna Beach," I should have yelled at this person.
There were girls with boyfriends named "Trevor" and boys with girlfriends whose names I never caught. There were a whole lot of white people, and not just in the cast—in the musical itself, Josh Schwartz's (Jarrett Weiselman) description of a Newpsies event as "everyone's white, but tan" was the truest statement of the night that wasn't about Marissa Cooper and vodka.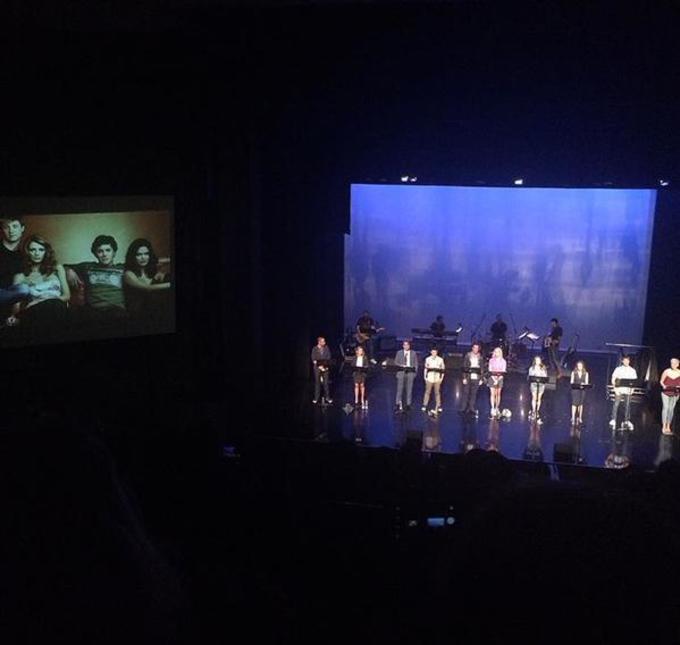 Even with all the excitement of knowing that there would be an O.C. musical and we were finally get to experience it, a sense of disappointment washed over quite a few of us as we slowly realized that the musical wasn't going to be an all-out extravaganza with an intricate set or elaborate choreography. Instead, a row of music stands were all on the stage, a minimal set with the band in the back of the action. But once it started, it made sense. For all of The O.C. flash and excess, it really was a simple show, and as such this was a simple set. As the night went on, the choice for less being more actually revealed itself to be the best choice, especially in the blocking for the "Champagne Supernova" (yes, of course they sang "Champagne Supernova") bit from "The Rainy Day Women." Each of pairs in the musical—Sandy/Kirsten, Ryan/Marissa, and finally, Seth/Summer—sang their parts of the song and came together with declarations of love, reminding the whole audience why they fell in love with these couples in the first place.
The musical started with a performance of Imogen Heap's "Hide and Seek," as hauntingly beautiful as the song was in the show (and even outside of it), but with the added baggage of every "Dear Sister" spoof that it's now remembered for. There were giggles, but the musical definitely welcomed that, especially as soon as "mmm whatcha say" spilled from the cast's lips. This is where things got tricky and where the whole "non-linear" confusion sunk in for people: the musical then went back to two years earlier. Then, within each act were vignettes from other episodes—other seasons, even—in other to give us a little more than just the characters' journeys within "The Premiere," the pilot episode.
The episode vignettes, as they were, were actually pretty affecting, working with some of the most memorable, heartwarming, and even heartbreaking scenes of the series. But keeping in mind that the "present" in the musical was supposed to be Marissa shooting Trey in "The Dearly Beloved," that particular chronology got wonky (especially in the bits from seasons three and four, post-shooting), as fun as it was to see some of the most emotional moments of the series unfold in musical form. Maybe "fun" is the wrong word. Captivating is the best way to describe these moments, which is why it ultimately wasn't that big of a deal that the musical kept jumping around. 
Plus, there was the cast, which really sold it all in person better than they ever did in paper. The O.O.C.C. is fairly stacked, iconic even, so there were always going to be big shoes to feel. But co-creators Ross and Lindsey Rosin really did nail it. Brendan Robinson attacked the role of Seth Cohen as though it were the role he had been waiting for his entire life, and were he and Adam Brody to play a game of Dueling Cohens, we would all win. On the other hand, it was hard not to compare Tilky Jones' version of Ryan Atwood to Ben McKenzie's with nearly every line he uttered, but when he started singing, there was no room to keep doubting him. And when more comparisons to their television counterparts come in, Molly McCook (who was actually in the Cruel Intentions musical) should come out the with the most glowing response of them all—in just one night, McCook gave Marissa Cooper a sense of gravitas that Mischa Barton's acting never could. Too many times in my notes did I write "damn, girl" in response to her parts in musical numbers, because there was nothing more to write than "damn, girl."
Because the meat of the musical was the pilot, Greer Grammar's part as Summer Roberts (complete with brunette locks) was fairly small, but she too got a couple "damn, girls" in her musical numbers and sold the Newpsie in training version of Summer well. Much like in "real" life, there was not nearly enough Luke Ward in the musical, but Drew Seeley brought the douchebag swag—complete with puka shells. Australian singer-songwriter Betty Who rounded out the cast, credited as Holly but playing everyone from an SEC agent to a drunk Newpsie when needed. She was an understated part of the ensemble, and as she sang Patrick Park's "Life Is a Song" during the "next time on The O.C." part at the end the show, it was clear she was a good choice—even if the people sitting next to me still didn't know who she was.
As for the adults: Neil Hopkins was and is no Peter Gallagher, which was the biggest hurdle to jump, casting-wise. By act two, however, you could see a hint, a spark of what made Sandy Cohen so… Sandy Cohen. Plus, with Christine Lakin—of Step By Step fame in her childhood, as my neighbors in the theater reminded each other—as Kirsten "Kiki" Cohen, the musical nailed the one thing it needed to completely: the unending love and devotion of Mr. and Mrs. Cohen. And as expected when news of the casting first broke, Autumn Reeser did the role of Julie "Juju" Cooper proud, officially making her the first O.C. star to play two of the top three characters on the show. All she has to do next is find a way to play Sandy Cohen.
If you're thinking someone's missing, that's because there was. Jimmy Cooper was nowhere in sight, to the point where Reeser's Juju asked Lakin's Kiki to tell Jimmy to get her froyo if she sees him (she never sees him). There's a logical explanation about why Jimmy Cooper was not in the musical, but the long and short of it is the long and short of all Jimmy Cooper conversations: Jimmy Cooper is the dirt worst. In parenting, in fatherhood, in boyfriending, in life, and now in musical-ing. The only downside was that there wasn't music-based proof to remind everyone of Jimmy Cooper being the worst.
Music-wise, also notably absent was a rendition of Joseph Arthur's "Honey and the Moon" at any point in the musical. It was a fact that was made even more glaring by the fact that All-American Rejects' "Swing Swing" was on the list (as a Ryan/Seth duet on the way to Holly's party in the pilot). That did make for a hilarious sweet spot in the musical numbers, as slightly before it, the ladies of the cast sang Cooler Kids' "All Around The World," something I never realized I'd needed in an O.C. musical until the very moment it began. Yes, the show went with the obvious song choices—"Hallelujah" was the song for the end of the "episode"—but every once in a while, a surprise like that would come out, which was nice.
This Sunday night, nearly everyone in attendance became a "woo girl," going insane when Ryan introduced himself to Marissa as "whoever you want me to be;" when Marissa had her pool chair freakout in a vignette from "The Distance;" when Seth Cohen revealed a Spider-Man shirt underneath his polo during "Champagne Supernova;" when Summer let out the iconic "Chino? Ew," of course; when Luke Ward uttered those immortal words, "welcome to The O.C., bitch." After the confusion from some attendees over Ryan singing "We Used To Be Friends"—as The O.C. used the song before Veronica Mars' existence, and did so in an episode with the greatest cold open known to man—as he called his various Chino "friends" for a place to stay, the woos were there as well. And if you've ever been to any O.C.-related event, you know there were woos as soon as the piano riff of "California" started up. There had to be.
Hell, even Autumn Reeser's introduction at the top of the show stopped the flow for a moment of woos—it stopped it for even longer when just a picture of Taylor Townsend showed up on one of the theater's projectors, and then for even longer when she turned on the Taylor Townsend charm for the "next time on The O.C." part of the show. For those of you who still haven't bit the bullet and watched The O.C. season four, this is your reminder to do that. How else are you going to hear Taylor Townsend say lines like: "What if I did rent a homosexual for the evening and pay him with rare collectibles from Asian cinema?" Besides going to see The O.C. musical, that is?
It was still a special thing we all shared for just a night. Sure, there's most likely going to be more nights of this somewhere down the road, but those aren't going to be opening night, and they're surely not going to be as full of kinks as this one. The chances of Molly McCook's mic going out during a musical number, her deciding to just go with it, and the stage hand not getting the memo and darting halfway across the stage before realizing she was fine probably won't happen again. That was just part of the fun. The entire show was still messy and rough around the edges, but given the original characters from the show, that messiness and roughness was actually the greatest way to honor it. It was as punk rock as Marissa Cooper. That's a description you're not going to see anywhere else.