Though the world is now less than a week away from Apple's recently announced invitation-only event at the Bill Graham Civic Auditorium in San Francisco, that hasn't stopped sly hype-stokers from continuing to leak purported photos of the rumored iPhone 6s. The most recent batch appears to confirm the heavily speculated size changes, meaning the 6s will most likely be slightly thicker and a bit larger than its predecessor. The photos, obtained exclusively by MacRumors, even include exact measurement figures for all the decimal dorks out there: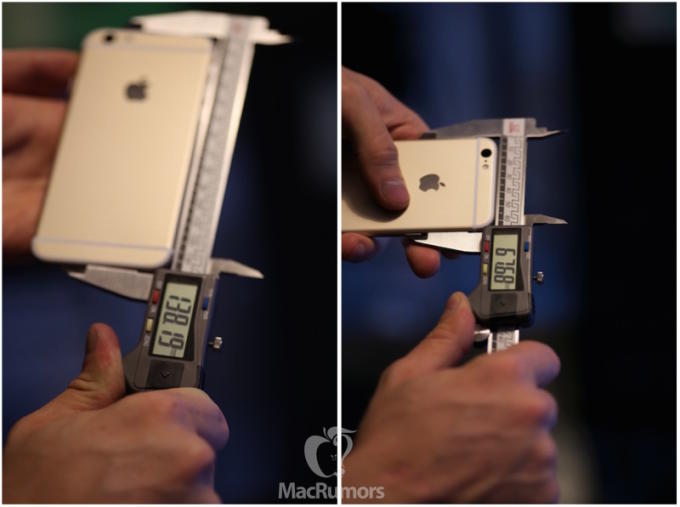 According to the report, the iPhone 6s will measure 138.19 x 67.68  x 7.08, which is a barely noticeable though totally worthy increase from the 138.1 x 67 x 6.9mm dimensions of everyone's soon-to-be-replaced iPhone 6. The new phone is expected to be armed with Apple's revered Force Touch technology, currently found on the Apple Watch and the latest models of the Retina MacBooks. Many consider the pressure-sensitive technology to be a probable game-changer, meaning its inclusion on the rumored iPhone 6s seems like a foregone conclusion at this point.
Apple is also reportedly devising a plan to enter the sphere of entertainment currently dominated by Netflix, Hulu, and Amazon: streaming original content. According to Variety, Apple recently sent a "special unit" of representatives to Hollywood to discuss the company's growing interest in procuring "development and production divisions that would churn out long-form content." In short, this is Apple's world and we just live in it (happily).
treWg4dzpb8I6AwOOX1Zvky7bWKxTBHt