"Oooh, fancy!" That's Aya Cash's only slightly faux-impressed reaction when I casually mention that, although we're meeting in L.A., I don't actually live here. Work flew me out, across the country, just to hang with her, because she's a big deal—the charming, fast-rising female lead on one of the best, most critically acclaimed comedies on TV. Sooner rather than later, that prospect won't be cause for pseudo-incredulity. If you know Aya Cash—congratulations on having good taste in television. If not, don't worry, you will soon.
To clarify, that good taste in television applies to the sitcom (for lack of a better term to describe a funny show with a half-hour running time) she currently co-leads in, FXX's You're the Worst. On the series she plays Gretchen Cutler, one half of the reluctant couple which the show revolves around, alongside Chris Geere's Jimmy Shive-Overly. Both characters are "the worst," but Gretchen especially is unlike any female foil you've really seen in a romantic comedy, especially on TV—vivid, magnetic, and complex. Series creator Stephen Falk is a self-described pushover for rom-coms, but with You're the Worst—and with Cash's help—he wanted to present something more believable than what the genre usually offers. Something with vulnerability that "embodies all of our fears, and feelings of contempt and self-loathing. The desire to not be hurt, and the parts of us we think are so bad that we don't deserve love." 
In the span of just a 10-episode debut season, the show accrued a small but ever growing and increasingly rabid fanbase, off the strength of not just being great TV—critical acclaim was definitely a huge factor in its eventual renewal—but off of being relatable on a revelatory level. Now after a hiatus in which the show's future was anxiously 50-50, it's returning for a second season of pure romantic dysfunction. Where other romantic comedies create an embarrassingly dated take on courtship, You're the Worst is refreshingly modern. The lust comes before any notions of love, the hookup before the dates—the Meet-Cute sees Jimmy thrown out of his ex's wedding, where Gretchen just tried to make off with a food processor, a score from the newlyweds' gift table. They glance each other up and down—and cut to one of the most delightfully graphic sex montages ever seen on television, between two characters who we'll come to learn have no reservations about physical intimacy, despite being deathly afraid of anything approaching the emotional variety. From there, the series is a rickety rollercoaster of all the typical relationship hallmarks, but through You're the Worst's dysfunctional lens: the selfish insensitivity of instituting a pause until a period is over; the first actual "date" after already hooking up; going "exclusive." It's a perspective very familiar to many, especially in 2015.
Worst doesn't have the largest of fanbases, but there are many who find it highly relatable. Cash isn't quick to call Gretchen and Jimmy the definitive millennial relationship though: "They're only one representation of a relationship. The idea that one relationship or one show can represent all of a culture is just not realistic. But I do think there's a cynicism in our generation. I actually think that cynicism is what makes it so romantic. But I do think we come from—a lot of us—divorced families, and the idea of relationships that last forever is sort of an antiquated idea."
It all starts midway through the pilot, though, the would-be one night stand becomes more when Gretchen shuts Jimmy down during an emboldened screed that captures his attention. It captured viewers at home too. "Right when we [filmed that], I said, I can write anything for this girl and it's going to be fantastic," Falk says. With Cash as the backbone, Gretchen was able to become fully-faceted and formed, not the plastic Dream Girl who's flawless beyond being a bumbling spaz. Through Cash's performance the character is alluring, charming, and also very human and flawed—much like Amy Schumer's character in Trainwreck. 
Playing badasses is becoming something of a rep for Cash. Even despite limited screentime, she immediately registered in Scorsese's The Wolf of Wall Street as one of the lone females in Jordan Belfort's decidedly alpha-male work environment—not a hooker nor romantic interest, but a woman keeping up with the boys. ("If you look through the movie, the clothed woman, that's me!")  Between these and her third notable, attention-gaining role as the Occupy Wall Street spokesperson on Aaron Sorkin's The Newsroom, it's obvious that Cash is drawn to strong women. When creating Gretchen, Falk says "It's all in being aware of the fact that women get short-shrift in dramatic writing. [Gretchen is] every bit as fully dimensional as the male, she has her own shit going on and a career that is tough and boring and gets away from her rather than some wish fulfillment book editor or magazine job you see rom-coms saddle females with. [She's] fearful and liking sex—making her every bit as complicated not as men but as women actually are." 
"You don't need to be a
stable, nice girl in order to be an interesting woman
to watch on TV."
—Aya Cash
One of Worst's seminal moments involves Jimmy and Gretchen's biggest fight when he discovers she presents a well-coiffed, WASP version of herself to her parents. He interrupts their country club lunch with a valiant, "leading rom-com male" speech about how the Cutler's don't know the real, amazing version of their own daughter. Gretchen, against rom-com type, breaks up with him for the intrusion. It's just one of many typical rom-com tropes that Worst gleefully, cynically subverts, and with a feminist bend. "We took what seemed like a romantic laudable thing that Jimmy did and that's the last thing she wants and it makes her break up with him. It's this nice feminist moment where not only does she not need the man to come protect her, she breaks up with him for it." ​(Falk also told me the YTW writers' room had a board dedicated to making sure they did arcs that a certain new broadcast rom-com would never be allowed to, a show that has since been canceled.)
Cash adds: "I think you see a lot of movies, or we have in the past, and TV shows, where the girl is the stable one, or the nag, and it's the boy behaving badly, and love changes him for the better. Gretchen is a unique character—she doesn't always look great, she's not always perfectly done.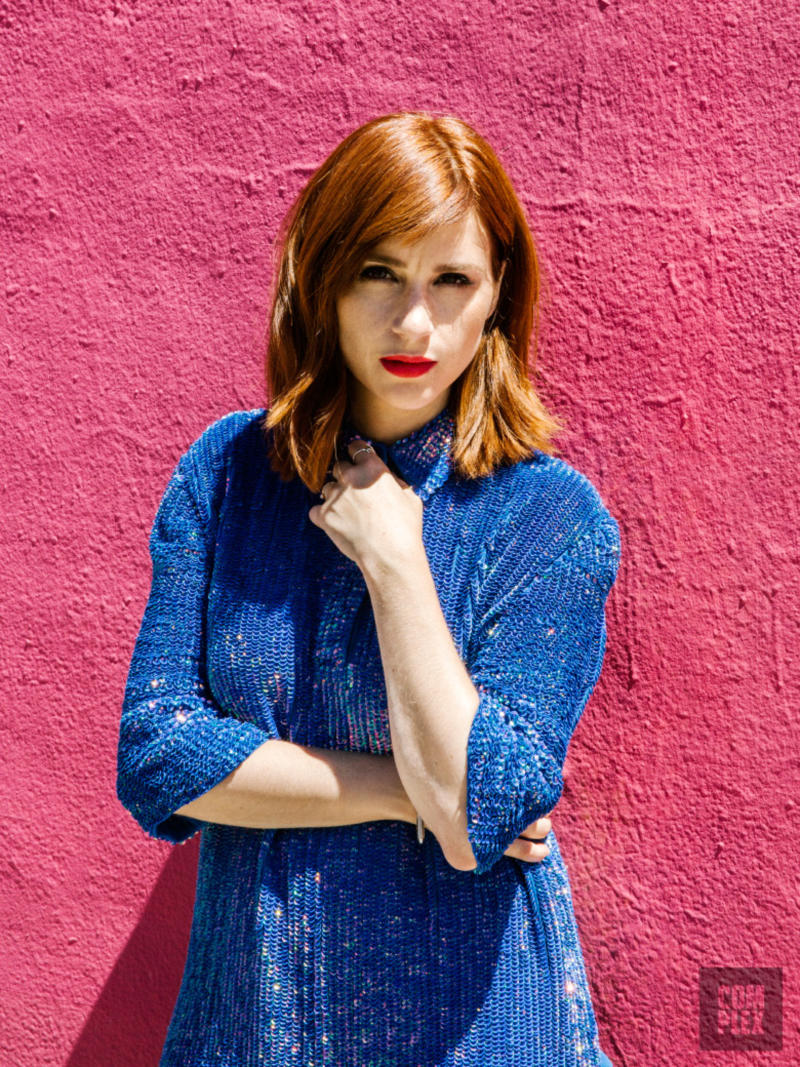 The idea of what is a woman is expanding, I think. Hopefully. Because we have so many new examples of different kinds of powerful, interesting women, and you don't need to be this sort of stable, nice girl in order to be an interesting woman to watch on TV."
And like all great casting stories, the network almost passed her over. Cash auditioned for the part alongside Chris Geere, but while that reading landed Geere the part, Falk had to fight for the actress whom he knew was more than capable of bringing Gretchen to life. Interestingly enough, it wasn't reading Gretchen's big moment tearing into Jimmy in the pilot that ultimately brought everyone else around, but rather their final scene on the phone when the love connection really begins. (Of course, on this show it involves a niche porn gag.) "In her audition she was doing the piece where Jimmy and Gretchen are on the phone with each other. Something [in the call makes Gretchen] smile in a way she'd never let anyone see. So Aya's there, playing the reality of being on the phone with him, just as vulnerable as 13-year-old girl getting a valentine." In a testament to the reputation of classiness and artistic enabling the network execs at FX have built for themselves, president John Landgraf later admitted his oversight.
Cash comes from a family of artists and creatives (and athletes: her grandmother, Pauline Betz Addie, won Wimbledon in 1946), which makes her own career inevitable. And with a mother who was deemed "the Baudelaire of San Francisco" and a dad who once did naked theater in the '60s, the content of their daughter's biggest hit isn't too much for her parents. It's the success that surprised them. "They're all just shocked, I think, 'cause I come from an artistic family where art was the first thing and money was the second thing—nobody expected me to make any money. I didn't have a family who was like, oh, you know, gotta have a fallback plan. They're like no, you'll be poor the rest of your life, and that's fine, 'cause they didn't make money for most of their lives." So naturally, with that attitude instilled in her, Cash considers herself fortunate to be on such a winning streak. "I've been insanely lucky to be able to work. Believe me, I know 10 girls who could play Gretchen probably better than me, but they don't have an agent or they don't have access or they're slightly the wrong age at this point. It's just luck at a certain point. And they remind me," Cash says with a laugh.
So no, making money was never a pre-set goal. An intense love for Shakespeare and theater powered the early years of her career and the success just kind of naturally followed. And even now that she's a part of Hollywood, she does her best not to partake. As soon as she's done doing promo with the likes of me, she'll abscond back to New York, where she resides in Brooklyn with her husband. "I'm a better human in New York. Because I read the paper, and I love the subway. L.A., I feel like, can be very isolating. Of course there are amazing people and stuff out here, but I'm a lazy human, and I'd have to seek that out, and it's much harder. In New York, it's all right there. I just feel like I live a better life there. If my career takes a little hit from living in New York, I'm okay with that." 
She attributes her down-to-earth attitude and normalcy to the healthy mind-state that the east coast provides. It's an escape from the Hollywood bubble that threatens to turn her from the comfortable Sweater Person (YTW's name for old boring marrieds in the new season) into someone she doesn't recognize. "It's not that I'm completely anti-Hollywood, I just think it's a danger zone, and if you're not strong within yourself you can fall into some crazy behavior. You have a lot of people telling you bullshit about yourself that if you believe you're going to end up an unsatisfied, kind of monster person. I get affected by that. Some people are stronger people than I am. Some people can live out here and just do them and not feel bad about themselves in situations where you're told go home because, 'You didn't wear enough makeup to this test.' In New York I'd be like, 'Fuck you, I am going home.'"
IRL, Cash is nothing like Gretchen and also very much like her. Her fear of commitment is contrasted by a relationship that's been going on for 10 years. (And despite admitting to having a typical wild phase, she went on record saying she's never done coke.) But the hallmarks of the character, the playful wit and fearless expression, are definitely there. In the same way that she respects the relatability of Gretchen and Jimmy as a couple, she too is appreciative of Gretchen, but wants to stress again that she's only one modern depiction in a landscape that should be teeming with many, and is finally starting to. "Hopefully everybody gets their 'finally' moment. Girls [for example], is not a representation of me and my friends, and yet I see the validity and the authenticity of her own voice. I actually think Lena Dunham is wonderful. And really unique. I don't really understand the backlash against her because she is representing a very niche market of these upper-middle-class white girls. 
"The problem is when you don't have anything else," Cash says. "Like when you don't see other representations you get in trouble because you end up identifying like, 'Okay, this is what a girl in her 20s is like,' and it's just not true."
Embarrassingly low representations of both strong women and minorities is something she feels compelled to speak on even as a white woman playing a great, fleshed-out character. "I feel like it's my job as a white actress to say that I see it too, and that as a white person who is privileged from the lack of diversity in our business, not saying something, I think, is actually wrong. Because then it makes it seem like a problem that is not mine, when it actually is all of our problem." And the way she sees it, white creators trying to blatantly appeal to the solution in the most miniscule manner—or avoiding the situation to swerve around any potential backlash from misrepresentation—is just worsening the problem.
"The diversity conversation about Girls is interesting because you should not just write what you know, obviously," Cash says, branching off from our original conversation about Dunham. "The issue with Hollywood is they think, 'I don't want to be racist, so I'm just going to make it all white, because that's what I know.' And that's just such a misunderstanding of how to change our media. It's just so wrong to be scared of that."
Cash's star is on a steady rise despite her off-and-on flirtation with the Hollywood solar sytem. Wherever the fate of the show lies (fingers crossed for six seasons and a movie) all signs point to us being at the beginning of a long run for her. She and Stephen Falk talk in hushed tones of a dark turn for Gretchen that forms the basis of the second season. Ominous, but exciting, because whatever it is, it sounds like she more than rose to the challenge. And she was game for it, without compromising her life as it is. 
Falk's preview was: "We take them in a different, darker, more intense direction and what we've given Aya is incredibly challenging and I'm so excited. It's a long story arc from [episode] four to the end and just builds and builds and I can't wait for people to see how amazing Aya is this season. In my opinion she deserves all of the awards."
Are there awards in Aya Cash's future? A bigger spotlight? Super-stardom? Obviously, she's not opposed to it. But she doesn't foresee a big change in her lifestyle either way. She could star in the next Marvel movie (and as a once avid X-Men reader, she's totally down to) and it'd still be back to New York as soon as work is done. "If I continue to live in New York, and in upstate New York, nobody's going to be like, 'What's she doing? Oh, she's reading today again on her balcony? Uh oh, Aya spotted out with a glass of lemonade on her lawn every day.'"
Clearly, even in the face of a freshly wrapped photo shoot, a new, a returning, critically-acclaimed show and burgeoning opportunities on the horizon, Aya Cash is not basking in the attention. 
When we sat down, our waitress actually pulled the "you look so familiar" greeting. Aya, of course, played it nonchalant, reassuring her that it's probably just because she comes in a lot. She pointed out that this is only her fourth or fifth photo shoot in her entire career to date. She asked about me as much as I did her, as if we were just two people getting acquainted. She reminded me not to write about her buying cigarettes because she's definitely thisclose to quitting. And her last words when we finally parted ways? "I'm just a regular human. Not even that exciting of one." Probably the realest way to ever end an interview. And she hasn't even gone back to New York yet.