Kristen Stewart—actress, queen, dream wife, etc.—is Nylon's latest cover star, ahead of her latest film, American Ultra, the stoner comedy in which she stars opposite Jesse Eisenberg. The 25-year-old has been a tabloid fascination ever since her Twilight days, during which she was dating co-star Robert Pattinson​, and her general don't-give-a-fuck attitude makes her even more intriguing. But there's one thing from the rumor mill that's probably on everyone's minds right now when it comes to the enigmatic K.Stew...
Her sexuality.
A recent piece in the The Mirror quotes Stewart's mother, Jules, talking about Kristen's relationship with a woman named Alicia Cargile: "I've met Kristen's new girlfriend, I like her," she said. "I feel like people need to be free to love whoever they want. I accept my daughter loves women and men." A few days later, Jules Stewart said she never outed her daughter and that the topic of Kristen didn't even come up.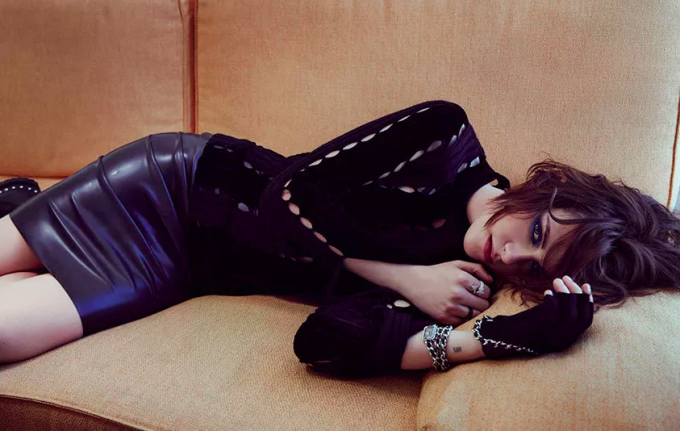 In Nylon K. Stew addresses those rumors. "Google me, I'm not hiding," she says. But she's not defining herself sexually: "If you feel like you really want to define yourself, and you have the ability to articulate those parameters and that in itself defines you, then do it. But I am an actress, man. I live in the fucking ambiguity of this life and I love it. I don't feel like it would be true for me to be like, 'I'm coming out!' No, I do a job. Until I decide that I'm starting a foundation or that I have some perspective or opinion that other people should be receiving…I don't. I'm just a kid making movies."
She also says, "I think in three or four years, there are going to be a whole lot more people who don't think it's necessary to figure out if you're gay or straight. It's like, just do your thing."
Yasss. Love you, K. Stew. 
Read the whole story here and peep the gallery as well.