Chatroulette, as true digital natives will surely remember, was once a hot commodity in the world of randomized cam-to-cam chatting. However, like most things that involve the freedom to broadcast anything to anyone, the site was briefly (maybe still?) overtaken by a neverending stream of strangers' chat-averse penises. However, Chatroulette might very well be on the verge of a comeback of sorts thanks to a particularly inventive British film company by the name of Realm Pictures.
"Many years ago we experimented with the concept of 'random stranger' control," Realm Pictures director David Reynolds tells Mashable. "One afternoon, [we] strapped a webcam to my head while someone followed me around with a laptop. The idea stuck in my head and eventually resurfaced while we were talking about fun projects for the summer. We decided to throw some of our indie film tricks behind it and see what happened." The result, as beautifully displayed above, is (presumably) the world's first Chatroulette-based first-person shooter.
The Realm Pictures team, after roughly a month of research and development, shot most of the game's footage in and around their own offices (a church, interestingly enough). "We had about 30 people here, manning the control room, playing zombies, running around collecting nerf darts," says Reynolds. The fanciful blend of reality and fiction even has a vaguely terrifying level boss: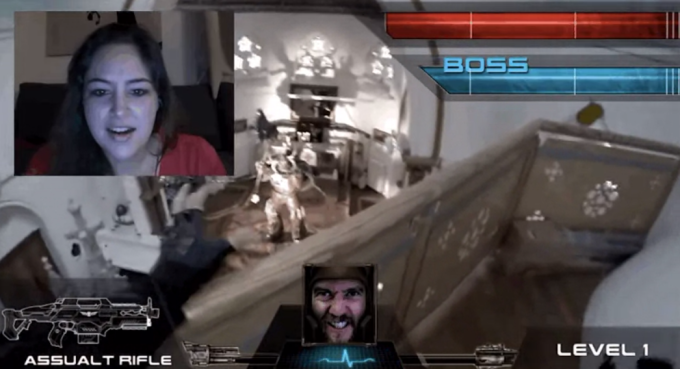 And so begins the journey of seeking out these geniuses on the wild terrain of Chatroulette.
B4M2E3czpIhRizBKwRM441jWVXatbb9I