Update: This truly amazing photograph from Saturday's Ku Klux Clan rally on the steps of the South Carolina Statehouse has surfaced, and gone viral, on Twitter.
The photo reportedly shows an African American officer named Leroy Smith helping out an elderly white supremacist (rocking a swastika t-shirt) who was suffering from heatstroke at the rally. 
All that hate apparently is not good for your health. 
About 50 Klan members took part in the rally, where they reportedly clashed with a group affiliated with the New Black Panther Party, which chanted "black power" in its own counter-protest. Even though things got heated, no injuries were reported. 
***
Members from a North Carolina chapter of the Ku Klux Klan organized a rally today to protest the recent decision to remove the Confederate flag from the South Carolina statehouse in Columbia. The rally was organized by the Loyal White Knights from Pelham, North Carolina, which is reportedly one of the largest KKK chapters in the country.
The decision to remove the Confederate flag comes after nine black churchgoers were fatally shot during a bible study group, sparking regional and national discussion about the meaning behind the historic flag in today's society. Mashable reports that, along with the Columbia rally, members of the KKK led four other protests in Oklahoma, Tennessee, and Florida. 
Two days before the scheduled rally, South Carolina Governor Nikki Haley took to Facebook to encourage citizens not to engage with the protestors. "We want to make the statehouse a lonely place for them," she wrote.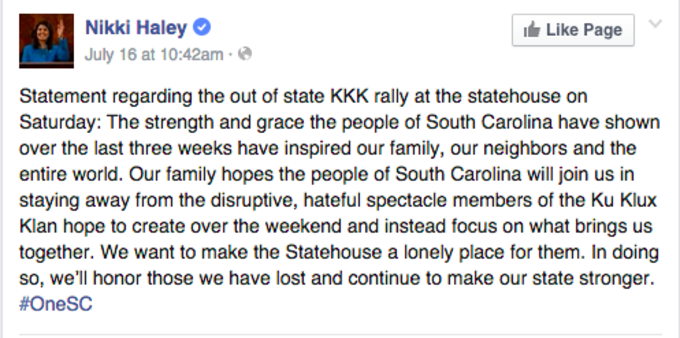 No serious injuries were reported, although there were reports of state police breaking up scuffles here and there. One fight broke out after one man was reportedly hit over the head, and a state police officer was also reportedly hit with a bottle. 
[via Mashable]