Thomas Mann is, in a lot of ways, just like his character in Me and Earl and the Dying Girl. In the film, the up-and-coming actor, 23, plays high school student Greg, who's awkward, sarcastic, and obsessed with foreign cinema. When Thomas and I meet at a downtown New York hotel on a Monday afternoon, he showcases similar mannerisms: He's sweet, modest, and endearingly awkward, and he talks passionately about his own cinematic obsessions. Immediately upon meeting him, he's easy to talk to, and it doesn't feel like he's putting on a front. For a minute, I think I'm sitting with Greg himself.
But if Greg and Thomas had previously shared a low profile, that's about to change—Thomas Mann is on the cusp of blowing up. He starred in his very first film only five years ago (It's Kind of a Funny Story), but now he's become indie's beloved It Boy, thanks to the buzz he's been garnering from the Alfonso Gomez-Rejon-directed Sundance hit. His recent projects have only helped him step easily into those shoes (see: the Kristen Wiig comedy Welcome to Me and upcoming films like The Stanford Prison Experiment, The Preppie Connection, and Some Freaks). In Me and Earl, Greg skates through high school, mostly unnoticed, and hangs out with his friend and "coworker" Earl (RJ Cyler), together making terrible parody films. His world gets turned upside down when he begrudgingly befriends his classmate Rachel (Olivia Cooke), who has just been diagnosed with leukemia. An odd and precious friendship forms between them in what ends up being a funny and wistful coming-of-age tale.
Thomas Mann sat down with Complex to talk about his favorite movies, his experience working with the film's comedic cast (Nick Offerman, Molly Shannon), and his life offset. Get to know Hollywood's new golden boy: He's about to get big. 
Me and Earl and the Dying Girl opens in select theaters on June 12. 
Hey, Thomas! You were excellent in Me & Earl & the Dying Girl. I thought you were great in Welcome to Me and The Stanford Prison Experiment, too.​
You've seen that? Wow, cool! You've seen everything.
You're one of my favorite up-and-coming actors.
Thank you so much! That means a lot.
I want to talk to you about your character, Greg. He's hilarious and I feel like a lot of young people can see a lot of themselves in him. Do you find yourself being similar to Greg?
Yeah definitely, I mean that's kind of what drew me to the role. I've read a lot of characters, and they're funny, but I'm sort of annoyed by them in a lot of ways. Greg was just so honest and I liked that the writing embraced some selfishness and stubbornness in teenagers, and it kind of reminded me of the person that I was in high school and like a lot of teenagers who are very smart and self-aware, but are too stubborn to make use of that intelligence. They get very comfortable in their own little world, so I just saw it as an opportunity to speak to a really specific generation that I felt like I understood and grew up in. It reminded me of the way that I would have dealt with the situation in high school. You know, he doesn't see this important and beautiful touching moment in his life and it's confusing and awkward. I thought that's more honest—the fact that he's using humor to alleviate the stress of the situation. He's obviously a huge film buff, and he parodies lots of famous films. Did you have any cinematic obsessions growing up?
I did. I mean, I always loved movies. My parents loved taking me to movies and that's something, to this day, I still love doing. I didn't realize how much I didn't know about film before I met [director] Alfonso [Gomez-Rejon], and then he just kind of opened up my whole world to all these great filmmakers. His love for filmmaking is so infectious that you just want to educate yourself in any way you can, and so I took it upon myself to watch all these films that they're parodying. I just thought it would be dishonest to parody films that you haven't seen, so I wanted to like them the same way that Greg did and the same reasons that Alfonso did.
What's your newfound cinematic love?
Don't Look Now. It's a crazy, fantastic movie, and I've never seen anything quite like it. It's hard to explain; it's better to just watch it going in blind.
What's your all-time favorite movie?  
I can't choose. It changes monthly almost. I come back to movies that mean something different to me at different times in my life. Like right now, Harold and Maude is one movie I keep watching over and over again… What else? The Conversation is one movie I really love. It's always changing. Anything by Scorsese I watch numerous times.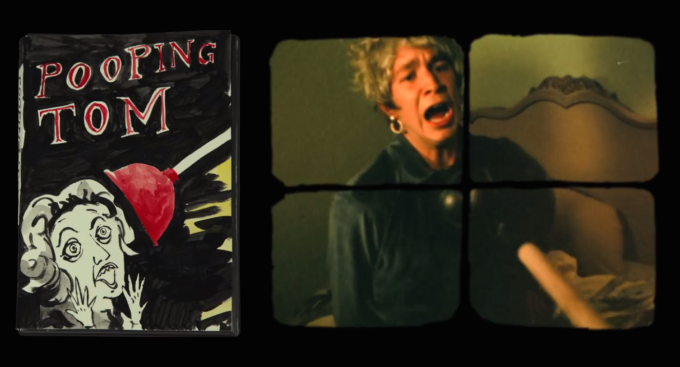 Those parody films are hilarious. Did you come up with any of your own while you were on set?
No, no I actually didn't. RJ is better at thinking of those names, but yeah, that was some of the most fond memories of being on set because you're just doing the most absurd things, but for a legitimate movie. I mean, I'm wearing a wig and then there's a plunger coming at my face and this is just the first day. Something that struck me as peculiar and amusing was your lunch bag, 'cause it says "Korean roadblock" on it and then there's a phonetic spelling of it in Korean… And I'm Korean.
Well it's like his dad educating him on different languages and it's not always in Korean. Sometimes it's in Russian or Arabic or something.
Ah, I see. Why that word?
It all sort of had to do with where Greg is in his life and I think it was like he's sort of hit a road block in his life and he has to overcome something. I think that's where it comes in the movie, but yeah that was just our brilliant prop master, Beau Harrison, who was just writing those. The idea is that his dad wrote them on there for him every day.
Do you have a favorite scene from the movie?
It's hard to choose because I like different scenes for different reasons, but the scene I'm probably the most proud of is a long take that's a very dramatic scene between Greg and Rachel, and it's one take. It goes on for six minutes and it's a real turning point for Greg in the film, and for their relationship… It was kind of one of the quickest scenes we've shot cause we've been living with the material for so long since the very first audition that we just kind of wanted to lay it all out in the first few takes and as an actor, it's so rare that a director trusts you enough to let the scene play out in real time and not cut it all. It just makes you look really good.
You, Olivia Cooke, and RJ Cyler are relative newcomers but you got to work with these great actors like Nick Offerman, Molly Shannon, and Connie Britton.
Oh I know, we're so lucky.
Did they sort of give you any advice on set?
I feel like Connie and Molly just wanna sit you down and know everything about you and just get all this information and give you advice on your life in general. Nick also is such a great role model—so wise and so kind to every single person he meets. Like the first day he got on set, he just went and shook everyone's hand and knew everyone by their first name. He mostly just keeps to himself, but then if you want to talk, he's just the most fascinating, intelligent person. We really felt like a family. I feel like there are always weird stories about Nick, like with the Parks and Recreation behind the scenes stuff. Do you have any Nick stories?
I mean, well… Nick is a quiet and sensitive person, and not quite what I pictured. It was intimidating at first, but really he's just a guy that keeps to himself. But he's also a lot of fun at times, too. He knows a lot about scotch… I feel like I've learned a lot about scotch from him, and different kinds of meats…
He seems like he would know a lot about scotch and meats. Like Ron Swanson.
I mean but he's not Ron, that's the thing. He even described it, he's like, "People think I'm like my character on Parks and Rec, but in reality I'm much fruitier."
Fruitier!
Yeah, that's how he described himself, so… And what are you like? What do you like to do?
I lay low. I don't do a whole lot, I'm kind of a homebody; I watch a lot of movies, or read or… I go camping quite a bit. My favorite thing about living in Los Angeles is how easy it is to get out of Los Angeles, so I try to get out of the city as much as possible and just go be in nature. It's the best way to clear your head after a project. Other than that I really just like traveling for work and stuff—that's where my life is at right now.
Where's your favorite place to travel to?
I like coming to New York. I don't know that I could live here, but when I'm here I really love it. And then I really enjoyed shooting in Pittsburgh. It gets a bad rap, but we had the best time there, so don't talk shit about Pittsburgh.
Don't call it "Shitsburgh." Sienna Miller got into a ton of trouble for that.
I heard about that!
You're here for Pittsburgh.
Yeah, yeah, I stand by Pittsburgh. I don't care about Philly. I don't have anything bad to say about it, but I don't care.
Right, well, we'll tread lightly on that subject. This could be a PR disaster.
Yeah, yeah. I just know there's a big rivalry.
You grew up in Dallas, though. Do you miss it? Do you go back?
I miss parts of it… just like the space, you can really spread out your arms there. The food is better there than it is in L.A…
A lot of people might disagree…
Well those people are stupid.