ComplexCon returns to Long Beach Nov. 6 - 7 with hosts J. Balvin and Kristen Noel Crawley, performances by A$AP Rocky and Turnstile, and more shopping and drops.
Secure your spot while tickets last!
And here I thought Hannibal was the coolest, most calm and collected, devoid-of-all-feelings serial killer out there. Boy, was I wrong.
June 4 will see the return of NBC's Hannibal, a brilliant show, which, for the past two seasons, has bred its titular Dr. Lecter (Mads Mikkelsen) as this terrifying and manipulative genius who would eventually become the man portrayed by Anthony Hopkins in the films, which are based on the Thomas Harris novels. Show creator Bryan Fuller is a mastermind not only in his unique take on the infamous character, but also in his methodic uncovering of Lecter—introducing him as a perfectly polite gentleman at first, just to throw viewers off-guard by the time Hannibal takes off his mask and reveals himself as one of TV's most frightening villains.
His cat-and-mouse game is at its scariest when he's toying with FBI correspondent Will "I can empathize with serial killers" Graham (Hugh Dancy), a game that had boiled to a bloodbath by the end of the last season. To refresh your memory: The climactic season 2 finale left most of Hannibal's main characters wounded, or possibly dead (though probably not), inside Hannibal's home while the doc, unharmed, was last seen fleeing the country on an airplane with his shrink-cum-lover, Bedelia Du Maurier (Gillian Anderson).
The new, third season takes an interesting turn, as it removes the crime procedural aspect of the show, making it much more of a character study. This makes things so much more intriguing for Hannibal's character (after all, as its title suggests, this series has always been about him). The season premiere shows no hint of Will Graham, but is rather all about Dr. Lecter's new life in Italy, where he lives under a false identity (as Dr. Fell) and pretense of marriage to Bedelia. Graham doesn't make an appearance until episode 2, wounded but alive (sorry, it's probably not much of a spoiler that he survived). Previously, Will Graham had been the resident Sad Boy of Hannibal—brooding, misunderstood, owner of 20 dogs—but the upcoming season flips the script. 
In flashbacks of the season finale ending, in which Hannibal guts Will with a knife, we get to see a better reaction from Hannibal's side—he's truly hurt by Graham's betrayal, and saddened at the end of their co-dependent (wink wink romantic) relationship. It's a glimpse into the emotional, Sad Boy Hannibal he's shaping up to be—a strange trajectory for a character who's expected to veer off into emotionless psycho killer territory. There's a complicated, sexual and sensitive element to Fuller's Hannibal, giving more facets to his personality... One could say his character is fuller than the film's portrayal (I'm so sorry). 
Throughout the season's first three episodes, Hannibal unravels from his severed ties with Will. He's unsatisfied with his bougie life in Italy and clearly misses the homoerotic tension he shared with his former patient. He's in a funk. This puts Bedelia in an awkward—and very possibly dangerous—spot with her cannibal lover. Meanwhile, Hannibal is out here sending Will love letters (in the form of decapitated bodies).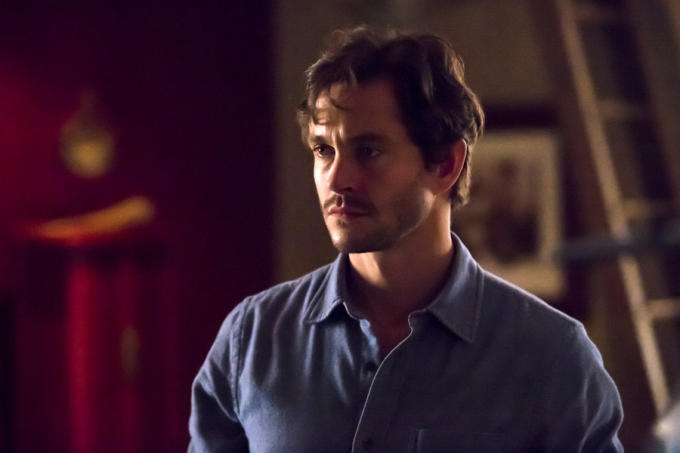 "He left us his broken heart!" Will exclaims at the crime scene, like some lovesick puppy.
Another character keenly aware of Hannibal's actions [redacted for spoilers] responds, "He misses us." It's a fucked up long-distance relationship that only makes sense for those involved.
For now, Hannibal is stuck overseas, pining for his playtoys. But don't worry: It hasn't made him soft in his killings. If he's out here eating his feelings, it's still gonna be human on his plate. The latter half of the season will introduce Francis Dolarhyde, a.k.a. the Red Dragon, and it should be interesting to see how a new serial killer in town will change the characters' dynamics. 
'Til then, tune in to watch brooding Sad Boy Hannibal, the ultimate psycho killer with feels. Also, it's worthy to note that Hannibal has gotten into a motorcycle phase, and if this isn't a sign of a midlife crisis, then I don't know what is: