In March 1958, Conrad Hilton opened a a 25-floor hotel in Havana, Cuba. With more than 500 rooms and a casino, that was largest hotel in Latin America at the time. In 1959, Fidel Castro set up his political headquarters up in the building in suite 2324. After the Cuban Revolution, the hotel—amongst all other property—was nationalized, and it became the Hotel Habana Libre.
Now, Havana braces for the potential of American tourism that Hilton originally envisioned—as President Barack Obama and Cuban President Raul Castro continue to meet about removing Cuba from the terrorist-sponsor list, re-opening national embassies, releasing prisoners, and relaxing trade and travel restrictions for the first time since 1961. But first, Havana had to brace itself for a visit from Paris Hilton, Naomi Campbell, and Hilton's iPhone.
At the end of February, Campbell and the Hilton-heiress Paris Hilton visited the Havana Hilton for their annual cigar festival. And she snapped a selfie with one of Fidel Castro's sons,  Fidel Ángel Castro Diaz-Balart.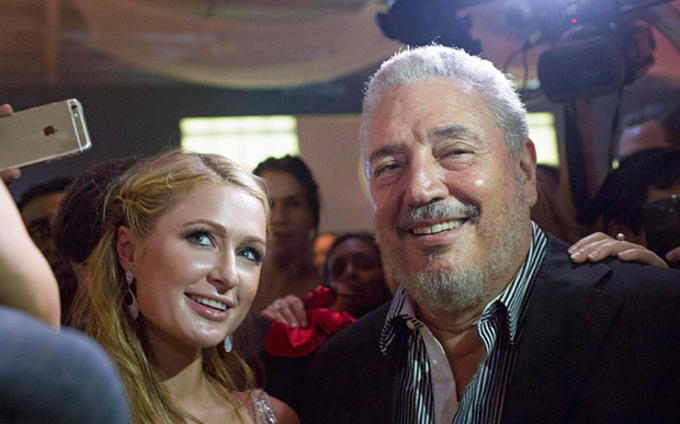 Hilton's Instagram photos and videos from her trip are at the bottom of this page.
Currently, Americans can travel to Cuba for academic, religious, and cultural programs. But recent evidence concludes that you can also get into the country if your last name appears on a building, or if a Canadian recognizes you as a famous personality (which is what Conan O'Brien told Jon Stewart was the ultimate reason why O'Brien was able to make it into the country to film an episode of Conan; that episode will air this Wednesday night).  
Cuba
barely has the Internet
 (and those who have it have major restrictions)—but as Obama and Castro continue to iron out relations the Cuban-American-nice-to-meet-you Revolution will continue to be
t
elevised
, and
Instagrammed
.
Our current cultural guides are some of the tallest (and palest) that we have to offer.
In a #TimeWarp. Love all the 50's cars. 👌 #Cuba

 
Love @LukeyHilton's #ParisHiltonCollection. 💖👑💖

 
There's some beautiful architecture here in Cuba.👌

 
Loving Old Havana! \😎/ So beautiful, & unique. ❤️

 
Posing in front of the original "Habana Hilton Hotel" that my great grandfather Conrad opened here in 1958. 🏢