In the video above you'll see an undercover police officer repeatedly punching a 17-year-old kid in the face. It's pretty cut and dry. One punch, two punch, three punch, four punch. Yet a spokesperson for the Jefferson Parish, La. police says there will be no internal investigation because the department doesn't "suspect any wrongdoing." 
According to police, Brady Becker fessed up to drinking half of a bottle of Crown Friday night before running into police. He was with a "large group of individuals" in a parking garage when a couple of plainclothes officers first encountered him. They say Becker was yelling "Fuck the cops" even before the officers identified themselves (what an impressive display of prescience). Becker then shoved detective Nicholas Breaux, and Breaux "escorted" the kid to the ground (an interesting choice of words). Police also say Becker refused orders to stop and struck Breaux. 
Throughout the ordeal, Becker's lawyer says Breaux didn't identify himself as a police officer until he'd already beaten the shit out of the kid. Attorney David Belfield III says there are several witnesses to dispute the arrest report, and Becker never pushed, attacked, or struck the officer. He went on to say the undercover cops instigated the altercation. 
Becker was taken to the hospital for "unspecified injuries." His mugshot shows two black eyes and a couple of butterfly strips over his eyebrow.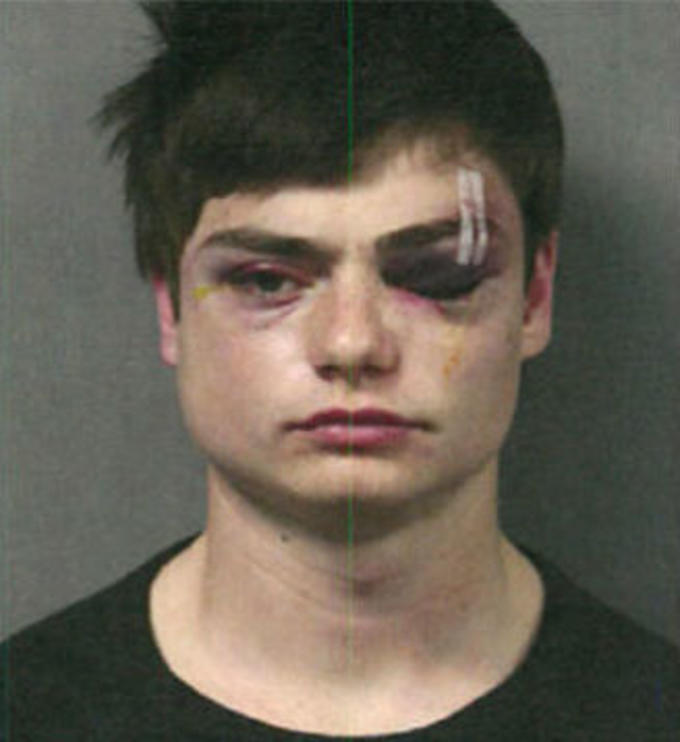 Regardless of what transpired before the video, there's clear evidence of excessive force. Becker was already underneath Breaux when he was dealt four blows to the head. The Sheriff's Office protocol says "unnecessary force will not be tolerated" and that deputies "may only use enough force to overcome the amount of resistance or aggression met."
The response to this incident, however, suggests quite a bit of tolerance. 
[via Gawker]