A Brooklyn teenager was arrested last week after aiming a series of menacing Facebook posts at police, once again proving that social media recklessness will catch up with you. 
DNAinfo reports that the NYPD began monitoring the posts of 17-year-old Bushwick native Osiris Aristy after noticing his emoji-filled threats against police, as well as images of him with guns and drugs: 
At 9:52 p.m. on Jan. 15, Aristy posted a photo of him with a revolver and rounds of ammunition with the caption feel like katxhin a body right now.

Shortly after, Aristy posted N***a run up on me, he gunna get blown down, followed by an emoji of a police officer with three gun emojis pointed at it, according to a criminal complaint.

And at 11:05 p.m., Aristy posted F**k the 83 104 79 98 73 PCTKKKK, followed by the police officer emoji with two gun emojis pointed at it, the DA's office said.

He then wrote U know how I rock skrap.
Below are more examples of what ultimately got the police's attention, and got him in trouble: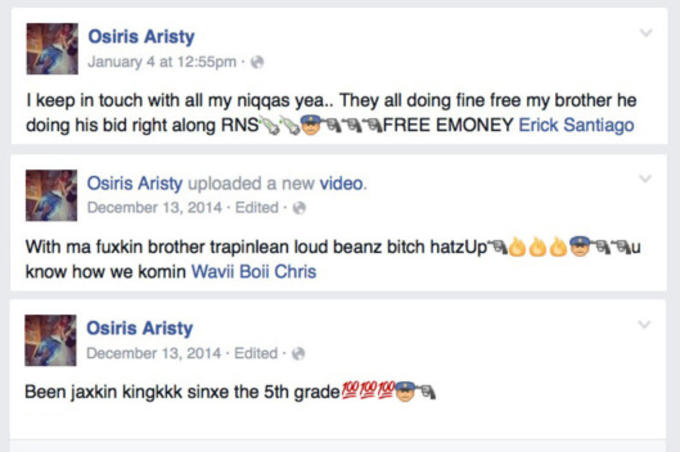 According to DNA info, when police arrested Aristy on Jan. 18, they discovered a .38-caliber Smith and Wesson and over 25 grams of marijuana in his home. He was charged with criminal possession of a weapon, making terroristic threats, criminal possession of marijuana, and criminal use of drugs. 
When will folks learn that the authorities are always watching?
[via DNAinfo]