New York City is anticipating one of the worst blizzards in history, according to Mayor Bill de Blasio. Now everyone in this godforsaken town is freaking the fuck out.
Though we thought your first instinct would be to stock up on that loud and/or booze, depending on your preference, we were wrong. Everyone is converging on bread aisles in grocery stores from Inwood to Bushwick because apparently toast, ham sandwiches, and bread pudding are the cuisines of choice during snowmageddon​s. 
The bread aisles porn trend is popping off hard.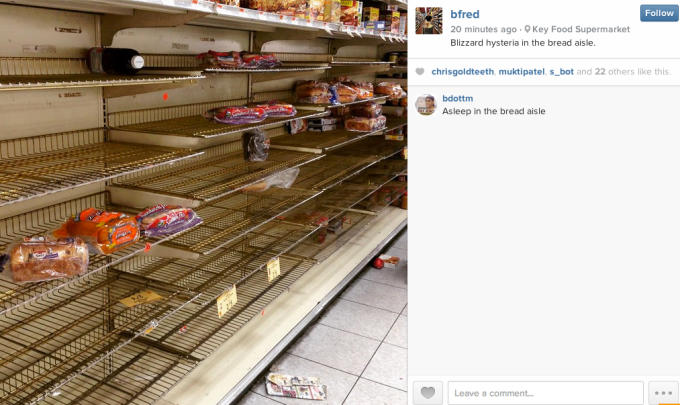 From the looks of it, if you were one of the lucky ones who got your hands on a loaf of Pepperidge Farm, you might be able to resell that sliced gold for a sizable profit on Craigslist assuming you've got an enterprising spirit. Just don't forget that, you know, there's a dangerous storm happening—safety first. 
Bread is hard to come by right now (and in a stunning example of peak caucasity, so is kale.) But there's no shame is waiting in a long-ass line for bread. A grilled cheese during a snow day is no laughing matter, despite what Gov. Chris Christie says. And really though, what we should probably all be worried about is water.
Lauretta Charlton is a writer at Complex. You can follow her on Twitter at @laurettaland.