YouTube is loaded with grainy, lo-fi videos of comedians standing in front of brick walls. It's like watching people make jokes in the '90s about the 21st century. Finding quality stand-up comedy in the comfort of your own home is difficult, but now Live @ the Apt is making it much easier by literally taking over people's apartments and turning them into makeshift comedy clubs. 
Live @ The Apt's brand of homegrown comedy started out in 2013 in an East Village walk-up with less than 50 people in attendance. But after their buzz grew and a move to Brooklyn led to several noise complaints, they've since resorted to new measures, namely Airbnb.
If you haven't heard of Live @ the Apt, you're terribly un-cool—but it's technically not your fault. The underground show is email list exclusive. Don't fret, the details on how to attend are below. If you're not in New York, you're in luck because sets and jokes from every show are posted to YouTube, and, yes, they're ​in high-definition.
Because it's not every day you find a comedy show that travels around New York City apartments, we chatted with executive producer Drew Miller about bringing the cool back to comedy and how, in just a year, they've managed to land appearances from Hannibal Buress and Sasheer Zamata.
Rachel Aster Perlman is an aspiring funny person from New York. Follow her here​.
In the Seinfeld episode "The Merv Griffin Show," Kramer starts a talk show in his apartment. What was your inspiration for your show to get started?
That's one of my favorite episodes. I was a page at NBC as one of my first jobs in New York. I don't know if you know much about the page program, but Kenneth in 30 Rock was a page. I worked on SNL for three months, which was obviously incredible. The idea of live comedy struck me while working at SNL. Getting a feel for the energy of it was something that always stuck with me.
It was a couple years later when I started this show. There wasn't a particular inspiration, but I guess what mostly inspired me was I was going to a lot of comedy shows at the time with one of my friends and there was so much good talent out there. But the crowds were just okay, and the actual comedy clubs themselves were a little stuffy. I didn't see anybody applying the music edge to comedy. There was no hip factor. I wanted to make a show that was cool and could also highlight all these great comedians in the city.
You guys started in March 2013, right?
Yeah, March 13, 2013 was our first show. We did it in my East Village apartment that I was sharing with my brother and a friend at the time, on 7th Street. We had around 30 to 40 people. It was just an experiment, but it worked, so we kept doing it.
Do you have any experience with stand-up comedy yourself?
No, definitely not. Not my style. But I'm in that world and I love comedy. I've always loved it as an art form. The beauty about it is it's very simple. All you need is a microphone and a room with people. It lends itself to an apartment, in a way.
It's safe to say your show is intimate. How have you managed to get talent to be comfortable enough to come?
At the beginning, it was a struggle. I could definitely say I give a lot of props to the comedians, because they are down for whatever. We'd have to convince them when we were first starting out. But because we do film it, and we have photographers there, people could see the video and the pictures, and it seemed like a fun vibe. The word spread, and now we have people coming to us. It's a lot easier to book people. 
Is the video aspect of it just as important now?
Yeah, the live show experience is phenomenal. I come from a production background, and one of the reasons we started the video portion was because, if you look at a lot of the stand-up online, it's actually pretty crappy in terms of the quality. You'll see someone just go to a comedy club and set up one camera and the audio will be bad and the lighting will be poor. We wanted to put a better stand-up product online.
We also wanted it to really display the talent of the comedians. They'll go and do sets at other places and sometimes film it, but usually they won't film it with proper equipment. We wanted to highlight these comedians online as well as at the live show. So, yeah, it's important. The live show's probably a more fun aspect of it, but the video obviously reaches more people.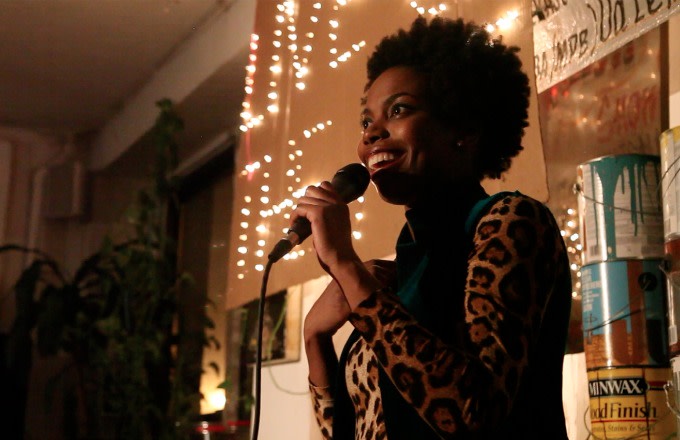 SoFar Sounds is doing something really similar with music, but worldwide. Do you have any intentions of expanding Live @ the Apt?
That's funny, I actually was recently connected with one of the girls who runs SoFar Sounds in New York. What they're doing is so cool. The fact that it's worldwide is amazing. We've had similar ideas. Actually, we were at the Just For Laughs Comedy Festival—​the big comedy festival in Montreal—this summer because Live @ the Apt​ got into a web series pitch contest. We went to pitch and we lost, but we pitched against these guys who were super cool and really liked what we were doing. So now they are doing a Live @ the Apt Canada. We've had the idea of going to different cities and different countries as well.
Besides your move from the East Village to Brooklyn, what's changed since you began the show?
Good question. What's changed? Well, the crowds have gotten a lot bigger. Our first show was 30 to 40 people; we had a show with 150 people recently. We've gotten a lot of great press. When I tell people about the show, they know the name. We have a very big guest list now. There are probably 750 people on our email list now. The shows used to always be in my apartment, and then we got a few noise complaints, so we stopped that. What we do now is we actually find apartments on Airbnb, and we'll rent them out for the night and we'll throw the shows there.
So it's a bit more of a traveling thing now. That's just a matter of necessity because I didn't really want to get evicted. It's worked out really well, and the people who rent out their apartments on Airbnb, they'll stay for the show and invite their friends. I really enjoy that, just going all over the city. It's more of a pop-up feel.
What else has changed? We've been getting better comedians. We've had Sasheer Zamata from SNL. Hannibal Buress dropped into a show that we had this summer. Our talent level has grown, which has been great. This summer we also tried our first musical guest.
A lot of big things are happening for comedians in Los Angeles. Everyone's moving out there. What do you think is next for changing and revamping the New York comedy scene?
That's a big, big discussion. The thing about stand-up in New York is that, if you're doing stand-up in New York, you're doing stand-up. In L.A., you're probably trying to be an actor. You're on a show, you've done this or that. While the scene there is great, people have other intentions when they're in L.A. A lot of people who get their start in comedy will start in New York. One of the reasons for that is because there's so many more shows you can get on in a day. You could walk around three different blocks and do 10 shows.
There's more of an up-and-coming, hungry vibe in New York, whereas in L.A. you might be more established already. Maybe you're working on a show, maybe you're in movies. There are a lot of big opportunities in New York, too. You have The Tonight Show, you have SNL, you have Last Week with John Oliver, you have The Daily Show. There's definitely a reemergence in the comedy scene here. And I think you'll find people aren't moving away as quickly as they used to. 
What's next for Live @ The Apt? 
I think we've brought it up to a certain level. It's definitely an established live comedy show in New York that has gotten a certain buzz. I'd love to be able to maybe turn it into some sort of established web series on a digital platform, something where there's a budget behind it and we could make Live @ the Apt episodes, as opposed to just having stand-up clips. Or I'd love to just get paid to do it. Whatever that is.
But, yeah, fleshing it out and making it more than just stand-up clips, making it an actual web series that's on an established digital network, would be great for the show. And keep on adding music, which makes it feel like an SNL for the Internet, where we have up-and-coming comedians and we have up-and-coming musicians perform. It lets it expand the brand a little bit.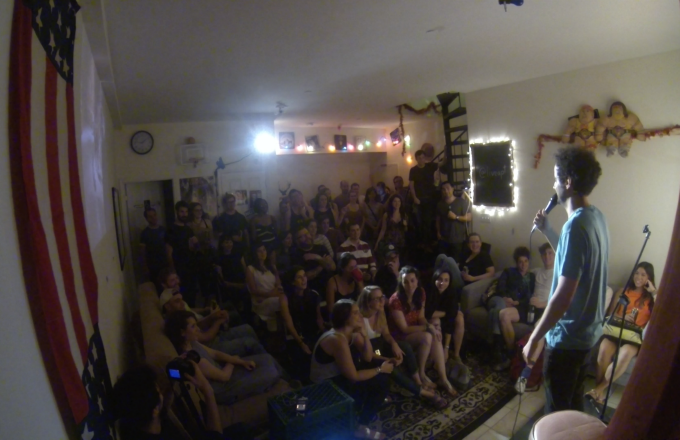 At first were you anticipating this kind of reaction?
No, not at all. I remember during the first one, people would kind of laugh, and I was like, "Oh, I didn't even expect them to laugh." I couldn't. It's gone beyond my expectations.
It's a cool live show, but really the comedians in the city are just really good; there are so many out there. People haven't heard of them, but they will soon, because these guys are phenomenal. New York stand-up comedy, at the up-and-coming level, is some of the best stand-up in the world. 
If you could have any one comedian come to your show, who would you want?
I told you Hannibal dropped in this summer. That was very cool for us; he was definitely on the list. I think Aziz Ansari would be very cool. Obviously Dave Chappelle would be super cool. Louis C.K., if he ever came, would just shit on the show and make fun of all of us, but that would be fun. It's not impossible. Crazier things have happened.
To attend a Live @ The Apt show, email liveattheapartment@gmail.com to join the list. A week before each show you'll be notified and have a chance to RSVP as space permits.
And, since it's Christmas time, what better way to celebrate than with the premiere of Michael Christmas' performance at one of Live @ The Apt's recent shows, in which he totally fawns over Michael Cera.